Switchfoot Offers Greatest Hits on The Best Yet
Andy Argyrakis

CMCentral.com

2008

27 Nov

COMMENTS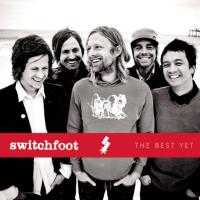 Artist: Switchfoot
Title: The Best Yet
Label: Sparrow Records
A generally comprehensive career-spanning collection …
With over 10 years of recording and touring under its belt, Switchfoot is more than ready for a greatest hits compilation. The most exciting part about The Best Yet is not only the fact it compiles all the monster hits from the band's Columbia Records crossover years, but it also includes a handful of tunes from its often overlooked re:think era.
Throughout a generous 18 tracks, the group's evolution from a simple surf-pop band to ingenious alternative act is apparent, with Jon Foreman's provocative lyrics steering the well-oiled ship the entire time.
"Dare You to Move" is a fitting opening given its anthemic presence, followed by one of the most memorable guitar riffs in Christian music history—"Meant to Live." This trip down memory lane should also be applauded for the power surging "Stars," the grimy alternative grinder "Oh! Gravity," the empowering ballad "Leaning to Breathe" and the carefree sing-a-long "Company Car." Other crests include the electronically enhanced "This Is Your Life," the distortion drenched "Dirty Second Hands" and the well-preserved early grunge track "Concrete Girl."
The disc also features the band's recent cut "This Is Home," an entrancing power ballad first found on the soundtrack to The Chronicles of Narnia: Prince Caspian. However, that's the only hint of Switchfoot's future direction, as no additional new songs are included (despite the tradition of at least a few upcoming tunes on most retrospective discs). And even with the otherwise stacked track listing, there are a few disappointing retro omissions, including the bubbly "Chem 6A" and even more memorable "New Way to Be Human."
Of course, die-hard fans probably already own those singles and neither are absolutely essential to The Best Yet banner, which makes this otherwise comprehensive project an indispensable single disc overview of Switchfoot's extraordinary career thus far.
© 2008 CMCentral.com. All rights reserved. Used with permission.




Visit CMCentral.com now and join the single largest online community of Christian music fans on the internet. CMCentral features daily music news, exclusive interviews, album reviews, weekly devotions and feature articles written by some of your favorite Christian artists, and much more. CMCentral is also the home of the most popular Forum for Christian music fans that you'll find anywhere on the Internet. Come see what all the buzz is about!

**This review first published on November 27, 2008.