That Girl Showcases a Talented Artist
Glenn McCarty

Crosswalk.com Contributing Writer

2014

22 Jan

COMMENTS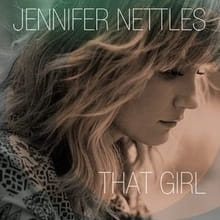 Artist: Jennifer Nettles
Album: That Girl
Label: Mercury Nashville
Solo endeavors from artists with established band careers often find the musician venturing off in new musical directions, freed from the expectations of a loyal fan base, and the boundaries imposed by the usual creative partnerships. So it is with Jennifer Nettles, lead singer of country chart-toppers Sugarland, who shows flashes of a fresh musical identity on her solo effort That Girl, while still remaining firmly grounded in the sassy attitude and bold sound which has won her so many fans with Sugarland.
Nettles and producer Rick Rubin work up a collection of songs and arrangements which allow her voice to shine front and center. Many of the songs are understated or feature instrumentation or genres not always explored in her group's music. Among these pleasant surprises are a pair of songs with faintly Spanish influences, including the sinewy, acoustic number "Jealousy" and the drifting, jazz-meets-smokey gospel of "This One's For You."
Mixed in with these songs are more traditional tracks, like "Know You Wanna Know" and "Moneyball." While there's less surprise in hearing Nettles belt out the lead over a honkey-tonk piano and electric guitar, these do become a perfect showcase for Nettles' throaty, twang, which is equal parts Martina McBride and Reba McEntire, and even a little Amy Grant in the lower register.
Thematically, Nettles – who wrote or co-wrote all the album's 11 tracks – hits on several of the Big Country Themes: among them cheating (lead single "That Girl"), wistfulness for a long-ago beau (opener "Falling,"), and the pitfalls of celebrity ("Know You Wanna Know"). And several of these songs are tinged with the language of religion, another lyrical thread in recent years in Music City. One song in particular, "This Angel" has a pointedly religious motif: "Holy water from my own veins/come and save me where I lay/All this longing for beauty unnamed/It has broken me open/To welcome the hope that you bring." Whether directed toward a lover, a new baby, or even generally toward a higher power, the song features a beautiful lyric and a powerful vocal. Rounding out the collection is an enjoyable take on Bob Seger's 80's classic "Like a Rock."
There's no indication that Nettles' solo effort is anything more than simply a side project undertaken as a benefit of wild success with Sugarland. So fans should enjoy it for what it is – a portrait of a talented artist with the freedom to let her hair down.
*Published 1/22/2014