TODAY'S NEWS: Kirk Franklin, tobyMac, Lil' iROCC & More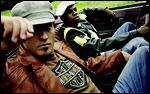 THE DREAM TEAM… Well, they've been hinting around about it for a while, but it looks like it's finally official:  Kirk Franklin and tobyMac will hit the road together this fall on the "I Have a Dream" tour. The duo hopes it will be a history-making tour, bringing together audiences of various cultures and racial backgrounds under one roof to enjoy one huge show. "It's a dream come true for me," tobyMac told us. "Kirk and I have been talking about this for four years. If you're going to bring the world of what's known as black gospel and Christian music together, or black and white together, it takes a very active, decisive move. You're moving out of what is natural or comfortable to most people." The tour kicks off in mid-October and will average about 20 cities through mid-November. Plans are also in the works for the artists to partner with dcTalk's non-profit organization, The E.R.A.C.E. Foundation, in some community outreach events. More details will be announced in the coming weeks.

SPEAKING OF KIRK FRANKLIN… Atlanta's pint-sized Lil' iROCC Williams will be bringing his youthful sound to Music City this Friday night when he opens up for gospel great Kirk Franklin. The show is scheduled to take place at Nashville's Mt. Zion Baptist Church on Friday, August 15 at 7:00 p.m. The 13-year-old rapper's self-titled CD, which hit stores on June 24, was the second-highest selling new Christian release during the week it debuted. The CD features the production expertise of Todd Collins (Out Of Eden, John Reuben) and guest appearances by GRITS, tobyMac and Antonio Phelon. But what about that name? In case you haven't heard, it stands for "I Rely On Christ Completely."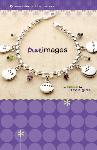 YOU SAY YOU WANT A REVOLUTION… Okay, popular Bible publisher Zondervan hasn't actually said they want to start a revolution, but they are partnering with Flicker Records to provide "True Image Revolution," a compilation CD that will feature Rebecca St. James, ZOEgirl, Everyday Sunday, Superchic[k], Audio Adrenaline and others. The disc will be a companion piece for Zondervan's newest Bibles, "True Images: the Bible for Teen Girls" and "Revolution: the Bible for Teen Guys," both created in partnership with Chicago-based Livingstone to directly and honestly address real-world issues facing today's teens. The CD will feature 10 tried-and-true hits along with two new tunes (one each from The Swift and Erin O'Donnell). Look for additional products based on the new Bibles (like key chains and bracelets) to release this fall.


Used by permission. © 2003 Musicforce.com