Violet Burning Gets Back to Basics on "Drop-Dead"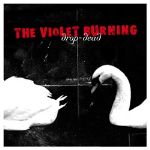 Artist:  The Violet Burning
Title:  "Drop-Dead"
Label:  Northern
The Violet Burning's Michael Pritzl has been bringing his rockin' vocal pout atop heavy, droning, fuzzy guitars for a couple of decades now; but he hasn't been hammering that hook-tinged nail like this since the self-titled, mainstream-distributed third album on Domo Records back in 1996.
All the instruments are really hitting in perfect synchronization with each other, which elevates songs such as "Already Gone" and "Humm" beyond a catchy chorus or cool riff. Yes, the guitar tones and oft-ignored instruments like synth bass, mellotron, Rhodes piano and moog bass cast a full, breathing and dark sound from speaker to speaker; but the songs don't get lost in too much airy atmosphere or self-indulgent wandering. They drive purposefully forward for each song's own good.
Old-school fans of Peter Murphy, David Bowie and The Cult can find common ground here with fans of Interpol, H.I.M., U2 and even The Strokes, but not in any contrived, copycat kind of way – on Michael Pritzl's own terms, with his well-versed sonic signature. Without ever making too sharp of a turn, he's come a long way from that self-titled disc and "Demonstrates Plastic & Elastic."
Emotionally and lyrically, "Drop-Dead" is very melancholy, cascading from the sad "Swan Sea," the yearning "All I Want," the somber-yet-upbeat "Rewind" and the ecstatic "Eleanor" to the building, pulsating new worship song that closes the album, "One Thousand Years." Anyone who's plumbed the rich passionate depths of the "classic VB sound" (those first two albums, "Chosen" and "Strength") will be only too eager to wrap his or her heaven-bent heart around this one:  "I'm coming back for more/ I'm gonna run/ I wanna run/ I wanna fall into your arms."
Like only those albums that you call "great," this one will take you on a pleasant journey with each listen.
    


© 2006 CCM Magazine.  All rights reserved.  Used with permission.   Click here to subscribe.