ZOEgirl Stays Gives Fans What They Want on "Room to Breathe"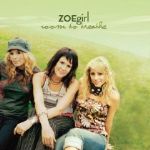 Artist:  ZOEgirl
Title:  "Room to Breathe"
Label:  Sparrow
ZOEgirl's Alisa Gerard, Kristin Swinford and Chrissy Conway could have played their cards differently in the earlier stages of their career. Launched into a sea of teen pop clones at the turn of the decade, they managed to rise quickly to the top of the surf and stay there by garnering a huge fan base of young girls who latched on to the trio's messages of self worth. If not for some calculated forward movement musically, the group's fate would have been sealed, much like the death sentence several of its Christian teen pop counterparts received.
On album number four, "Room to Breathe," ZOEgirl has safely piggy-backed onto the modern pop/rock sound we first heard on 2003's "Different Kind of FREE," but this time manages to stay within the confines of what ZOEgirl fans want to hear.  And with a total of four different producers, it has plenty to offer in terms of diversity.
The catchy opener "Reason to Live" and solid first single "About You" resemble recent offerings from MTV favorites Ashlee Simpson and Avril Lavigne, while the playful "Dead Serious" (an album highlight) and "Let It Out" channel a little bit of pop divas Gwen Stefani and Kelly Clarkson (although I would have liked hearing more of the risks exemplified on Clarkson's new "Breakaway" CD). Topics such as social pressures and abstinence, found on tracks like "Good Girl" and "Not the One," might feel repetitious in ZOEgirl's repertoire, but the lyrics are nevertheless relevant to the group's "tweenage" audience. The somber "Scream," which references girls who cut themselves as a symbolic cry for help, is written sensitively by Girard.
"Room to Breathe" is a solid, wisely-produced collection that should help this trio continue to grow and mature along with its loyal fan base.

© 2005 CCM Magazine.  All rights reserved.  Used with permission.  Click here to subscribe.