from Day by Day with the Persecuted Church

You will fill me with joy in your presence. (Psalm 16:11b)
Horacio Herrera
One of the members of my church had been in prison for his faith for more than 15 years. I had not seen him since his release. But one day we met. He told me, "Pastor, only the presence of Christ kept me alive; in the nights of shadow and fear He was at my side." I knew this was true, because He had been that near to me also when I was in prison.
"In His presence" is not just a theological and theoretical truth. No, it may be experienced. Or should I say, "I speak from experience." Those painful experiences, horror, bitterness, doubts (yes, doubts too!) are forgotten when the presence of God comes and fills us with joy and peace, even under the most horrible circumstances.
Do we need to be in prison to experience His presence? No, we have the privilege to enter the most Holy Place by the blood of Jesus ... let us draw near to God ... (Hebrews 10:19-22). The darker the place (prison) the clearer the light of His presence will shine. Let us draw near to God always, in times of hardship and in times of prosperity, in times of sorrow and in times of joy.
"You will fill me with joy in your presence, with eternal pleasures at your right hand."
Horacio Herrera from Cuba. Because of his leading role in the Cuban Church, he writes using a pseudonym.
Copyright [C] 1995 Open Doors International. Used by permission.
Click here to sign up for a free monthly newsletter from Open Doors about persecuted Christians.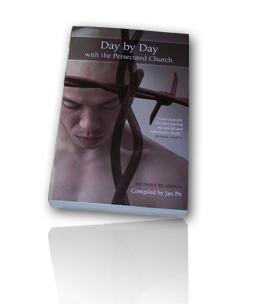 Day by Day with the Persecuted Church
compiled by Jan Pit with a forward by Brother Andrew (paperback, revised 2000)
Compelling wisdom from the pen of actual believers living amidst persecution, you'll be connected to the suffering, courage, and depth of life that exists in the harshest places in the world. Each of these 365 thought-provoking devotions will deepen your understanding of Christian persecution and provoke you to pray for our brothers and sisters with a new found depth.