from Day by Day with the Persecuted Church

David is very, very sad. His best friends have left him, or even worse, they have turned against him. David is suffering from this, spiritually, emotionally and physically. He can deal with the fact that his real enemies are against him, but to be considered an enemy by his friends hurts deeply, very deeply.
David
O God, whom I praise, do not remain silent,
for wicked and deceitful men have opened their mouths against me; they have spoken against me with lying tongues.
With words of hatred they surround me; they attack me without cause.
In return for my friendship they accuse me, but I am a man of prayer.
They repay me evil for good, and hatred for my friendship.
With my mouth I will greatly extol the Lord; in the great throng I will praise him.
For he stands at the right hand of the needy one, to save his life from those who condemn him.
(Psalm 109:1-5,30-31)
Copyright [C] 1995 Open Doors International. Used by permission.
Click here to sign up for a free monthly newsletter from Open Doors about persecuted Christians.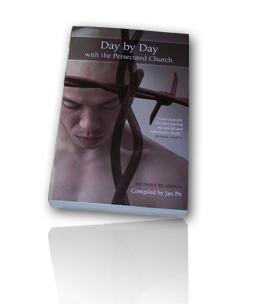 Day by Day with the Persecuted Church
compiled by Jan Pit with a forward by Brother Andrew (paperback, revised 2000)
Compelling wisdom from the pen of actual believers living amidst persecution, you'll be connected to the suffering, courage, and depth of life that exists in the harshest places in the world. Each of these 365 thought-provoking devotions will deepen your understanding of Christian persecution and provoke you to pray for our brothers and sisters with a new found depth.