from Day by Day with the Persecuted Church

If you remain in me and my words remain in you, ask whatever you wish, and it will be given you.
Menes Abdul Noor
A bored father scolded his son saying, "When will you quit asking?" The smart son answered, "When you quit giving!" God is never a bored Father, and He gives to all liberally and without reproach (James 1:5).
When you abide in Christ He makes you pure-hearted. He tells you, "You are already clean because of the word I have spoken to you" (John 15:3).
God testifies to you that He has found you a person after His own heart, who will do all His will (Acts 13:22). If you do God's will as if it were your will, He does your will as if it were His will.
"What the righteous desire will be granted" (Proverbs 10:24).
When we abide in Christ we come to the Father in the merits of Christ. We hear Jesus saying, "And I will do whatever you ask in my name, so that the Son may bring glory to the Father. You may ask me for anything in my name, and I will do it" (John 14:13, 14).
God says to His repentant people, "Then you will call upon me and come and pray to me, and I will listen to you. You will seek me and find me when you seek me with all your heart. I will be found by you," declares the Lord, "and will bring you back from captivity. I will gather you from all the nations and places where I have banished you," declares the Lord, "and will bring you back to the place from which I carried you into exile" (Jeremiah 29:12-14).
Let us abide in Him, and experience answered prayers!
Writer of the Month: Menes Abdul-Noor from Egypt. A respected leader of the Christian Church in Cairo.
Copyright [C] 1995 Open Doors International. Used by permission.
Click here to sign up for a free monthly newsletter from Open Doors about persecuted Christians.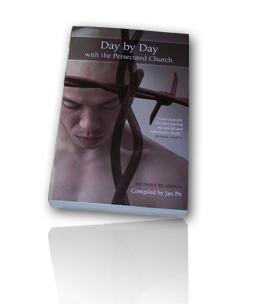 Day by Day with the Persecuted Church
compiled by Jan Pit with a forward by Brother Andrew (paperback, revised 2000)
Compelling wisdom from the pen of actual believers living amidst persecution, you'll be connected to the suffering, courage, and depth of life that exists in the harshest places in the world. Each of these 365 thought-provoking devotions will deepen your understanding of Christian persecution and provoke you to pray for our brothers and sisters with a new found depth.