from Day by Day with the Persecuted Church

And I heard a loud voice from the throne saying, "Now the dwelling of God is with men, and he will live with them. They will be his people, and God himself will be with them and be their God. He will wipe every tear from their eyes. There will be no more death or mourning or crying or pain, for the old order of things has passed away." He who was seated on the throne said, "I am making everything new!" Then he said, "Write this down, for these words are trustworthy and true." He said to me, "It is done. I am the Alpha and the Omega, the Beginning and the End. To him who is thirsty I will give to drink without cost from the spring of the water of life." (Revelation 21:3-6)
Antonio Garrido
Although we know we are "not of the world", we need many things from this world.
When you are deprived of these daily necessities because you are a Christian, life becomes difficult and hard.
This has often been the case with Christians in my country. Not only was it hard for us to find employment, but it almost became impossible to purchase certain articles, ranging from luxury goods like cars to necessities of life such as food and clothes.
When church services are forbidden as well, you feel discriminated against as a Christian and you have to beware of despondency and hopelessness. But the words spoken by Christ in Revelation 21:5 gave us hope. "I am making everything new!"
Is this only valid for eternity? No, God in His might is able to make all things new now. How does He do that? By changing the circumstances? Or by changing us, so that we experience that in all these things we are more than conquerors? In trouble, in loneliness and in prison. For nothing is able to separate us from the love of Christ. He holds us fast, He makes all things new. Every day - including today.
Antonio Garrido, from Cuba, shares about his life with the Lord. Despite the battle, his meditations witness to victory and faith. He writes under a pseudonym.
Copyright [C] 1995 Open Doors International. Used by permission.
Click here to sign up for a free monthly newsletter from Open Doors about persecuted Christians.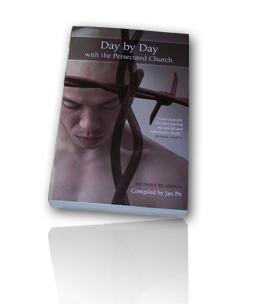 Day by Day with the Persecuted Church
compiled by Jan Pit with a forward by Brother Andrew (paperback, revised 2000)
Compelling wisdom from the pen of actual believers living amidst persecution, you'll be connected to the suffering, courage, and depth of life that exists in the harshest places in the world. Each of these 365 thought-provoking devotions will deepen your understanding of Christian persecution and provoke you to pray for our brothers and sisters with a new found depth.