from Day by Day with the Persecuted Church

By faith Enoch was taken from this life, so that he did not experience death; he could not be found, because God had taken him away. For before he was taken, he was commended as one who pleased God. And without faith it is impossible to please God, because anyone who comes to him must believe that he exists and that he rewards those who earnestly seek him. (Hebrews 11:5-6)
Enrique Palacio
The first verse of Hebrews chapter 11 gives us a definition of faith. It is synonymous with assurance and conviction. Hebrews 11:6 indicates that faith has such importance that it will be impossible to please God without it.
God exhorts us to be faithful unto death.
"Do not be afraid of what you are about to suffer. I tell you, the devil will put some of you in prison to test you, and you will suffer persecution for ten days. Be faithful, even to the point of death, and I will give you the crown of life." (Revelation 2:10)
A road that is 1,000 miles long begins with the first step. Likewise, the first step of faith for salvation is the beginning of your communion with God. But although the beginning is important, we must persevere day by day, week after week, year after year, until that day when we too will be translated to be in communion with God through eternity. The continuation of our communion with God will then be rewarded; and so shall we be with the Lord forever.
Enrique Palacio, from Cuba, shares about his life with the Lord. Despite the battle, his meditations witness to victory and faith. He writes under a pseudonym.
Copyright [C] 1995 Open Doors International. Used by permission.
Click here to sign up for a free monthly newsletter from Open Doors about persecuted Christians.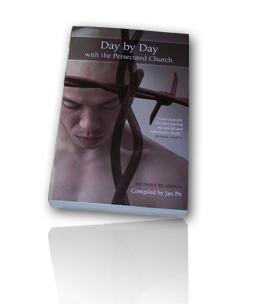 Day by Day with the Persecuted Church
compiled by Jan Pit with a forward by Brother Andrew (paperback, revised 2000)
Compelling wisdom from the pen of actual believers living amidst persecution, you'll be connected to the suffering, courage, and depth of life that exists in the harshest places in the world. Each of these 365 thought-provoking devotions will deepen your understanding of Christian persecution and provoke you to pray for our brothers and sisters with a new found depth.