from Day by Day with the Persecuted Church

In this psalm, it is evident how much power there is in the words, "We will triumph with our tongues." Intimidation, bragging and blasphemy are used to bring God and David into discredit. To oppose these blasphemous words of the godless, David uses the sanctifying, cleansing Word of God.
David
Help, Lord, for the godly are no more; the faithful have vanished from among men.
Everyone lies to his neighbor; their flattering lips speak with deception.
Because of the oppression of the weak and the groaning of the needy, I will now arise, says the Lord. I will protect them from those who malign them.
And the words of the Lord are flawless, like silver refined in a furnace of clay, purified seven times.
O Lord, you will keep us safe and protect us from such people forever.
The wicked freely strut about when what is vile is honored among men.
(Psalm 12:1-2, 5-8)
Copyright [C] 1995 Open Doors International. Used by permission.
Click here to sign up for a free monthly newsletter from Open Doors about persecuted Christians.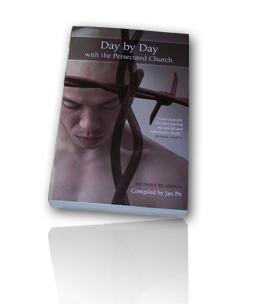 Day by Day with the Persecuted Church
compiled by Jan Pit with a forward by Brother Andrew (paperback, revised 2000)
Compelling wisdom from the pen of actual believers living amidst persecution, you'll be connected to the suffering, courage, and depth of life that exists in the harshest places in the world. Each of these 365 thought-provoking devotions will deepen your understanding of Christian persecution and provoke you to pray for our brothers and sisters with a new found depth.