April 30
The Way of Faith 
Hebrews 11:23-28
Many people consider Moses a biblical "pillar" of Old Testament days—a man without equal in godliness. Most likely, he'd have laughed at such a thought. Sure, He was called to do mighty things with the Lord's help. And he encountered the presence of the Almighty in a most unusual way. But like us, he was a normal, sinful human being. What the New Testament commends him for, though, was something we all can have: belief.
Today's verses comes from the passage known as the Bible's "Hall of Faith." Those honored with inclusion in this chapter were chosen because they acted obediently and God achieved great things through them.
We, too, can watch His hand in our lives as we act on faith. When we trust and obey, God demonstrates His power and shows that He truly is Lord. By operating out of His strength and through our weakness, He teaches us to rely upon Him.
That's not to say the path is easy; Jesus warned that the way of faith includes suffering. Indeed, many early Christians were beaten or killed for His sake, and faith is still met with harsh persecution in various places around the world. While that may not be our experience, each of us has encountered ridicule, misunderstanding, or lost friendships because we follow Christ.
Even mild persecution can cause us to question whether living out our faith is worth the sacrifice. Rest assured it is the best way to live. God responds to faith by enabling His children to endure difficulty, demonstrating His power in their circumstances, and providing contentment and joy.
For more biblical teaching and resources from Dr. Charles Stanley, please visit www.intouch.org.
Click here to watch Dr. Charles Stanley & In Touch Ministries Video Online
and
click here to listen to Dr. Stanley at OnePlace.com.
FEATURED RESOURCE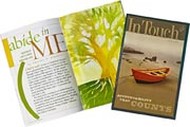 In Touch Magazine
Stories that Inspire, Teaching that Renews
If you like Dr. Charles Stanley's radio program, TV broadcast and books, then you'll love his free, award-winning monthly magazine. It's full of informative resources that will touch your heart and invigorate your faith. Every month, In Touch magazine brings readers daily devotionals from Dr. Stanley, in-depth Bible studies, inspiring articles and insightful teaching to help strengthen your family and your relationship with God. Click below to start your free subscription to In Touch magazine. 

Used with permission from In Touch Ministries, Inc. © 2009 All Rights Reserved.