August 21, 2008
Is He More? 
Colossians 1:15-20
Who is this Jesus? It's a question that has been asked by countless individuals for more than two millennia. And, to be sure, it is the most important question that can ever be asked—or answered. How would you reply?
You may say, "He's my Savior." But is He more? "Well, He's the Lord." But is He more?
Yes, He is far more indeed. Jesus did something for us that had never been done before: He enabled us to see the Father in a new way. In Colossians 1:15, Paul explains that Jesus is the "image of the invisible God."
No one has ever looked upon the face of the Almighty. In the Old Testament, some people found themselves in His presence, but they were never able to look fully upon His glory. For example, even Moses, who is described as God's friend (Ex. 33:11), could not look directly at Him. At best, he had the opportunity to look upon "God's back" as the Lord passed by. But Moses never saw His face. (Ex. 33:18-23).
However, Jesus came to bridge the gap between the Father's pure, holy glory and mankind's sinful nature. As God's "image," Jesus is the exact, flawless replica—the perfect reflection—of His Father. Therefore, Jesus could say, "He who has seen Me has seen the Father" (John 14:9).
How do we know what the heavenly Father is like? By knowing Jesus. He is the only full expression and explanation of God. Are you prepared to answer the question? Then ask the Father to reveal His Son to you in a fresh way today.
FEATURED RESOURCE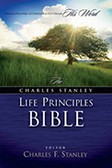 The Life Principles Bible
This Bible combines the wisdom of Scripture with the principles that guide Dr. Stanley's life and empower his ministry. Order your copy.
To see more resources from In Touch Ministries, please visit us at www.intouch.org or go directly to our bookstore at In Touch Ministries.