In Touch Daily Devotional 
by Dr. Charles Stanley
---
December 22, 2006
Why God Emphasizes Christ's Return
The idea of eternity is a hard one to grasp. It's difficult to wrap the human mind around the concept. But God still wants His children to have an eternal perspective. Throughout Scripture, He stresses Christ's second coming to help us think about our life in timeless terms. Realizing that Jesus could return at any time forces the Church keep the proper focus.
In Colossians 3:2, Paul reminds us to set our minds on heavenly things rather than on the things of earth. We walk through the material world. But we're to make decisions about where we spend our time, money, and energy by considering their long-term impact. The most important decision we make is to obey God's call to evangelize.
According to Matthew 28:19, every believer has a personal responsibility to share the Gospel. The goal of each individual—and the Church as a whole—must be to help as many people as possible enter Heaven. But in order for that to happen, all future Christians must hear the Good News before Jesus returns.
God emphasizes the return of Jesus Christ so believers will live with an eternal mindset. The Second Coming can happen at any time. And when Christ comes back, He will usher in a new age for those who choose to be with Him forever. In preparation for that day, we must live now with our feet on the ground, our hands busy for God, and our spiritual eyes watching for the Savior's arrival.
FEATURED RESOURCE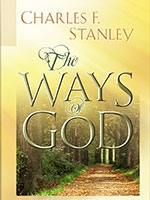 The Ways of God
from Dr. Charles Stanley
God's ways are always perfect, and following them leads to fulfillment and success. One of life's undeniable truths is that your choices will ultimately determine your future. While you can decide for yourself what career field to enter or who to marry, nothing compares with seeking God first and relying on the wonderful principles of His Word. In this series, Dr. Stanley teaches that as you serve God and seek His ways, you'll be blessed with peace, wisdom, and guidance for the journey ahead. Order here  now!
To see more resources from In Touch Ministries, please visit us at www.intouch.org  or go directly to our bookstore at In Touch Ministries.