In Touch Daily Devotional 
by Dr. Charles Stanley
---
January 13, 2007 
Goals and Conscience
We've spent some time this week on the issue of goal-setting and how to accomplish what God has called us to do. We've also examined how to determine whether or not a goal is from the Lord. Dr. Stanley's final word on the topic is simply this: a godly goal will never force you to violate your conscience.
This may seem like an obvious statement, but think about it for a minute. Most likely, there's been a time or two when you honestly believed you were working toward the right goal. But in order to get there, you had to act in a way that caused a sting in your conscience. Whenever that happens, you can be sure God is not in that goal.
As we spend time in prayer and Bible study, the Holy Spirit weaves Himself in and through our conscience. It becomes a type of filter through which we process our behavior and decisions. So, whenever we do something that causes "static" in our conscience, that's God's way of telling us that we are stepping out of bounds—that we have left His path.
Our heavenly Father will never place a goal at the end of a godless trail. The only thing you will find there is heartache, disappointment, and regret. If reaching an objective requires you to violate your conscience, then watch out! You are headed where God has not called you, and you can trust that the goal is your own—not His. Your conscience is a God-given warning system. Learn to appreciate, and obey, the alerts it sends you.  
FEATURED RESOURCE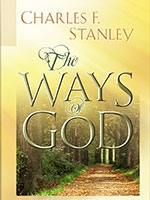 The Ways of God
from Dr. Charles Stanley
God's ways are always perfect, and following them leads to fulfillment and success. One of life's undeniable truths is that your choices will ultimately determine your future. While you can decide for yourself what career field to enter or who to marry, nothing compares with seeking God first and relying on the wonderful principles of His Word. In this series, Dr. Stanley teaches that as you serve God and seek His ways, you'll be blessed with peace, wisdom, and guidance for the journey ahead. Order here  now!
To see more resources from In Touch Ministries, please visit us at www.intouch.org  or go directly to our bookstore at In Touch Ministries.