In Touch Daily Devotional 
by Dr. Charles Stanley
---
January 25, 2007
A Lifestyle of Waiting on God
Ever notice how some teenagers will ask a question but then rush out the door before you can respond? We act the same way toward God when we don't wait on Him. There are several things we need to develop a lifestyle of waiting on the Lord. 
First, we need faith. We must be willing to trust God when a solution isn't obvious and we can't see a way through our struggles. Meditating on and applying Scripture to life's trials will result in strengthened faith. (Romans 10:17)
Second, we need humility to develop a lifestyle of waiting on God. We must recognize that we can accomplish nothing apart from Jesus. Then, we will be able to endure until God reveals His answer. (John 15:5) God's ways are always perfect, and our cleverest plan will not be as adequate.
Third, we need patience in order to wait on God. Waiting is characterized by a calm demeanor and inner peace, which both come from believing that God is who He says He is and that He'll fulfill His promises. With the Spirit's help, we'll face stressful circumstances without complaining, and we'll accept life's challenges without trying to manipulate our way out.   
Fourth, we need courage to wait on God. It's human nature to want to be in control. We yearn to know the outcome and timeline of every difficult situation. We need courage to resist following our own schedule and the ability to refuse to cave in to pressure from others.
With the Holy Spirit's help, we can hold steady when others disapprove of our decision to wait on God.  Wisdom and godly action come through seeking God and His will. Quiet your heart and mind and listen to Him.
FEATURED RESOURCE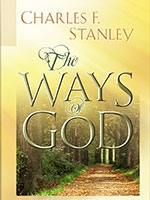 The Ways of God
from Dr. Charles Stanley
God's ways are always perfect, and following them leads to fulfillment and success. One of life's undeniable truths is that your choices will ultimately determine your future. While you can decide for yourself what career field to enter or who to marry, nothing compares with seeking God first and relying on the wonderful principles of His Word. In this series, Dr. Stanley teaches that as you serve God and seek His ways, you'll be blessed with peace, wisdom, and guidance for the journey ahead. Order here  now!
To see more resources from In Touch Ministries, please visit us at www.intouch.org  or go directly to our bookstore at In Touch Ministries.