March 2
Today Is the Day of Salvation 
Hebrews 3:7-19
Procrastination can be a big problem: important tasks are neglected, and the benefits of finished work are never enjoyed. However, procrastinating in spiritual matters can be disastrous.
Every person is going to spend eternity somewhere. The destination is determined in this lifetime by a choice to either accept or reject Jesus' offer of the forgiveness of sins. Some people feel that they can delay this decision. Eternity seems distant, and there is so much to enjoy in this life. They assume, I'll just wait until I'm close to death. Then I'll ask Jesus to save me.
The problems with this reasoning are obvious. First of all, there is no guarantee that you will have any warning before death. Second, by spending a lifetime rejecting Christ's offer, you run the risk of developing a hardened heart. Saying no to God frequently throughout your life may result in being unable to say yes when death comes knocking at the door. In fact, you may not even be interested in Christ's offer anymore.
There is great danger in abusing the grace of God. All people who are not protected by salvation in Jesus Christ will face the terrifying reality of judgment, as they stand before God without a Savior (Heb. 10:26-27).
By putting off a decision for Christ, you not only lose the immediate blessings of a deeply personal relationship with God now but also risk future separation from Him for all eternity. Don't procrastinate! Come to Christ today: acknowledge your sin, ask His forgiveness, and trust Him as your Savior. 
For more biblical teaching and resources from Dr. Charles Stanley, please visit www.intouch.org.
Click here to watch Dr. Charles Stanley & In Touch Ministries Video Online
and
click here to listen to Dr. Stanley at OnePlace.com.
FEATURED RESOURCE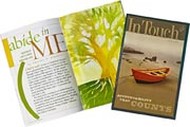 In Touch Magazine
Stories that Inspire, Teaching that Renews
If you like Dr. Charles Stanley's radio program, TV broadcast and books, then you'll love his free, award-winning monthly magazine. It's full of informative resources that will touch your heart and invigorate your faith. Every month, In Touch magazine brings readers daily devotionals from Dr. Stanley, in-depth Bible studies, inspiring articles and insightful teaching to help strengthen your family and your relationship with God. Click below to start your free subscription to In Touch magazine. 

Used with permission from In Touch Ministries, Inc. © 2009 All Rights Reserved.