In Touch Daily Devotional
by Dr. Charles Stanley
---
March 16, 2007 – The Struggle With Temptation – James 1:12-15
If there's one thing every man, woman, and child has experienced, it's temptation. We've all seen something new, attractive, and unusual; something a friend has that we don't. And we just want it.
The object of temptation can be almost anything. It might be something material, like a nice house or new car. Or it could be physical, like the effect of alcohol or the rush of a new relationship. And, of course, it could be emotional, like recognition for a job well done.
Whatever the object, temptation demands that we must have it now! Is it good for me? It doesn't matter. Will it benefit me or my family? That's not the issue. Could this hurt someone I love? Who cares?
Temptation knows no loyalty. It's a raging beast that, if left uncontrolled, can bring absolute destruction into your life. Simply put, temptation is an invitation to follow God-given desires beyond His established boundaries. For example, the Lord gave mankind a precious gift in human sexuality. However, this God-given desire is all too often taken far beyond the boundaries the Creator originally established. Does this mean sexual desire is inherently wrong? Not at all. But, when left unchecked, it can be the starting point for all types of trouble.
Are you allowing a single desire to control your life? Are you continually going beyond the limits of God's approval? Break the hold of temptation. Thank God for the desires He placed on your heart, and ask Him to direct where those desires lead you.
FEATURED RESOURCE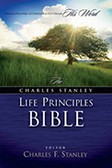 The Life Principles Bible
This Bible combines the wisdom of Scripture with the principles that guide Dr. Stanley's life and empower his ministry. Order your copy.
To see more resources from In Touch Ministries, please visit us at www.intouch.org or go directly to our bookstore at In Touch Ministries.