May 1-2
The Cross: Grace Displayed  
Romans 3:21-27
At Calvary, the Lord displayed His grace for the entire world to see. The cross represents the intersection of His holiness and His love. From there, He poured out mercy on an undeserving population: all of humanity, including you and me.
Our holy God is absolutely without fault. He's so "perfectly perfect" that no earthly man or woman can look upon Him and live (Ex. 33:20). The problem has to do with our sinful nature—we all have an inborn desire to rebel against His authority (Rom. 3:10). Anyone who thinks otherwise is deceiving himself (1 John 1:8). It's important to understand that God hates sin. He cannot abide evil in His presence, so He pronounced a death sentence on sinners (Rom. 6:23).
But Scripture also tells us that God is love (1 John 4:8), and He created people with the intention of caring for them. What's more, the Lord desires that all people spend eternity with Him. Yet there remains the problem of our sin and the death penalty that we owe.
The Lord cannot violate His own nature. Though God loves mankind, His holiness would be compromised if He permitted the filth of sin into His presence. So the Father made a way to cleanse dirty hearts and transform wayward natures: He put the sin of all mankind on Jesus Christ's shoulders. 
The Father sent His holy Son to be a perfect sacrifice on our behalf. Jesus Christ took our sin upon Himself and died on the cross in our place. When we trust Him as our Savior and receive His forgiveness, we are made new—holy, perfect, and welcome in our Father's presence.
For more biblical teaching and resources from Dr. Charles Stanley, please visit www.intouch.org.
Click here to watch Dr. Charles Stanley & In Touch Ministries Video Online
and
click here to listen to Dr. Stanley at OnePlace.com.
FEATURED RESOURCE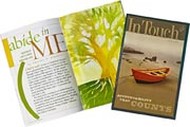 In Touch Magazine
Stories that Inspire, Teaching that Renews
If you like Dr. Charles Stanley's radio program, TV broadcast and books, then you'll love his free, award-winning monthly magazine. It's full of informative resources that will touch your heart and invigorate your faith. Every month, In Touch magazine brings readers daily devotionals from Dr. Stanley, in-depth Bible studies, inspiring articles and insightful teaching to help strengthen your family and your relationship with God. Click below to start your free subscription to In Touch magazine. 

Used with permission from In Touch Ministries, Inc. © 2009 All Rights Reserved.