May 14, 2009
The Gift of the Holy Spirit
Acts 2:37-39
Because of a persistent thread of bad theology, there's some confusion about the Holy Spirit in the modern church. Yesterday I described the change from His Old Testament role of short-term empowerment to His residing permanently within every believer—starting at salvation.
Unfortunately, many Christians assume that the indwelling is an event that occurs some time after one is saved. The question, "Have you gotten the Holy Spirit?" still gets asked, as if receiving Jesus and being indwelled by His Spirit are unrelated events.
Here is the plain truth: A new believer receives the Holy Spirit's indwelling presence at salvation. We need not attend a special service or pray for His arrival. The moment we place faith in Jesus, His Spirit comes to abide with us forever. The Bible clearly tells what happens: 1) we listen to the gospel; 2) we believe the gospel; 3) we're sealed in Christ with His Spirit (Eph. 1:13).
In John 14:16, Jesus says of the Holy Spirit, "The Father . . . will give you another Helper, that He may be with you forever." That means He is there to stay. All of this talk about "getting the Spirit" over and over again is poor theology. It is based upon the Old Testament but does not take into account the new covenant that believers have with God through Jesus Christ.
The Holy Spirit lives permanently within the Christian. That is important, since without Him, it's impossible to serve God successfully or joyfully. Once you understand this fundamental truth, your faith is going to grow. You'll know that rather than trying to "get the Spirit," you need to live like the Spirit-filled Christian you are. 
For more biblical teaching and resources from Dr. Charles Stanley, please visit www.intouch.org
and
click here to listen to Dr. Stanley at OnePlace.com.
FEATURED RESOURCE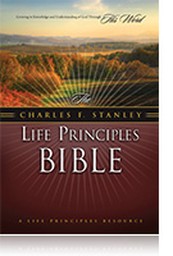 The NASB Life Principles Bible
You can now read the Scriptures in Dr. Stanley's favorite teaching translation -- the New American Standard -- while learning the 30 Life Principles that have guided him for more than 50 years. The new NASB Life Principles Bible will enhance your personal study time through explanation of key passages, plus helpful resources like "Answers to Life's Questions," concordance, maps, and much more. Available in leather and hardcover. 

Used with permission from In Touch Ministries, Inc. © 2009 All Rights Reserved.