May 26 
Conquering Loneliness 
Psalms 25:15-22
I  know the pain of loneliness. I was the only child of a single mother who had to work long hours to support us. My adult life has been marked by periods of emotional isolation as well. However, God has never abandoned me to these feelings.
The Lord desires that all people feel connected to Him and to each other. And in fact, we can be quickly comforted when we respond wisely to loneliness.
The first step is to enter into a personal relationship with Jesus Christ. Believing He exists is not enough. The Lord created mankind for fellowship, which is why a relationship with Him gives people a sense of oneness. The love of Christ squeezes loneliness out of the lives of God's children.
Second, we must admit that we're lonely. Some Christians incorrectly think they shouldn't be susceptible to normal human feelings. But nothing in the Bible says we won't endure emotional isolation. Not only men like David and Paul, but even the Lord Himself knew the ache of feeling deserted (Ps. 25:16, 2 Tim. 4:16; Matt. 26:40; 27:46).
Finally, we ought to develop godly friends. These are the Christian brothers and sisters who will laugh, cry, and empathize with us. Above all, believers need friends who will continually point them to God and pray over them.
We can't deny feelings of loneliness, nor can we run from them. A person who seeks ways to escape those feelings only broadens the gap between the Lord and himself. There is just one way to close the chasm and conquer loneliness—by drawing near to the Lord. 
For more biblical teaching and resources from Dr. Charles Stanley, please visit www.intouch.org.
Watch Online Videos of Dr. Charles Stanley and In Touch Ministries at LightSource.com
and
Listen to Dr. Charles Stanley Online Broadcasts at OnePlace.com.
FEATURED RESOURCE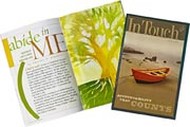 In Touch Magazine
Stories that Inspire, Teaching that Renews
If you like Dr. Charles Stanley's radio program, TV broadcast and books, then you'll love his free, award-winning monthly magazine. It's full of informative resources that will touch your heart and invigorate your faith. Every month, In Touch magazine brings readers daily devotionals from Dr. Stanley, in-depth Bible studies, inspiring articles and insightful teaching to help strengthen your family and your relationship with God. Click below to start your free subscription to In Touch magazine. 

Used with permission from In Touch Ministries, Inc. © 2009 All Rights Reserved.