In Touch Daily Devotional 
by Dr. Charles Stanley
---
November 18, 2006
Preparation for Praise
            Yesterday, we dramatized the way in which some families attend church. Sure, the folks in the illustration attended the service, but they failed to genuinely worship God, which is another matter altogether. You see, God is not looking for believers who simply go to church. No, He is looking for worshipers.
          In the fourth chapter of John's gospel, Jesus encounters a Samaritan woman with whom He discusses religious observance. Midway through their conversation, He declares, "But an hour is coming, and now is, when the true worshipers will worship the Father in spirit and truth; for such people the Father seeks to be His worshipers" (John 4:23).
          Do you see the implication here? We often hear much about people "searching for God," but here, we see that God is actually looking for us! Specifically, He is looking for those who worship Him "in spirit and truth."
          "Spirit" means our praise can never be just another item on our to-do list. True worship is not an obligation, burden, or scheduling item, but it's a total spiritual recognition of God's grace and loving-kindness.
          "Truth" means that genuine praise is not just an emotional high. Unless worship is based on the truth of God's Word, then all we have is a sentimental feeling.  And simple feelings will neither last nor promote the life change that God desires for us. 
          Are you worshiping the Lord "in spirit and truth"? Are you the kind of worshiper God is seeking? Take some time this week to do a spiritual checkup, and discover if your worship is real . . . or routine.  
 
FEATURED RESOURCE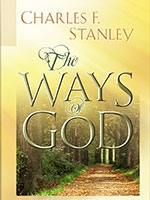 The Ways of God
from Dr. Charles Stanley
God's ways are always perfect, and following them leads to fulfillment and success. One of life's undeniable truths is that your choices will ultimately determine your future. While you can decide for yourself what career field to enter or who to marry, nothing compares with seeking God first and relying on the wonderful principles of His Word. In this series, Dr. Stanley teaches that as you serve God and seek His ways, you'll be blessed with peace, wisdom, and guidance for the journey ahead. Order here  now!
To see more resources from In Touch Ministries, please visit us at www.intouch.org  or go directly to our bookstore at In Touch Ministries.