"Jesucristo es el mismo ayer, y hoy, y por los siglos"(Hebreos 13:8 RV 1960).
La vida pasa, como se dice. Los proyectos que se hacen hoy podrían deshacerse fácilmente mañana. Alguien dijouna vez que la única cosa con la que podemos contar es el cambio. ¿Esto nos deja en una posición muy precaria, verdad?
Las Escrituras, sin embargo, pintan un cuadro muy diferente. Vemos un Dios que nunca cambia, cuyo amor dura para siempre, cuyo carácter es el 100 por ciento serio, y cuya Palabra es una roca sólida. Hebreos 13:8 lo resume de esta forma: "Jesucristo es el mismo ayer, y hoy, y por los siglos".
Recuerdo cuando, relativamente como una nueva Christian, leí por primera vez ese versículo. Estaba pintado por encima del altar en la iglesia a la que yo había comenzado a asistir. Cada vez que lo leía, mi corazón se animaba y mi fe crecía — hasta que algunas cosas en mi vida personal se desboronaron. Entonces comencé a cuestionar la fidelidad de Dios. ¿Cómo podría pasarme tal cosa? ¿Por qué lo permitiría un Padre fiel?
Por suerte yo tenía una amiga íntima, mucho más madura en el Señor que yo, que me recordó que Dios no prometió que nunca tendríamos dificultades o privaciones o hasta cambiamos en nuestras vidas. De hecho, explicó ella, podríamos contar con tales cosas con regularidad, mientras que vivimos en esta tierra dañada por pecado. Sin embargo, ella también explicó que podríamos decidir permitir que esas cosas dañaran nuestra fe y abrir una brecha entre nosotros y Dios — o podríamos decidir permitir dar esas mismas dificultades y angustias y cambios incomprensibles a un Dios amosoro, incambiable que ha prometido sacar algo bueno aún de esas cosas que parecen ser tan malas.
Han pasado muchos años para que yo llegue a un lugar de la fe firme que dice, "sin tener en cuenta lo que el mundo o el enemigo lancen sobre mí, sé que mi Dios es bueno y que Él nunca cambia." También sé que ese lugar de fe seguirá siendo desafiado hasta el final de mis días terrenales. Pero sé sobre todo lo demás que lo que dice Hebreos 13:8 es verdadero, y he decidido agarrarme de esa verdad hasta que yo sea liberada para elevarme a Su presencia. Mi oración es que tú también hayas tomado esa misma opción, y que animarás a otros a hacerlo también.
***
Jesus Christ is the same yesterday, today, and forever (Hebrews 13:8, NKJV).
Life happens, as they say. Plans made today could easily fall apart tomorrow. Someone once said that the only thing we can count on is change. That leaves us in a very precarious position, doesn't it?
The Scriptures, however, paint a very different picture. We see a God who never changes, whose love endures forever, whose character is 100 percent dependable, and whose Word is rock solid. Hebrews 13:8 sums it up this way: "Jesus Christ is the same yesterday, today, and forever."
I remember when, as a relatively new Christian, I first read that verse. It was painted above the altar at the church I'd started attending. Each time I read it, my heart was encouraged and my faith grew—until some things in my personal life fell apart. Then I began to question God's faithfulness. How could such a thing happen to me? Why would a faithful Father allow it?
Thankfully I had a close friend, much more mature in the Lord than I, who reminded me that God didn't promise we would never have difficulties or hardships or even changes in our lives. In fact, she explained, we could count on such things regularly, so long as we live on this sin-damaged earth. However, she also explained that we could choose to allow those things to damage our faith and drive a wedge between us and God—or we could choose to hand those very difficulties and heartaches and incomprehensible changes over to a loving, unchanging God who has promised to bring good even out of those things that seem so bad.
It has taken many years for me to come to the place of unshakable faith that says, "Regardless of what the world or the enemy throws at me, I know my God is good and that He never changes." I also know that place of faith will continue to be challenged until the end of my earthly days. But I know above all else that Hebrews 13:8 is true, and I have chosen to cling to that truth until I am released to soar into His presence. My prayer is that you too have made that same choice, and that you will encourage others to do so as well.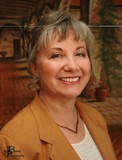 Kathi Macias, popular speaker and prolific author, is an Angel-award winning writer who has published nearly thirty books, including her latest releases, Mothers of the Bible Speak to Mothers of Today (New Hope Publishers) and My Son John (a novel from Sheaf House). Whether keyboarding her latest book, keynoting a conference, or riding on the back of her husband's Harley, Kathi "Easy Writer" Macias is a lady on a mission to communicate God's vision. Her insightful words—filled with passion, humor and soul nourishment—refresh audiences from all walks of life. Join Kathi as she hosts "Write the Vision" every Thursday from 6—7 p.m. (Pacific Time) via THE International Christian Network (www.theicn.com). To learn more about Kathi or to book her for your next event, visit www.KathiMacias.com. Spanish translations by Cynthia Alcantara (cynthia.alcantara1@gmail.com).