Today's Word for Pastors...
Then we your people, the sheep of your pasture, will praise you forever; from generation to generation we will recount your praise. 
Psalms 79:13
Today's Preaching Insight...
Church 'Success'
People will call... and say, "How do I plant a church like NewSpring? I want to reach a lot of people." When we first started this church, that was never our goal. In fact, I still have 10-year goals we wrote our first year; we said, in 10 years if we can be reaching a thousand people, that would be a move of God and incredibly successful. I didn't even know what a megachurch was.
This is what I knew: Jesus had saved me. When He saved me, like He really saved me—He pulled me out of the pit. I knew I wanted everybody else to meet this Jesus that I'd met. I knew, or I really believed in my heart, that church was the avenue where people could meet Jesus and grow in their faith with Him. I began to look around at the landscape, and not all churches but many churches felt like they had fallen into this content pattern of "We kind of got things going."
That's not to say we're better than anybody, because that could happen here. That could happen anywhere—"OK, the bills are being paid and people are showing up, so let's just shut up and kind of do what we're supposed to do." I'm just not content with that. As I read the Book of Acts, even through the rest of the New Testament, I just believe the church was called to be a place where people could meet Jesus and continue to follow Him one step at a time.
(To read the entire interview "Preaching to Connect: An Interview with Perry Noble" by Michael Duduit at Preaching.com, click here)
Today's Extra...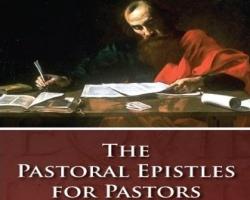 This Week's Book
The Pastoral Epistles for Pastors
Pastor John Kitchen has published The Pastoral Epistles for Pastors (Kress Christian Publications), an intriguing book filled with useful tools for preachers and teachers in their study of 1 & 2 Timothy and Titus. This is a book by a pastor for pastors, and contains not only commentary but also a variety of tools of value to preachers, including several helpful appendices with teaching tools and resources.
Preaching magazine is the premier resource for those who proclaim the Word. To begin your own subscription, go to http://magazine.preaching.com/subscribe/.