Our Hope Is Rooted in Christ, Not Politics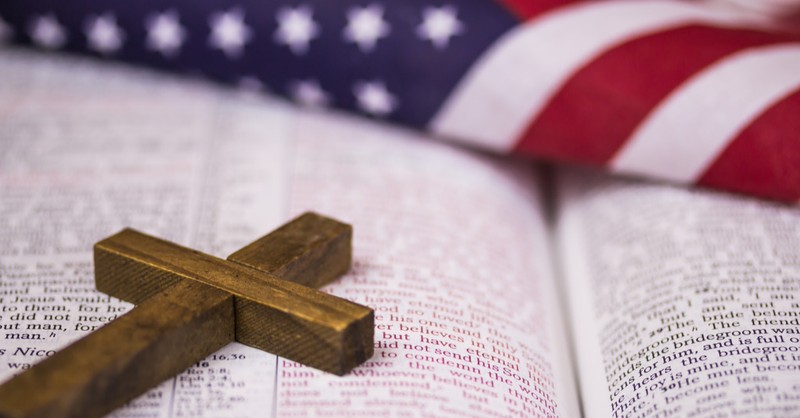 Yesterday in Washington D.C., around 1 pm Eastern Standard Time, protestors broke out from among the crowd surrounding the Capitol and invaded the Capitol building. This included going into the area where Congress and the Senate performs their regular business on behalf of the American people. Today we find ourselves at a unique moment in American history. Over the past year, we've seen protests and anarchy become commonplace across America for a variety of reasons. Many people are tired of being locked up and treated as if they don't matter and/or don't have a voice to bring about change in our country. And it's understandable that they feel this way.
There is a large part of our nation that feels it has no voice, and it is reacting in this way because of the past year. With that said, another part of the population has been stoking the fires of revolution for a long time. Facilitating things behind the scenes, they have been working for this moment in our history to bring about a fundamental change in our nation. But no matter what side a person is on, every single person in our country needs the peace that comes only through finished and sufficient work of Jesus.
The violence in D.C. and across the United States reveals the state of our hearts as a country. Storming the Congress and the Senate is not the solution to the problems of our country. The solution isn't in political activism either. The solution is found in Jesus Christ alone. As Christians, we have real answers to the real questions that people are facing today. The answers we seek are not found in politics, but solely in Jesus Christ alone. God alone appoints leaders and remove leaders. He is sovereign.
I know many people are very concerned about what is happening in D.C., and that's understandable. As an American citizen, I'm also concerned; but I'm more concerned about how we respond to this situation as a Christian leader. As Christians, we have the truth because Jesus is the Truth (John 14:6). As a country, we are at a crossroads. We are a Constitutional Republic made up of people from every tribe, creed, tongue, and nation who come from many different backgrounds and parts of the world. It's been said that America is a melting pot; although the definition of "melting pot" has often been changed to fit the narrative (whatever that is at the time). Right now, this melting pot is bubbling over with the conflict within. The answer to the problem is not more antagonism. We need peace, not as the world gives, but as God alone gives to people in His finished and sufficient work.
Fighting amongst each other will not solve our problems; nor will fighting in the streets or storming the Congress, Senate, or the White House. What is truly revealing is that the Congress and Senate were attempting to do their duly elected jobs, but instead of allowing them to do their jobs, people stormed in and created chaos.
As we contemplate the events happening in Washington D.C., we need to remember that civility is of utmost importance. We, as Christians, are not a people who support shows of anarchy. Instead, we are for peaceful protests and debate. What happened at the Capitol was not a peaceful protest but a revolt. The duly elected Congress members and Senators were gathering to certify the election results by engaging in peaceful debate, but the mob intruded into the Constitutional process.
As Christians, we do not see texts like Romans 13 or others like it as an "option," but as part of the already-not-yet for Kingdom citizens. The Kingdom is here in that Jesus has already come, bled, and died in our place and for our sins, and then rose again. Yet, the Kingdom is also to come in the future because Jesus has not yet returned. People need to hear that He reigns and is sovereign, as well as the fact that He is in control.
As Christians, we are to pray for our elected officials (1 Timothy 2:1-2). At this time in the history of our country, we should pray for our elected officials. Paul's teaching in 1 Timothy 2 is not a suggestion, but a command, given for our good and God's glory. As Christians, we should also care about our witness; this includes bearing testimony to the truth about Jesus, and all the Bible proclaims.
I know many of you may feel disenfranchised by the Presidential election process, and/or that your vote doesn't matter. But you need to realize that however you voted and whoever you voted for is not of supreme value. What is of supreme value, and should be the treasure of your hearts, are Jesus Christ and the Word of God. Voting from a biblical worldview is vital, so I am not arguing against that. What I am arguing for here is that we take our faith as seriously as we do our politics. The two are not enemies of each other. Our faith should inform our politics. Our faith is grounded in Christ. Our politics should also be rooted in the Word of God.
Our hope, as Christians, is not in Trump or Biden. Neither is it in the party that controls the House or Senate. Instead, our hope remains rooted in the sufficiency of the revelation of God in His Word, and the solid foundation of Jesus Christ.
May you steady your heart in Christ and be rooted in Him through His Word. No matter what may or may not come to pass in the future, we know God reigns. He alone puts leaders on the throne and removes them. All praise belongs to the Lord, who alone is worthy of all praise and honor.
So, at this time in our nation's history, may you and I proclaim the sovereignty of God over all things and trust Him. No purpose of the Lord can be thwarted, He is sovereign.
Photo credit: ©Getty Images/Enterline Design Services LLC.
---
Dave Jenkins is happily married to Sarah Jenkins. He is a writer, editor, and speaker living in beautiful Southern Oregon.