Value and protect your freedom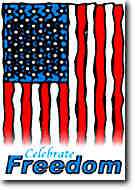 We have been granted freedom through Jesus Christ. By His death we are new creatures, no longer in bondage to sin, but set free to live abundantly in His forgiveness, love, and
grace
. It is a freedom we must live daily.
For freedom Christ has set us free; stand fast therefore, and do not submit again to the yoke of slavery
(Gal. 5:1).
We have been granted freedom through the U.S. Constitution. More than 200 years ago we were granted freedoms as Americans. They are freedoms we must protect daily. Live as free men, yet without using your freedom as pretext for evil; but live as servants of God. Honor all men. Love the brotherhood. Fear God. Honor the emperor (1 Peter 2:16-17).
How to live in freedom:
Obey the law. Let every person be subject to the governing authorities. For there is no authority except from God, and those that exist have been instituted by God. Therefore he who resists the authorities resists what God has appointed, and those who resist will incur judgment (Rom. 13:1-2).
Be informed. Know what the issues are and who your elected leaders are. Keep up with local, and national news and issues.
Vote. God's kingdom isn't of this world, but He put you here to make a difference. You have been given the right to vote, now exercise it. Vote with understanding and discernment. It is your duty to make informed choices about issues and candidates.
Speak out. You have been granted the freedom of speech - use it with wisdom. Understand the issues, learn to articulate them rationally and clearly. Write to governmental representatives and express your concern for the nation. Work for solutions - don't attack political leaders or policies.
Seek public office. If you have the talents and interest - and you sense this area of mission - don't hesitate to become involved in government. Begin at the local level by attending city or county supervisor's meetings. Choose to run for office. Remember, it is a privilege to serve in the political arena. When the righteous are in authority the people rejoice, but when a wicked man rules, the people groan (Prov. 29:2).
Pray for those in authority. I urge that supplications, prayers, intercessions, and thanksgivings be made for all men, for kings and all who are in high positions, that we may lead a quiet and peaceable life, godly and respectful in every way (1 Timothy 2:1-2).
Practice good citizenship. Pay your taxes, obey the law, support your leaders, pray for those in authority. Demonstrate good citizenship to your children, neighbors, and co-workers. ...For the same reasons you also pay taxes, for the authorities are ministers of God, attending to this very thing. Pay all of them their dues, taxes to whom taxes are due, revenue to whom revenue is due, respect to whom respect is due; honor to whom honor is du (Romans 13:1-6).
Begin today. Celebrate the Fourth of July. Pause to reflect on the freedoms you enjoy as an American. Continue the celebration in 2000 - it's an election year!