Hospitality and Intimacy: Ways to Connect with Others

I have to admit, I was scared to death when I was asked to speak to a group of young mommies about hospitality. But I knew I couldn't say no.
When I arrived, I just couldn't picture myself standing at a podium and delivering my message. I am NOT a podium girl!
So I begged the leaders - puleeeez can we sit in a circle? So the tables were set in somewhat of a circle format. But I still wasn't happy.
I begged again … puleeeez can we move the chairs and just form a circle with those?
Ok, Sandy. (I could tell they were hesitant.) Each mommy picked up her chair and moved it in front of the table, forming a circle (about 20 ladies).
And then I began … Hospitality is not about you …
I was so blessed to be a part of this hour-and-a-half time with mommies and darling babies - mommies just learning about motherhood and being wives. They were young sponges that need nurturing. And as almost every woman in the group spoke up and shared in one way or another, I thought to myself - Wow! This group really knows how to engage!
They shared heartfelt worries, anxieties, fears, frustrations - all relating to expectations or the lack of hospitality!
After our session ended (and I was relieved!), I found out that the leaders had never seen such "engagement" or liveliness in the group. Now, it's possible that the subject was relevant and hit home with each lady. But I like to attribute it to the "intimate circle" we formed.
Here are some ideas I want to share with you that can help let our guards down when in a small group or hospitable settings.
1. Don't be afraid to make a change and do something different when practicing hospitality.
2. If you've been hurt before, take the chance to open up again. Especially if it's a new group of ladies.
3. Be a good listener. Listen to those around you first. Hearing others share can give you courage that you have something worthy of sharing, too!
4. Understand the power of a circle and how it can be beneficial.
5. Keep the fact that you are created in God's image first and foremost in your mind.
There's something about feeling safe within a circle, where you can let your guard down and be real with one another. Do you feel you can open up and share in a smaller, more intimate group setting?
June 14, 2010
---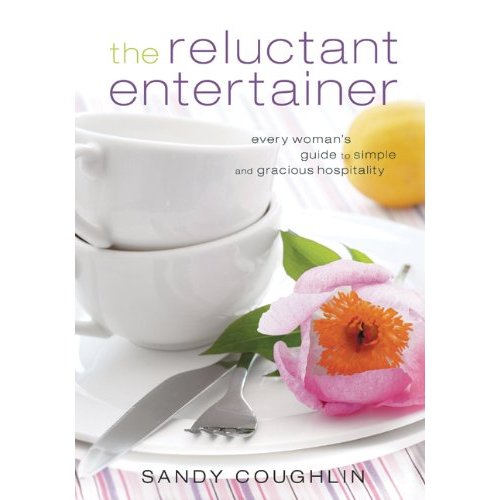 Sandy Coughlin is a mom to 3 teens, wife to one awesome man, and author of the popular Reluctant Entertainer blog. She loves to cook and entertain in her home, and look for creative ways to give to those around her. Her book, The Reluctant Entertainer