Potluck Dinner Parties Provide Economic Elegance

Nothing in our culture could be considered more down home than the all-American potluck. I grew up in the home of a minister, which surely qualifies me as a potluck aficionado. As a kid, I would've sworn "Thou shalt gather regularly for potluck suppers and the children shalt take only one dessert" was written in stone somewhere.
In the beginning, the potluck supper represented surprise at its finest. In time, the potluck supper regulations were expanded in an effort to do away with some of the luck. If your last name started with A through H you were to bring a main dish, I through N, a salad and O through Z, dessert. Single people could bring rolls, which explained their singleness. They didn't know how to cook.
Potluck suppers always produced a lot of macaroni and cheese, assortments of pasta and meat swimming in variations of greasy liquids (there's only so much you can do to stretch a pound of ground meat and come out with something that travels well), countless forms of gelatin mutations, cakes in pans with sliding lids and, of course, watered down Kool-Aid. We didn't eat. We took on ballast.
Whether you can recall the last time you participated in a potluck or not, I believe it's time for a revival. Are you with me?
Combining the benefits of the potluck with the dignity of a dinner party could become the frugal wave of the future, and it is only right that we create a few guidelines.
Make up the guest list. The ideally sized group is eight to 12 because few homes can comfortably accommodate more than 12 dinner guests. Most sets of dishes and flatware come in settings of eight to 12 and food prepared for this number usually fits easily in one container.
Create a menu. Plan every detail from appetizers to dessert. Your goal is economic elegance. Provide recipes, including detailed instructions, and deliver them well ahead of time to each assigned guest.
Guest Etiquette. Once you have committed to attending, nothing short of a note from your doctor should prevent your appearance. You can only imagine the stress you'll cause if you show up an hour late with the appetizers, so please arrive on time.
Do Ahead. Leave as little as possible to be done on location. Some food preparation must be left until the last moment, i.e. slicing meat or tossing the salad, but do all you can ahead of time. Don't plan to cook, prepare or assemble after your arrival.
It makes sense. Since most people appreciate being needed and prefer to help out, the potluck dinner party, luncheon, baby shower or wedding reception (whoops, have I gone too far?) makes far more than just economic sense. It makes people sense.
Visit my blog at MoneyRulesDebtStinks.com for one of my all-time favorite potluck stories.
September 11, 2009

Copyright © 2009 Mary Hunt. All rights reserved. Permission to reprint required.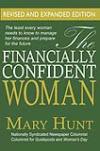 Check out Mary's recently released revised and expanded edition of The Financially Confident Woman (DPL Press, 2008).
Debt-Proof Living was founded in 1992 by Mary Hunt. What began as a newsletter to encourage and empower people to break free from the bondage of consumer debt has grown into a huge community of ordinary people who have achieved remarkable success in their quest to effectively manage their money and stay out of debt. Today, "Debt-Proof Living" is read by close to 100,000 cheapskates. Click here to subscribe. Also, you can receive Mary's free daily e-mail "Everyday Cheapskate" by signing up at EverydayCheapskate.com.