5 Budget Moves You Need to Make Right Now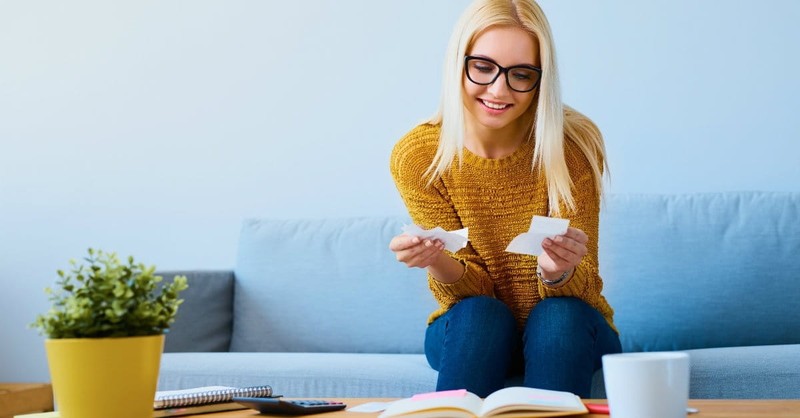 It's a brand-new year. You have a clean slate. A fresh start! And it's the perfect time to form new habits, get rid of old ones, and brainstorm what you want to accomplish in 2017.
It's also the perfect time to set yourself up for financial success.
If you aren't already on a budget, that's step one. A budget tells your money where to go so you aren't left wondering where it went. Give every dollar a name. That will keep you from asking where your paycheck went when the end of the month draws near—whew!
Once you've done that, it's time to dive a little bit deeper. This is where it gets good. In addition to planning your spending for the current month, add these lines to your budget, too.
These are some annual expenses that you can start preparing for now so you won't be caught off guard later.
Talk about a breath of fresh air!
1. Vacations
Everybody loves a good vacation! Just thinking about the sand between your toes or the fresh mountain air makes you eager to pack your bags. But traveling comes with a price. Start putting a little money into a vacation fund each month and it'll be ready to use when the next family road trip rolls around.
Related: 7 Wastes of Your Vacation Cash
Christmas is always on December 25, but many people end up spending more than they plan—or scrambling for money in November to cover all the costs! But just think: If you start saving for the holidays now, you could have a stress-free December. Wouldn't it be great if you could sit back and enjoy the season instead of worrying about how you're going to pay for it?
3. Membership renewals
Membership renewals are sneaky. Sometimes gyms, warehouse stores, and insurance companies have premiums and renewal fees that only hit your account once a year. Don't let those payments catch you off guard this year. Put money aside now and those renewals will feel like speed bumps instead of roadblocks.
4. Medical co-pays
Insurance is great, but it usually doesn't cover the cost of everything. If you know you're going to be pulling the debit card out for doctor and dentist co-pays, save up a little each month so you're ready and prepared to pay the next time you have a routine checkup or teeth cleaning. And while you're at it, see if your company offers a health savings account (HSA). Sometimes your employer will even match some of your contributions to help cover your medical costs!
Related: The Real Secret to Saving Money
5. Extra giving
If you budget a little extra money each month for generosity, you have the freedom to perform random acts of kindness when you see people in need. It makes it easy to fill up a stranger's gas tank, pay for the person behind you in the coffee drive-thru line, or surprise a coworker with a card and flowers if they're having a rough week.
You don't have to budget crazy amounts of money for each of these categories. You don't even have to fully fund all of them; you might just want to cover half of the expenses throughout the year and save up the second half when the events get closer.
No matter how you decide to do it or how much you want to set aside, planning for these expenses and saving up in small bites will make you feel much better over the course of the year. And now you can focus more energy on the rest of your resolutions!
Learn Dave Ramsey's 7 easy-to-follow Baby Steps to create a budget, get out of debt, and make a plan for your money! Learn more about Financial Peace University!
This article originally appeared on Stewardship.com. Reprinted with permission.
Photo Credit: ©Thinkstock