Teaching Our Children Thankfulness
Tonya Ruiz

Contributing Writer

2005

17 Nov

COMMENTS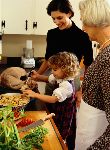 The chorus of "Give thanks with a grateful heart . . . " filled the sanctuary as the congregation sang. I questioned, am I truly thankful, or just singing along?
"Thanks" is a simple word, but it means so much. The Japanese say, "Arigato," the French, "Merci," and the Germans "danke." No matter what the language, the meaning stays the same.
Bob Hope singing "Thanks for the memories" and Maurice Chevalier's "Thank heaven for little girls" are songs embedded in our minds from childhood. At an awards ceremony, hearing the words, "I'd like to thank . . . " usually mean we are going to be there for a long time. We say: "Thank God it's Friday," "Thanks for nothing," "Thanks a million," "Thanks for sharing," "Thanks for listening," and "Thanks for coming by." "Thanks" is overused in our society, without attaching much significance to it.
Do we, as parents, really know what it means to "Give Thanks?" Is it only a short prayer that we teach our children to say at meals?
The dictionary defines thanks as "to feel and express gratitude." It's a verb. Remember in school when the teacher said, "A verb is an action word. It means you've got to be doing something."
The Bible tells us that the wicked are not thankful, but that Christians are to give thanks always, for all people and things. I'll admit I don't always have a grateful heart and my kids are the first to pick up on my bad attitude and follow along. Remember the saying, "When Mama ain't happy, ain't noboby happy." We set the tone for our homes. We should concentrate on having hearts of gratitude.
You're wondering, How can I be grateful when my life is less than perfect?
The Bible doesn't say, "Give thanks only on good days," it says "Oh, give thanks to the Lord, for He is good!" (I Chronicles 16:34) That means even when the toilet overflows, your teenager is begging for a tattoo, and you find a rat has taken up residence in the attic. Those aren't necessarily good things (as a matter-of-fact, they are yucky things), but God is still good.
Thanksgiving isn't just a one-day event; it should be "an action" happening in our hearts all year long.
Put Thanks Into Action - Have Your Children:
• Send a Thank You note when someone has given them a gift.
• Teach them the importance of saying "thank you," (A preschooler's version may sound more like "tank-ew!" but it will do the job.)
• Make a Thanksgiving dinner-time tradition of everyone sharing two things that they are thankful for. (Maybe you could do it monthly throughout the year.)
• Make a list of what you're thankful for and post it on your refrigerator.
Oh, give thanks to the Lord, for He is good!
I Chronicles 16:34

Tonya Ruiz has a wealth of information to share. She is a pastor's wife, homeschooling mom, and grandma. Check out her ministry at RaisingBeautifulChildren.com.