from Day by Day with the Persecuted Church

By faith Noah, when warned about things not yet seen, in holy fear built an ark to save his family. By his faith he condemned the world and became heir of the righteousness that comes by faith. (Hebrews 11:7)
Lucien Accad
As parents we like our children to be safe and to have the best training for a happy future. Too often, however, these wishes are according to human standards. Noah knew that obedience to God is the standard by which we can face the future in a positive way. He was able to perceive that the real danger came from a sinful society which is only interested in material benefits and which is predominantly selfish. The building of our boat has to become a family enterprise around the person of Jesus Christ. It is only in Him that we will find real safety.
Sometimes we, as a family, have been tempted to run away from Lebanon because of the war, assuming that other parts of the world would be safer for our family. But God's Word reminds us that our real security, happiness and future are in Christ and in obeying God's will.
The safest place on earth is still in the centre of His will. The most dangerous place is to be outside His will.
Copyright [C] 1995 Open Doors International. Used by permission.
Click here to sign up for a free monthly newsletter from Open Doors about persecuted Christians.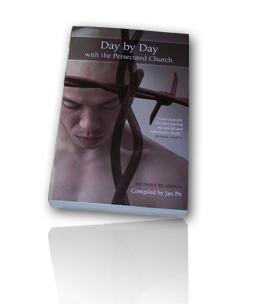 Day by Day with the Persecuted Church
compiled by Jan Pit with a forward by Brother Andrew (paperback, revised 2000)
Compelling wisdom from the pen of actual believers living amidst persecution, you'll be connected to the suffering, courage, and depth of life that exists in the harshest places in the world. Each of these 365 thought-provoking devotions will deepen your understanding of Christian persecution and provoke you to pray for our brothers and sisters with a new found depth.
To order your copy of this devotional, click