from Day by Day with the Persecuted Church

My frame was not hidden from you when I was made in the secret place. (Psalm 139:15)
Naji Abi-Hashem
This psalm accurately describes some precious moments and draws from three beautiful aspects of our life.
First, Formation. "For thou didst form my inward parts ... thy eyes beheld my unformed substance." He saw our personality being formed. He wants to be part of our personal development and gently directs our growth towards His likeness.
Second, Information. "Thou dost beset me behind and before, and layest thy hand upon me. Such knowledge is too wonderful for me; it is so high I cannot attain it." God is perfectly aware of our strengths and bright sides and of our weaknesses and dark sides. One great comfort to me is that God knows me better than I know myself. Socrates once said, "Know thyself!" In my journey of self-discovery, I realize that I will not totally comprehend myself nor begin to grasp God's immense knowledge. But someday, "I shall understand fully even as I have been understood" (1 Corinthians 13:12b).
Third, Transformation. "Search me, O God, and know my heart; try me and know my thoughts; and see if there be any wicked way in me, and lead me in the everlasting way." This cry is a precious pearl in the crown of prayer. It is a marvelous call for an intimate soul-searching process. It springs from our honest and deepest need for transcendence. Only the Lord can touch our emotional and psychological roots and bring insight, healing, fulfillment and peace. To Him be the glory, forever. Amen.
Naji Abi-Hashem from Lebanon.
Copyright [C] 1995 Open Doors International. Used by permission.
Click here to sign up for a free monthly newsletter from Open Doors about persecuted Christians.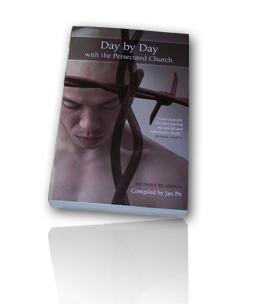 Day by Day with the Persecuted Church
compiled by Jan Pit with a forward by Brother Andrew (paperback, revised 2000)
Compelling wisdom from the pen of actual believers living amidst persecution, you'll be connected to the suffering, courage, and depth of life that exists in the harshest places in the world. Each of these 365 thought-provoking devotions will deepen your understanding of Christian persecution and provoke you to pray for our brothers and sisters with a new found depth.
To order your copy of this devotional, click