from Day by Day with the Persecuted Church

Does Job fear God for nothing? Satan replied ... You have blessed the work of his hands ... but stretch out your hand and strike everything he has, and he will surely curse you to your face.
Job
These verses form the essence of the Book of Job. Many think that it is about the problem of suffering. Although the suffering of Job is central, surely the essence is this - Does Job believe in God out of love, or because He had blessed him so much?
Satan charged Job with the latter. Job had reasons for being well rewarded by God.
"Does Job fear God for nothing?" "Yes," said God. "Impossible," said the devil.
Job himself knew nothing of the conversation between Satan and God. If only he could have looked behind the scenes! But he could not do that. Job was, although it sounds awful, the battleground. Job was the only one who could clarify who was right, God or the devil. And Job declared who it was. Although the price was high - humanly speaking too high - Job clung to God and God to him!
When everything around Job died, this witness remained, "I know that my redeemer lives." (Job 19:25)
Job's faith was based on this. He was sustained by the living God.
The Redeemer still says, "See I make all things new."
May that also be your confession and comfort - now and always.
Copyright [C] 1995 Open Doors International. Used by permission.
Click here to sign up for a free monthly newsletter from Open Doors about persecuted Christians.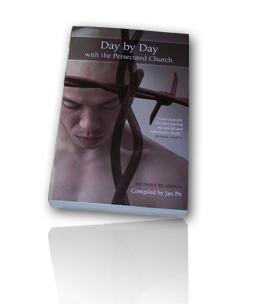 Day by Day with the Persecuted Church
compiled by Jan Pit with a forward by Brother Andrew (paperback, revised 2000)
Compelling wisdom from the pen of actual believers living amidst persecution, you'll be connected to the suffering, courage, and depth of life that exists in the harshest places in the world. Each of these 365 thought-provoking devotions will deepen your understanding of Christian persecution and provoke you to pray for our brothers and sisters with a new found depth.
To order your copy of this devotional, click