How You Can Live Life To The Fullest
"The steadfast love of the Lord never ceases. His mercies never come to an end. They are new every morning."
One morning, I drove my family into the raw beauty of east Texas where a close friend of mine was waiting with a trailer of horses, saddled and ready to go. We climbed on, uncertain at first, not sure of where we were going or what the ride would be like. The horses walked at first, carefully circling. Then we headed into the unknown for six hours.
Through the brush, up over hills, building up speed as we went down into a creek bed, galloping full speed in about six inches of water. In my mind, scenes from that day still play in slow motion, like a movie; water spraying into the deep blue sky, glittering like shards of crystal in the rays of sunlight. Hour after hour with my wife and three kids—it was as near perfection as life can get on earth, I think. Just an amazing day.
I always have a hard time coming up with a vivid picture of what life "in Christ" is like. But that day got pretty close to a life lived in the grace of God. I see that day very much like Kingdom living on earth.
For it is by grace you have been saved, through faith—and this is not from yourselves, it is the gift of God—not by works, so that no one can boast. For we are God's workmanship, created in Christ Jesus to do good works, which God prepared in advance for us to do. (Ephesians 2:8-10)
Jesus, the Son, saved us by grace. God, the Father, like my friend, prepares good works in advance for us to do. He gets the horses saddled up for us. And then the Holy Spirit prompts us and pushes us, empowering us and producing fruit through us.
What's your job? Get on the horse. Stay on the horse. Be carried along. Trust… and hang on.
Abba Father, thank You for this day. For a day full of Your mercies that are new this morning one more time. Take me for the ride, Lord. I saddle up, and I hang on, trusting You with whatever this day might bring my way, ready to allow Your Spirit to propel me into any work that You have prepared for me. Amen.
Listen to Pete, Jill & Stuart Briscoe on the Telling the Truth broadcast at OnePlace.com
SPECIAL OFFER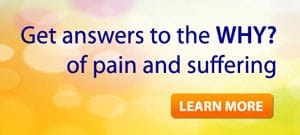 Jill Briscoe with answers to the "Why?" of pain and suffering!
"Why?" is one of the most enduring questions we ask when confronted with trials, pain, and suffering. Why does God allow such things, particularly in the lives of believers? And how are you supposed to react to them? Is it okay to be angry? To question God? To be shaken in your faith?
Jill Briscoe explores these tough questions and finds answers in her study of the Book of Job called
Out of the Storm and into God's Arms.
With study questions at the end of each chapter,
Out of the Storm
shows that you don't have to just survive hard times. You can actually thrive during them!
Out of the Storm
is our gift to thank you for your donation of any amount below to help Telling the Truth continue to help others like you experience the exciting, fulfilling, abundant Life Christ offers. So please request a copy when you give.
Thank you for your generosity to help other experience real Life in Christ!