A Healthy Fear
By: Rick Boxx
May 7, 2013
During my teenage years, mom and dad both worked full time. In the summer, I was in charge of my four younger siblings.
My father would make a long list of chores to be completed. Near the end of the day, if the list was undone, the fear of my father's wrath drove me to quickly get the job done.
I loved my father, but I also feared his consequences' if I didn't comply.
In Exodus 20:20 God shook the mountain and Moses calmed the Israelites, "Do not be afraid. God has come to test you, so that the fearof God will be with you to keep you from sinning."
A healthy fear of God, just like my fear of my father, can lead to a more ethical life.
Have Rick Boxx speak at your next event, click here for more information.
Russell Media's Work as Worship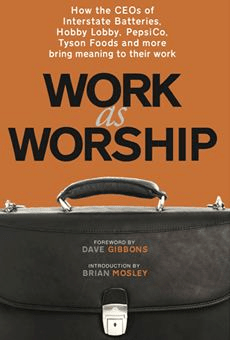 The time has come for us to see a purpose for business that goes beyond money and that has a vision for this economy that goes even beyond this earth. How the CEOs of Interstate Batteries, Hobby Lobby, PepsiCo, Tyson Foods, and more bring meaning to work. Purchase here.
"How well are you modeling Faith, Integrity, Relationships, and Excellence in your work? Find out by taking Integrity Resource Center's free FIRE Assessment!"
Contact Rick Boxx at www.integritymoments.org, and to learn more about Integrity Resource Center go to integrityresource.org.