Week 23
God Writes a Fine List
"Who touched me?" Jesus asked. When they all denied it, Peter said, "Master, the people are crowding and pressing against you." But Jesus said, "Someone touched me; I know that power has gone out from me." Luke 8:45–46
In our fast-paced world, we often don't take time for real people with real needs. No, we have our list of things to do, and whoever isn't on it . . . well, sorry. In this passage, the woman "who had been subject to bleeding for twelve years" wasn't on Jesus's list. He was en route to take care of something important. But when the woman touched Him, He stopped everything to meet the need of the one. When I learned I was pregnant with Trig, I dreaded that certain constituents might say, "See, we elect our first woman governor, and she goes and gets herself pregnant!" And while I didn't want to slow down, learning my baby boy would have some special needs changed me as maybe nothing else has. Jesus asked who touched Him. Well, the moment Trig was born, I knew who touched me. God specifically chose us to love His child Trig and to be compassionate toward him and others—and he is the best thing that has ever happened to our family. Trig is an example of what happens when we do slow down and let God rewrite our list of priorities, and allow others to touch our lives as we touch theirs.
Sweet Freedom in Action
Today, let God slow you down to better appreciate His blessings.
---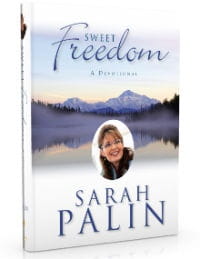 In Sweet Freedom, Sarah Palin invites you to draw strength and inspiration from 260 meditations based on guiding Biblical verses. You are not alone in your doubts and anxieties—we all bear the burdens of everyday stresses, and for most of us, our concerns spread beyond our selves to our families, communities, and country. But Palin shows that with abiding faith, and by opening ourselves to the truths that have saved mankind for generations, we can thrive—and experience true freedom.