Dodging a Bullet
By:Rick Boxx
August 29, 2016
Sam shared with me that Seth, a mutual acquaintance of ours, called him years ago and asked Sam to consider serving on a board of a local business that Seth had purchased.
Sam as a courtesy to Seth met with the local manager, but left the meeting feeling very uncomfortable. Sam passed on the opportunity.
Sam told me, "God protected me. The business went broke and everyone ended up being either investigated or convicted of crimes."
In John 16:13 Jesus said about the Spirit, "He will guide you into all the truth; for He will not speak on His own initiative, but whatever He hears, He will speak; and He will disclose to you what is to come."
Sometimes our "intuition" is God's Spirit speaking truth. Don't ignore God's direction.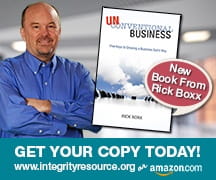 Learn more about Rick Boxx and Integrity Resource Center