A BAND, A SONG & A "MOHAWK DOLL"… They say you should never underestimate the power of a song.  Or a doll with a mohawk.  Okay, so maybe not that last part … but Audio Adrenaline's "Leaving 99" and a doll with bass player Will McGinniss' actual hair (pictured above) are both making a difference for the Kingdom.  Yes, 'tis true. 

The band's latest single and the No. 1 spot holder on the CHR charts this week, "Leaving 99" is based on Matthew 18:12-14, the parable of the lost sheep.  One Audio A fan was so inspired that she launched a Web site (HITList99.com) to track the effect of the song worldwide and to relay listeners' testimonies of the track's impact in their lives.  "I decided to create a Web site that will track God's impact of the songs 'Leaving 99' on the people who hear it," fan Katy McWhirter shares.  "The band has helped me in so many ways, so I thought it would be cool if I could help them somehow.  My desire is that this site will draw people in, and that they can see how much of a blessing 'Leaving 99' really is." 
In addition to HITList99.com, a special doll is also stirring some hearts to action.  The "Mohawk doll" was originally sold last December on Ebay to Dale Bennett with proceeds going toward G.O. Ministries, a missions organization that's part of the GO Foundation co-founded by Audio Adrenaline and MercyMe.  "I wanted my daughter to be able to see and play with the doll," says Dale.  "She even took it to school with her, but I'm returning it.  I want more money to be donated to aid missions in Haiti." 
Because of his donation back to Audio A, the doll will be auctioned once again with bidding beginning on Tuesday, April 7, 2004 on Ebay.  To place your bid, go to www.AudioA.com and click on the link for Ebay.com or search for "Audio Adrenaline Mohawk Doll" directly on Ebay.  The highest bidder will receive the doll, which features signatures of the entire band as well as that of Dale Bennett.  Audio Adrenaline hopes the doll will be sent back again, and that a tradition will be established so that more funds will be raised for missions.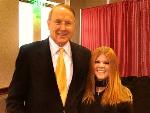 THE DOC IS IN … No doubt meeting Dr. James Dobson was one of the highlights of Christian Records' artist Jill Parr's whirlwind time in Colorado Springs, Colo., recently.  While at the Focus on the Family HQ, Parr was also interviewed on The Weekend Magazine radio show – reaching 800+ radio stations nationwide – with host Dr. Bill Maier, FOTF's vice president and psychologist in residence. In addition, Parr was also the featured artist at KBIQ's EXPO earlier this month where she performed "If I Ever Lose My Faith in You" from her debut release "Orbit."  For more information about Jill and her travel whereabouts, visit www.jillparr.com.