A Worried Christian?
John MacArthur
Friday, June 18, 2004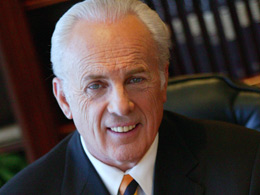 We all have to admit that worry is a common temptation in life-for many it is a favorite pastime. America, the most affluent society in the world is also the most worry-filled society in the world-that is, if spending on security, mental illnesses, and intoxicants are any indication. Americans worry, and worry is a sin. It is neither insignificant, nor inconsequential. And for the Christian, it is absolutely contrary to faith Christ.
Jesus categorically prohibited worry in a familiar portion of the Sermon on the Mount-Matthew 6:25-34. Three times in that short passage He commanded, "Do not worry!", and the way He said it shows the comprehensiveness of His charge. In verse 25 He acknowledges worry as a common practice and says, "Stop worrying;" in verses 31 and 34 He uses the same word, but in a way that means "Don't even start worrying." To continue worrying about anything, or to start worrying in the first place, is to violate the Lord's command.
If you worry, what kind of faith do you manifest? "Little faith," according to Jesus (Matt. 6:30). Now if you are a child of God, by definition you have a Heavenly Father. To act like you don't-nervously asking, "What shall I eat? What shall I drink? With what shall I clothe myself?"-is to act like an unbeliever in God's eyes (vv. 31-32).
Think about it this way: Christians who worry believe God can redeem them, break the shackles of Satan, take them from hell to heaven, put them into His kingdom, and give them eternal life, but just don't think He can get them through the next couple of days. That is pretty ridiculous, isn't it? That we can believe God for the greater gift and then stumble and not believe Him for the lesser one reveals an embarrassing lack of faith.
The Worrier Strikes Out at God
Someone might say, "Why make a big deal out of worry? It's just a trivial sin." No, it is not. I suspect a majority of mental illnesses and some physical illnesses are directly related to worry. Many cases of drunkenness and drug addiction are symptomatic of worry. And because of worry, many make foolish life decisions, incurring painful consequences. Worry is devastating. But more important than what worry does to you is what you are communicating about God. When you worry you are saying in effect, "God, I just don't think I can trust You." Worry strikes a blow at the person and character of God.
The Worrier Disbelieves Scripture
It breaks my heart to hear some Christians claim to believe in the inerrancy of Scripture, and then live as perpetual worriers. If you do that, you are saying one thing out of one side of your mouth, and another thing out of the other. It is incongruous to say how much you believe the Bible and then worry about God fulfilling what He says in it.
P>
The Worrier Is Mastered by Circumstances
When you worry, you are choosing to be mastered by your circumstances instead of by the truth of God. The vicissitudes and trials of life pale in comparison to the greatness of salvation. Jesus wants you to realize it doesn't make sense to believe God can save you from eternal hell, but not help you in the practical matters of life. The Apostle Paul reflects a similar desire in Ephesians 1:18-19: "I pray that the eyes of your heart may be enlightened, so that you may know what is the hope of His calling, what are the riches of the glory of His inheritance in the saints, and what is the surpassing greatness of His power toward us who believe." When you catch yourself worrying, go back to Scripture and let God open your eyes again.
The Worrier Distrusts God
When you worry, you are not trusting your Heavenly Father. That means you don't know Him well enough. Take heart-there's an effective remedy: Study the Word of God to find out who He really is and how He has supplied the needs of His people in the past. That will build confidence for the future. Stay fresh in the Word every day so that God is in your mind. Otherwise Satan is apt to move into the vacuum and tempt you to worry about something. Let God's track record in Scripture and in your own life assure you that worry is needless because of God's bounty, senseless because of God's promise, useless because of its impotence to do anything productive, and faithless because it is characteristic of unbelievers.
Have something to say about this article? Leave your comment via Facebook below!
advertise with us
Example: "Gen 1:1" "John 3" "Moses" "trust"
Advanced Search
Listen to Your Favorite Pastors