Feeling grumpy, discouraged, disappointed or just plain grouchy? Perhaps you need a dose of gratitude.
Paul tells to give thanks in everything. I'm not feeling it. But being joyful and grateful has nothing to do with feelings. I chatted with an 88-yr-old retired pastor yesterday. He had health problems out the wazoo. However, he wisely said, "You can choose to be joyful!"
If anyone had a right to complain, it was he!
So what is your gratitude quotient, and how do you measure up? Nancy Leigh DeMoss, founder of Revive Our Hearts, inspired me to take this challenge. I created my own "happy recipe." How can you and I become grateful in a week?
MONDAY:
Focus on the character of God, not on yourself.
"Rejoice in the Lord always, and again I say rejoice!" Philippians 4:4 NIV
Sounds easy enough. Well, it's not. Most of us have a skewed view of our Creator. We feel He is demanding, judgmental and mostly disappointed in us. We wake up and assume our Heavenly Father is thinking, "What kind of mischief is he/she going to get into today?" That will make anyone frustrated.
The truth is, God longs to commune and comfort us. When we open our bleary eyes and our hairy toes are still warmed under the covers, God joyfully cries, "He's awake! She's awake!" That should give you a dose of joy juice.
"The Lord your God is with you…He will take great delight in you…He will rejoice over you with singing." Zephaniah 3:17
TUESDAY:
Remember the good times. "Count your blessings, name them one by one…." A cliché? Corny song. Great idea. And it came from God's Word, the Psalms specifically.
"I will remember the deeds of the Lord; yes, I will remember your miracles of long ago." Psalms 77:11 NIV
Your day may be stinky right now, but God has shown Himself faithful in the past. Recall when He answered a prayer or intervened on your behalf.
I didn't remember my childhood for most of my life. Weird, huh? But one day, God pressed rewind on my brain and I could remember my past. Every detail. I even wrote a book about my amazing childhood. The Holy Spirit can "call everything into remembrance…" And you will cherish those tidbits of treasure from your past.
WEDNESDAY:
Hump day. The day in the middle of the week when Friday looms ahead and Monday was mundane. Today, look at the little details of your day. Notice the people God brings across your path (good, bad or ugly). These dear souls are Divine appointments. See how God can show Himself in your relationships. Glance at the photos on your desk or shelf. Your loved ones can bring you delight. Appreciate God's handiwork in others.
The apostle Paul said:
"I thank my God every time I remember you. In all my prayers for all of you, I always pray with joy…" Philippians 1: 3-4a NIV
THURSDAY:
"The heavens declare the glory of God, the skies proclaim the work of His hands." Psalm 19:1.NIV
Peer outside your window. You may see a parking lot, but somewhere you will observe a ray of sunshine, a cloud, a glorious tree, bird or flower. "Stop and smell the roses" is an oft-quoted phrase, but is pregnant with meaning. We rush by God's glory in nature. Hectic racing, over-commitment and poor planning makes our daily lives a blur. Stop. Look around you. Every tree, flower, bird was embroidered by God. See them. Cherish them. Let them cheer you.
FRIDAY:
Now say something. Say it often. "repeated thanks"-what a concept! Say it to someone else.
"But I will give repeated thanks to the Lord, praising him to everyone." Psalm 109:30 NLV
People seldom say "thank you" anymore! God blesses US. Be grateful. Tell Him. Tell your friends.
SATURDAY:
Laundry day. Soccer practice. Honey-Do chores. Go ahead. Make your grocery list. Then, take a few moments to sit down with your Bible and consider some of the Psalms "thankful" verses. Each one can teach you something about learning the art of being appreciative and contented: Psalm 28:7, Psalm 48:4, Psalm 75:1. Read 'em. Ruminate on what they say. Write your thoughts down. Stick a post-it note on your bathroom mirror with a special verse to remind you of God's love when you brush your teeth (and floss, of course).
SUNDAY:
This is the hard part. Not for musicians, but for run-of-the-mill ordinary folks. God asks us to sing to Him. A lot.
"It is good to give thanks to the Lord, to sing praises to the Most High." Psalm 92:1 NIV
Warble until you're hoarse. God doesn't care how you sound. And, by the way, don't wait to go into your church service until the worship is over. Who cares if the music "isn't your style," if it is too loud, too soft, sharp or flat. God asks you to worship. You. Be glad in God. Be noisy. Jump around. Cheer and shout. You don't have to be a Holy Roller to do it. King David did, and God loved him for it!
Get rid of the grumpies. You can change. You can become grateful in a week. Give it a try and God will bless you for it.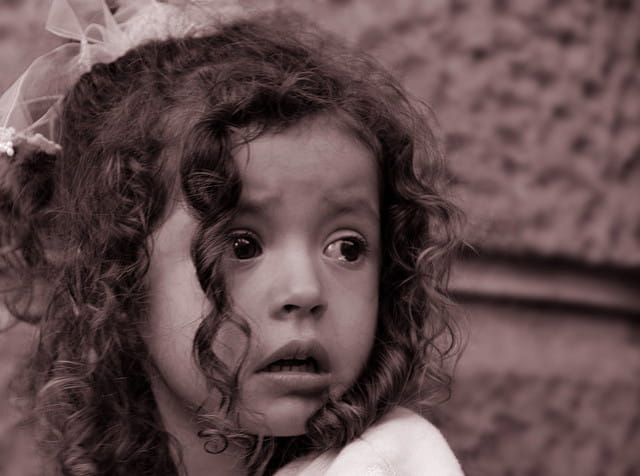 "Happy Father's Day!" Daughters, do those words invoke images of love and acceptance, or hatred and abuse? Where was your Dad? Was he nurturing or neglectful? Here's a Bible character who could be nominated for Worst Dad Ever.
"Here's your breakfast, Beautiful. Slap on the feed bag, Fatso."
Those are the words Daddy Laban spoke to his daughters every morning. Laban, the Old Testament patriarch, dubbed his youngest daughter "Dainty" (That's what Rachel means in Hebrew). Big Sis Leah was called "Cow" when she emerged from her mother's womb. In Hebrew culture, names were signifiers, prophetic words spoken over the child by the parent. So Leah lived with the stigma of a derogatory moniker her whole life. Can you imagine being dealt such a debilitating blow to your own self- esteem? Laban was a bad dad.
Fathers (if they are still around) leave an indelible mark upon their daughters.
I grew up with one sister. Her name was "Barbie." (Her actual name was Kathy, but she was blonde, blue-eyed and gorgeous). I felt like Midge, Barbie's plain girlfriend, all my life. I suffered through the acne, glasses, braces and the baby fat of early adolescence. I was never homecoming queen, but was blessed that my father saw Kathy and me as equally beautiful and gifted in his eyes.
Chinese girl babies are still offed because the family is permitted to have only one child, and that child needed to be a son. Sons and their wives lived with his parents, therefore the son's parents were provided for in their old age. A daughter's parents had no one to provide security for the future because the bride left to live with the groom's family.
Some daughters from Islamic families receive incomprehensible pain and abuse from their fathers. My dearest friend in Jordan provides a safe house for girls who have been raped by their fathers and uncles, discarded like trash, condemned as unclean and sent to live on the streets. These precious young women are often destined for a life of imprisonment, poverty or prostitution.
Many Indian females suffered brutal discrimination and ridicule through the years. However, in a recent ceremony in Mumbai, India, 285 Indian girls with the name "Nakusa" or "unwanted," were allowed to choose new names. Associated Press, 2011.
The book of Genesis recounts Leah's painful story of abandonment and rejection. Genesis 29 reads like a soap opera-replete with favoritism, intrigue, jealousy and sibling rivalry. Poor Leah's physical description was not flattering.
Genesis 29:16-18: "Now Laban had two daughters; the name of the older was Leah, and the name of the younger was Rachel. 17 Leah had weak eyes, but Rachel was lovely in form, and beautiful.
As the story goes, Laban tricked Jacob into sleeping with homely Leah instead of sexy Rachel, the wife he requested.
So the cycle of pain continued. Jacob rejected Leah just as her father, Laban had done.
LEAH WAS WOUNDED BY HER FATHER'S AND HUSBAND'S REJECTION.
CAN YOU IMAGINE THE IMPACT OF LEAH'S LOW SELF-ESTEEM UPON HER CHILDREN?
Leah's rejection was shown in the names she bestowed upon her sons. After sleeping with Jacob, she immediately conceived and had a son. Leah named her first baby boy Reuben (not the sandwich). Reuben means "God knows I am miserable-surely now Jacob will love me." Can you imagine? Leah calls from her tent, "Come to dinner, maybe now my husband will love me."
The second son Simeon means "God sees me, but Jacob doesn't love me." Can you imagine? Jacob hears Leah call to her son, "Put on your sandals, Jacob doesn't love me."
Then, Levi was born, and Leah called him "Now my husband will finally become attached to me." So sitting around the dinner table were "Surely Jacob will love me," "maybe now Jacob will love me," and finally "Jacob will like me a little."
Spoiled Rachel was grouchy by now because she had yet to bear a son, so when Joseph was born, she named him, "I hope I get another one." Can you imagine calling your first child "I hope I get another one?"
But as time went by, Leah's attitude began to change. Her next three sons were Judah, "this time I will praise the Lord," Isaachar, "God has rewarded me for giving my maid servant to my husband," Zebulun, "This time my husband will treat me with honor because I have given him six sons." Leah began to realize the love she had longed for was given to her by her Heavenly Father.
Have the women in your life ever received the "Leah" treatment?
Leah needed to be known and to know she was loved.
First, what might Jacob have done to really know Leah?
He could have spent time with her, learning the unique beauty of her character. If you look closer the Hebrew word for Leah's eyes, rakkoth means weak or tender, delicate and soft. Leah's eyes were sensitive, gentle and kind.
Perhaps Rachael's eyes sparkled while Leah's were dreamy and tender.
Though she may have been unwanted and despised by Jacob, God saw in her an inner beauty that equipped her for carrying out his plan. There is a kind of beauty that God gives at birth that will eventually wither like a flower. And, there is a beauty God grants to those who are born again by grace. This beauty blooms for eternity.
Laban could have given her security! Security is like a "cuddly blanket."
Your daughter needs to know:
Daddy won't leave me: he will be there when I need him.
Dad will give me stability—financially, mentally, emotionally and physically.
My maternal grandfather was a sex addict. He married and divorced my grandmother three times. He had multiple affairs, coming home at all hours of the night with no explanation or apology. My Mom once saw him at the movies with another woman. When she tearfully told her mother, my grandmom shook her head and said nothing. When he had his last affair before their final divorce, Grandpa's mistress walked straight up to my Grandmother, introduced herself and said two words: "He's mine."
On the other hand, my father could not have loved my Mother more deeply and differently. He constantly romanced her, befriended her and praised her. He knew how deeply impacted she was by her father's infidelity, so he led a pure, committed Christian life and assured her of his faithfulness. Sixty-five years later, they are still madly in love!
And as a father, he modeled love, faithfulness and integrity to his two daughters.
Fathers, love like God loves your little girls.
"The Lord appeared from of old to me [Israel], saying, Yes, I have LOVED YOU WITH AN EVERLASTING LOVE; therefore with loving-kindness have I drawn you and continued My faithfulness to you." Jeremiah 31:3 AMP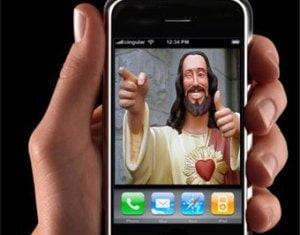 If Christ owned a smartphone, what apps would He create? Let's use our imagination...
You probably think this is sacrilegious. You are wrong. Jesus was committed to reaching His culture. If Jesus lived in this generation, He'd certainly have a smartphone. After all, 80% of the people on this planet own one: five BILLION people. You heard me. Even in third world countries, 1.08 BILLION own cellphones.
There is nothing new to being mobile with your faith. In Exodus, God said "Build me a mobile tabernacle." The Jews toted the Holy Tent containing the Ark of the Covenant around for generations. Jesus never had a home. His ministry was completely mobile. Christ said, "Foxes have dens, birds have nests, but the Son of Man has no place to lay His head." Matthew 18:20 NIV
Mobile faith is nothing new.
However, too much technology can bankrupt us spiritually. I was deeply inspired by a sermon preached by Tim Chaddick at Reality Church L.A. He warned:
"We can truly overextend ourselves and so believe our own hype that we end up living distracted and disconnected." We are so focused on our "selfies" and our "friendies" that God and our nearest and dearest are left in the dust. We become unaware of what our Heavenly Father is doing. I can't tell you how many times I see families in a restaurant pouring over their smartphones instead of talking to each other.
Can we turn off the noise for a moment and consider boundaries? What are they? Chaddick teaches:
"Learn to set limits. Though we do not choose the times in which we live, we can choose today how we are going to live. Set moral, ethical and spiritual boundaries. Listen to your body. You can only be in one place at one time. Do what's in front of you, what God has placed right in front of your eyes. Hear His voice and get in tune with the Holy Spirit. We only have 24 hours a day. We must decide how we will live in that finite amount of time."
Now, what about that smartphone sitting in your purse or pocket? How would Jesus like you to use it?
I have a few thoughts. Immerse your heart in Scripture with great Bible apps.
For Bible Study:
Here are a few prayer apps:
Here are a couple of helpful favorites for Christian books, sermons and commentaries:
Next, I would search online for your favorite church or author/speaker.
Churches:
Authors:
These best-selling authors, along with countless others, often have personal devotional sites with mobile apps. Follow them for written content or podcasts.
Our website, www.preachitteachit.org, features all the above churches, authors and teachers. Hundreds of contributors, thousands of sermons. We are going mobile next month.
Most churches today have a plan to go mobile if they haven't already. You can worship on your phone while you are waiting to get a cavity filled. I received a text this week from an old friend 1,000 miles away. She said, "What in the world is going on? I've been on my knees before God for you the last hour!" I was driving through a tornado-80 mile/per/hour winds, golf ball-sized hail, and a greenish black cloud that sounded like a freight train. I reached my daughter's house to take cover five minutes before the storm hit her house. I needed that smartphone text. I realized that God was with me in an amazing, miraculous way.
Smartphones are not of the devil. They are simply a tool, to be used for good or evil. Use yours judiciously and effectively. Jesus would.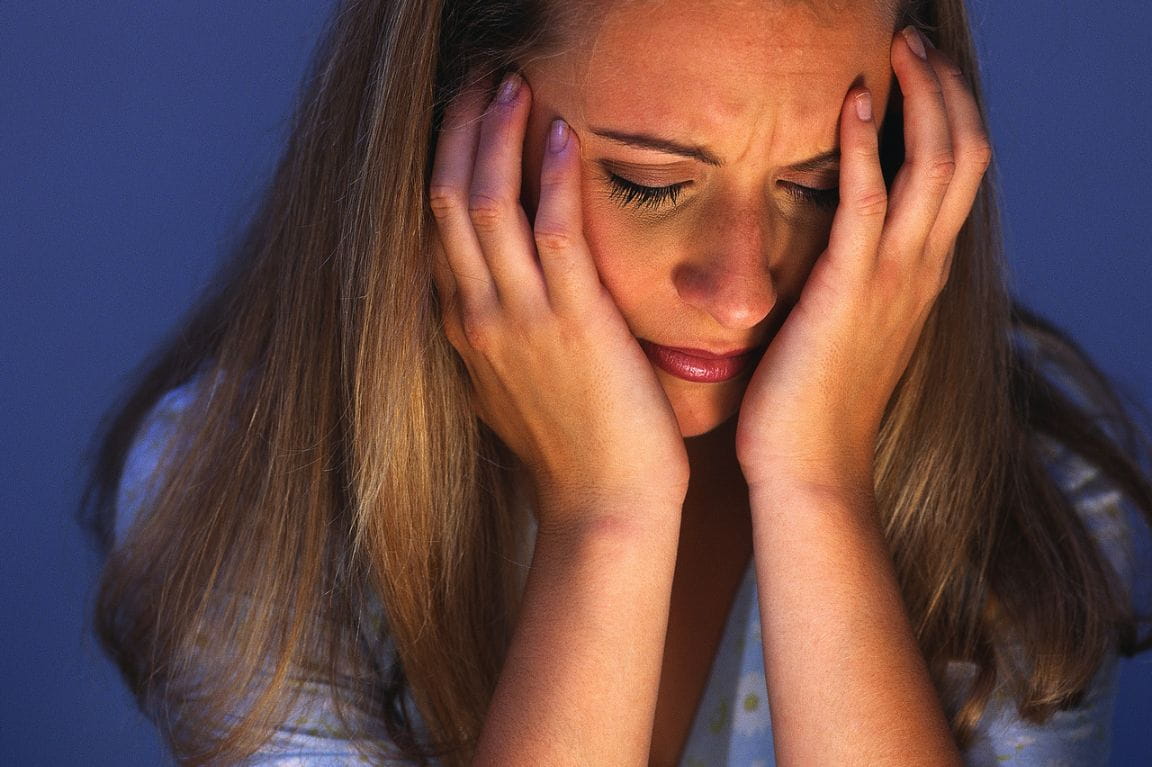 Shame is as old as Adam and Eve. They sniffed the garden flowers, yakked with the serpent, chewed the forbidden fruit, and oops! They realized they were naked! After their shocking discovery, the couple patched together leafy scivvies, and hid from God.
Sin and shame covered them simultaneously.
Have you ever been sucked into a shame spiral? Nasty stuff. Shame is a fear-based state accompanied by feelings of being unworthy and unlovable. You may feel powerless, abandoned, worthless. How do we become paralyzed by shame?
We discount our strengths and abilities. "I'll never amount to anything."
We obsess over our flaws. "I'm so fat! Hand me the Cheetos!"
We judge ourselves by other people's expectations. "My brother is the quarterback on the football team. I'm only the water boy. "
We can shame ourselves by confusing what we do with who we are. "I'm retired now. I was an executive. Now I'm just a drain on society."
Mean words from friends or family members damage our self-image and sabotage our ability to be intimate with God and others. "I really am the black sheep of the family."
The lies of Satan, the Accuser of God's children, wants us to feel as distant from God as possible. He reminds us of failures, causes us to stumble and distracts us from the truth of how God sees us. "God could never love me or forgive me."
How do you know if you struggle with shame? My husband was soaping up in the shower when I heard him cry, "Oh, no!" I ran to see what was amiss, and he remembered something embarrassing he had said in high school. In high school? Are you kidding? Ancient history. You may wonder if shame pervades your life or steals your happiness. Hear are a few symptoms:
You are perfectionistic or legalistic, ashamed that you will never measure up.
You are guarded and terrified that people will discover the "real you."
You criticize others to bolster your low self-esteem.
You bury your pain in addictions like drugs, alcohol, sex, shopping and more.
You avoid responsibility-low grades or poor job performance because you've "given up".
You don't allow yourself to enjoy anything, because you don't deserve to be blessed.
You talk about yourself in negative ways.
The prodigal son clearly shows us the difference between guilt and shame. Starving and exhausted, he stumbled home to his loving father and cried,
"The son said to him, 'Father, I have sinned against heaven and against you. I am no longer worthy to be called your son.'" Luke 15:21 NIV
This guy acted like a jerk. He demanded his inheritance, an inheritance he shouldn't have received before his Dad's death, he squandered his cash living large with wine and women, and he returned home with his tail between his legs.
Notice the two sentences. One reflects guilt. "Father, I have sinned against heaven (God) and against you. The other reflects shame. "I am no longer worthy to be called your son." Who said that? Certainly not his Dad. Daddy welcomed him with open arms, forgave him and celebrated with a barbecue.
I've always felt ugly. My little sis looked like Barbie. I thought I looked like a Cabbage Patch kid. My husband Roger spent most of our marriage complimenting me on how beautiful he thought I was. One sunny June morning on our tenth anniversary, I was brushing my molars, my hair still bundled in a wet towel. Roger walked in and said, "Julie, you are so gorgeous." For the first time in a decade I smiled at my reflection in the mirror and replied, "Well, maybe I'm not that bad after all." It took YEARS of my husband's admiration to overcome my self-deprecation and shame. God wants to tell you every day that you are lovely to Him.
Focusing on God's love for us can help us climb out of the shame spiral. Here are a few verses that will eliminate shame and help us to see ourselves as God sees us.
Satan wants us to feel like failures and dirty sinners. Feeling that way keeps us from confidently approaching God's throne and having an intimate relationship with Him! The blood of Jesus was shed so that we can confidently approach God and have an intimate relationship with our heavenly Father:
Hebrews 9:14, "How much more shall the blood of Christ, who through the eternal Spirit offered himself without spot to God, purge your conscience from dead works to serve the living God?"
You need to stop thinking about your past failures. Your sin has been dealt with and washed away. Therefore, you are meditating on something that no longer exists! If your sins are in the depths of the sea, then why are you still obsessing over them?
1 John 1:9, "If we confess our sins, he is faithful and just to forgive us our sins, and to cleanse us from ALL unrighteousness."
Romans 8:1, "There is therefore now no condemnation to them which are in Christ Jesus..."
Now that our past failures have been forgiven, we need to leave them there and press forward towards the things God has for us:
Philippines 3:13, "...this one thing I do, forgetting those things which are behind, and reaching forth unto those things which are before."
Adam and Eve hid from God in their handmade leafy underwear. God took them, sacrificed an animal and gave them fur coats. Jesus gives us white robes instead of the dirty rags of disgrace.
Climb out of your shame spiral and receive God's unconditional love and forgiveness.
Resources:
www.angriesout.com; www.tyndale.ca/counseling/issues/shame/; www.greatbiblestudy.com.
Example: "Gen 1:1" "John 3" "Moses" "trust"
Advanced Search
advertise with us