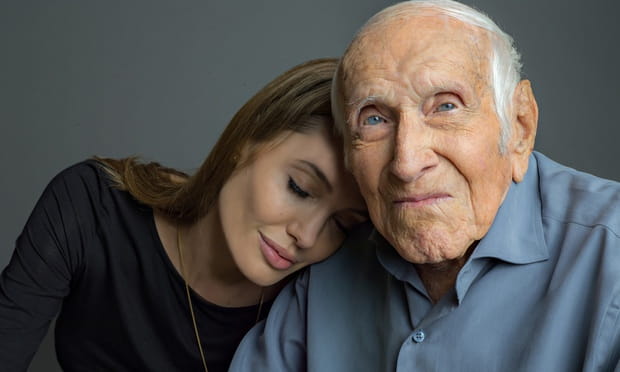 Angelina Jolie's Unbroken hits the theaters December 25th. Louie Zamperini will be a household name. This gripping tale of triumph, terror, tragedy and miraculous deliverance will inspire and thrill audiences.
Paul the Apostle, won't receive an Oscar this year. Larry King won't interview him (although Larry might have been alive for a couple of centuries…we'll never know what's under those suspenders!) However, Paul's story is better.
Young Zamperini first made a name for himself as an Olympic runner. Big stuff.
Paul was a big name in his day. He was a mega-preacher, and a cocky one at that. Paul was a shark of a lawyer and a Jewish activist. No flies on this guy:
"4-6 I have such confidence… if any one thinks he can compare, I can assure him I have more. I was born a true Jew, a member of the Benjamin tribe. As far as keeping the Law is concerned I was a devout Pharisee, and you can judge my enthusiasm for the Jewish faith by my active persecution of the Church. I don't think anyone could have found fault with me following the Law." Philippians 3:4-6 Phillips
Circumstances got ugly for Paul, just like Louie. During WWII, Zamperini's Green Hornet crashed into the Pacific Ocean near the Palmyra Atoll, killing the entire crew save Phil, Louie, and Mac, the crew's tail gunner. Phil, Louie and Mac were lost at sea 47 days, fending off sharks, storms and starvation. A nearly-dead Zamperini was rescued by the Japs, nursed by to health in a filthy prison camp only to undergo unimaginable torture at the hands of his captors.
Paul's sufferings made Louie's pale in comparison .
"I have been in prison, severely flogged…exposed to death again and again. 24 Five times I received from the Jews the forty lashes minus one. 25 Three times I was beaten with rods, once I was almost stoned to death, three times I was shipwrecked....I have been in danger from rivers, in danger from bandits, in danger from my fellow Jews, in danger from Gentiles; in danger in the city, in danger in the country, in danger at sea; and in danger from false believers. 27 I have often gone without sleep, have known hunger and thirst; I have been cold and naked." 2 Corinthians 11:23-27 NIV
Unbroken star Louie Zamperini's life miraculously changed when he received Christ during a Billy Graham crusade. Louie saved his marriage, quit drinking, and found his terrifying flashbacks diminishing. The new convert boldly spoke of Christ's transforming power and forgiveness.
Paul's unbroken life was the most gripping testimony in the New Testament.
7 For the Spirit God gave us does not make us timid, but gives us power, love and self-discipline. 8 So do not be ashamed of the testimony about our Lord or of me his prisoner. Rather, join with me in suffering for the gospel, by the power of God. 2 Timothy 1:7 NIV
Louie Zamperini's life will be immortalized on film and paper. Paul did not have the luxury of YouTube or MGM, but he had the single greatest impact on the growth of Christianity the world has ever seen.
And crusty old Paul will greet us in heaven with these words:
"7 I have fought the good fight, I have finished the race, I have kept the faith. 8 Now there is in store for me the crown of righteousness, which the Lord, the righteous Judge, will award to me on that day—and not only to me, but also to all who have longed for his appearing." 2 Timothy 4:7-8 NIV
Now that's an UNBROKEN life!
Content for Unbroken adapted from: Unbroken: A World War II Story of Survival, Resilience, and Redemption Summary and Study Guide by Laura Hillenbrand.
http://www.bookrags.com/studyguide-unbroken/#gsc.tab=0
Your dog can teach you to love God more. Look into your puppy's eyes. He might have something to say.
Four lessons I've learned from my pooch:
Loyalty
Celebration
Protection
Affection
We are all pound puppies. Scraggly, sinful, smelly and in need of rescue. God looked down at our "waggeldy" tails, wet noses, and flea-filled fur. He released from our captive cages, vaccinated us from sin, and adopted us into His family. Mutts no more. He even gave us pedigree-papers we can present at the Pearly Gates.
We can learn a lot about loving God from our furry friends.
Loyalty. Your doggy sits at your feet, follows you everywhere you go, and sleeps at the foot of your bed. Cats own people. People don't own them. (Sorry guys, I'm a dog person). I love the story of Ruth. When the chips were down and her grief-stricken mother-in-law Naomi prepared to return to her home in Israel, Moabite Ruth refused to abandon her:
"Don't force me to leave you; don't make me go home. Where you go, I go; and where you live, I'll live. Your people are my people, your God is my god; where you die, I'll die, and that's where I'll be buried, so help me God—not even death itself is going to come between us!" Ruth 1:16-17 The Message
God deserves no less from us. Clinging close to Him is what we were designed to do. Believe in Him. Rely upon Him. Never, never leave His side.
Celebration. My pooch Penny practically leaps out of her skin when I return home. Retrieving my mail from the street takes less than a minute. She acts like I have been gone for eons. Jubilant jumping, licking, wriggling and barking accompany her glee at my return. The father of the prodigal son ran to hug as his wayward boy limped toward home, broken and ashamed.
20-21 "When he (the wayward son) was still a long way off, his father saw him. His Father-heart pounding, he ran out, embraced him, and kissed him. The son started his speech: 'Father, I've sinned against God, I've sinned before you; I don't deserve to be called your son ever again.'
22-24 "But the father wasn't listening. He was calling to the servants, 'Quick. Bring a clean set of clothes and dress him. Put the family ring on his finger and sandals on his feet. Then get a grain-fed heifer and roast it. We're going to feast! We're going to have a wonderful time! My son is here—given up for dead and now alive! Given up for lost and now found!' Luke 15: 20-24
Do you rejoice in God's presence? Are you glad to spend time with Him? Celebrate your Heavenly Father with a grateful heart.
Protection. Even a Chihuahua vigilantly guards his Master; fiercely growling and howling his tiny head off. The squirt has no idea that even a child could squish his bony body with a sneaker. Dogs zealously guard their owners. They patrol the yard, circling the perimeter, listening intently for the slightest unfamiliar sound. If a stranger approaches, they yap incessantly to keep danger at bay.
Jesus was zealous to protect the name and glory of His Father. Whip in hand; Christ drove out the moneychangers and charlatans from the Temple of the Lord.
13And Jesus said unto them, It is written, My house shall be called the house of prayer; but ye have made it a den of thieves. Matthew 21:13 NKJV
Do you guard God's Name and His holiness? Or do you sit idly by and let a corrupt society continue to contaminate and defame His Name? Love Him enough to hate evil.
Affection. My mini-cocker spaniel is a lap dog. That is an understatement. Every time a bottom hits the chair, Penny takes a flying leap to the lap and snuggles down as closely as her fat, furry body can. She licks my hand and strokes my leg with her paw, gazing at me with adoring brown eyes. Just like cuddly Penny, worship is our expression of affection toward God.
The most common word in the New Testament for "worship" is proskuneo. This word occurs 60 times in the New Testament, 57 of which are in the four gospels, Acts, and Revelation. It originally carried with it the idea of subjects falling down to kiss the ground before a king or kiss their feet. The literal definition means "to kiss, like a dog licking his master's hand, to fawn or crouch to, homage (do reverence to, adore): worship." The elders in heaven worship as God intended:
Revelation 5:14 – The four living creatures said, "Amen," and the elders fell down and worshiped.
Lick His Hand in worship today. Lie in the lap of His presence without hurrying away.
Give your pup an extra pet today. Learn to love God from your furry friend.
Look in the mirror. You could be younger, thinner or smarter. Look in your medicine cabinet. Do you need uppers to make it through the day or tranquilizers to surf the nightly news?
Our world is always one push-button away from annihilation. If stocks plunge, nest eggs disappear. Antibiotic-resistant diseases loom ahead. Don't even get me started discussing global warming, moral depravity or the disintegration of the family unit. Depressing and worrysome.
Negro slaves, brutally beaten, living in poverty, had no hope. Yet they had one coping mechanism. They focused on heaven. Life on earth was hell. But heaven….yes, heaven would be different! "Deep River, my home is over Jordan," "Swing Low, Sweet Chariot-coming for to carry me home!" Negro spirituals expressed hope in a life beyond death. We can learn from them.
How can you become heavenly-minded and hopeful?
Remember that eternal life starts now. Jesus said in John 17:3: "Now this is eternal life; that they may know You, the only eternal God and Jesus Christ whom You have sent." Jesus' presence will fill you full of joy and pleasure (Psalm 16:11). Quiet your heart, mute your cell phone and let His love wash over you today.
Jesus will be glad to see you. Matthew 25:23 expresses God's absolute delight in your celestial arrival. He says "Well done, good and faithful servant….Come share your Master's happiness." Have you spent your life trying to please God and others? You will find forgiveness, grace and rest in heaven. (Psalm 103:12, Hebrews 4:10). Picture God smiling at you, welcoming you with open arms instead of shaking His finger at you in reproof.
Bored? You will have fulfilling work to do. The cream cheese commercial featuring "haloed" angels lying on cloud pillows and strumming harps is a myth. Revelation 7 and 22 states that we will not work riddled with fatigue and frustration (the result of the Fall), but will fulfill all of the potential God placed within you with unlimited resources and energy.
Those you love and miss are watching. Hebrews 12:1 describes the crowd of witnesses cheering us on in our earthly struggles. Revelation 6:9 and Luke 16:19-30 give us an indication that our dear ones do see us but through an eternal lens. What joy to reunite with them! If "a thousand years is as a day, and a day is as a thousand years," then your husband may die and you follow him ten years later. That's about fifteen minutes in "heaven" time. He sees you and quips, "Hi, Honey! Late as usual…"
The worship will be awesome!!! Revelation 4:1-11 depicts the glorious scene of unceasing worship before God's Throne. All are singing "Holy, holy, holy is the Lord God Almighty, who was, and is, and is to come." I don't care how much or little you enjoy worship now, sing, shout, thank and praise God during your day. God's presence hangs around when you praise. (Read about the Ark of God and His smoky glory). That should get you going!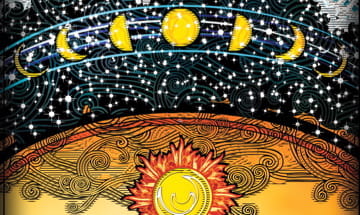 Hoping in heaven gives you a different perspective on life. I envision my understanding of the here and now as the underside of an embroidered pillowcase. All I see are knots and dangling threads. The heaven side reveals a beautifully crafted masterpiece.
Thinking about heaven makes me happy. Besides, I am going to chow down at the Marriage Feast of the Lamb and not gain an ounce!