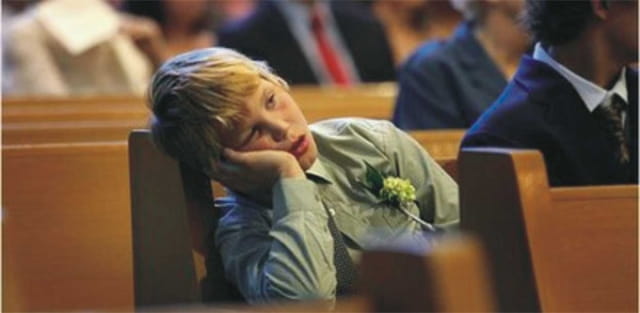 What do you do If your preacher is boring? You can help him, you know...But first, a little humor.
You know your pastor's sermon is boring if:
1. You have to poke your snoring husband more than three times AFTER he's drunk a grande double shot expresso and ½ dozen donuts before the service. Especially if he starts to drool.
2. Your five-year-old son is picking his nose, playing Angry Birds and never looks up.
3. Your daughter is texting her boyfriend and giggles when he makes goofy comments about the pastor's Hawaiian shirt from across the sanctuary. (Sorry, Rick Warren)
4. Your younger daughter is drawing handlebar mustaches and horns on the preacher's bulletin photo.
5. YOU are finishing your grocery list and only hear him say "BLAH, BLAH, BLAH, BLAH, BLAH, BLAH…."
6. No one is opening his/her Bible.
7. Every one is looking at their watches hoping to beat the Penticostals to Hometown Buffet.
8. No one remembers the sermon by the time they get to Sunday school.
My pastor-husband says that being boring is the cardinal sin of preachers. He trained by serving as a children's pastor to a room of 300 squirming, sweaty little bodies. They let you know right away when you have lost their attention. Spitballs start to fly. Potty breaks come all too often and the noise in the room increases exponentially.
How Do Your Help Your Boring Preacher?
Well, it depends on the level of trust and the depth of relationship you have with him.
Every church member can pray for his pastor. Daily. Earnestly. If you need a fantastic prayer guide four your pastor and wife, go to http://www.reviveourhearts.com/resource-library/30-day-challenges/. Nancy Leigh Demoss has created 31-day prayer guides for pastors, pastor's wives and churches. Put one on your refrigerator or bathroom mirror. (Whichever one you use the most!)
Don't complain about your pastor. Earnestly bring him before the Lord. And DON'T, please DON'T form a prayer group to gripe about him. That also includes having "roast preacher" for lunch. You'll end up with kids who become jaded and ditch church as soon as they can.
Be his biggest cheerleader with notes, encouraging comments and a warm handshake when you leave. If your minister feels like he can't trust you, or that you will criticize and betray him, you have no opportunity to have input into his life. My godly Dad befriended every pastor he had: good, bad or ugly. And they adored him for it. EVERY one of them still write letters and call him to this day
.
TAKE NOTES IN EVERY SINGLE SERMON. Read the passages in your Bible or on your YouVersion event notes. Ultimately the Holy Spirit is the real teacher and he can speak to you personally through the Word.
If you or your husband have access to the pastor and he is open to your input, send him great, inspiring stories, links. Sometimes a sermon point will be solidified by a super illustration. Send him great jokes (the clean kind, of course). Humor often disarms listeners.
A staff member or supportive elder board can suggest sermon evaluation/comment cards as a way of keeping the pulse of the congregation. My husband used them for many years. They contained questions like:
Was the sermon helpful to you? How can you apply it this week to your daily life? Is there a further question you have about the passage? Did you feel encouraged, convicted, blessed? Did you see God (Jesus) in a new light? Did you learn ways to love others more? Also included in his eval forms ask the age, marital status, and amount of time the commenter has been attending the church. The evaluator was not asked to include his/her name unless they so desired. (Worship comments were also included. Obviously the worship/media can enhance or detract from the upcoming message.) Including other service elements may make an evaluation form less threatening to the pastor himself.
Also, if you are a staff member, take your pastor with you to great conferences with great preachers. If you think you can't afford to go, see if someone in the church will subsidize the trip. Your basketball skills or golf game will never get better if you play with mediocre players.
Some pastors have not had the opportunity to receive theologican training, but would love to have had finances to take seminary courses. Most theological schools have great online courses and independent study options. A loving congregation who has a pastor eager for advanced education would be gracious to provide needed finances.
If all else fails, you have to decide if you need to change churches. As Americans, we tend to have a "consumer mentality." Church hoppers are at an all-time high. But remember, you and your children need time to develop deeply committed, spiritual mentors and friends. And if your children love your church, DON'T leave. Ultimately your first job is to provide them with a spiritual experience that will shape their young lives. Go to a mid-week Bible study. Uses internet Bible resources. Listen to your favorite pastor online.
God created the local church for a reason. And He loves His shepherds. You can, too!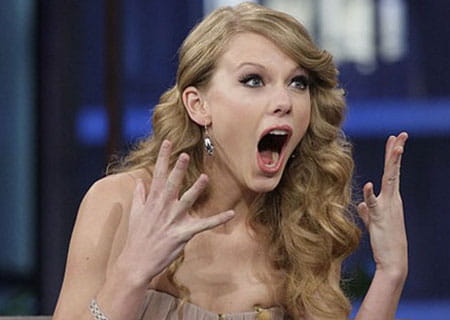 Oh…My…God: a standard response to everything from rage to surprise. I used to be shocked by those blasphemous words. Reality TV would cease to exist without OMG! I'm a closet HGTV fan. Home improvement episodes conclude with "the big reveal." EVERY homeowner shouts, "Oh, my God!!" when they see their abode transformed from trashy to spiffy. Come on! Is there nothing else you can say to express your feelings? Yet, I have easily become desensitized by hearing OMG everywhere. To my chagrin, I occasionally find those three little words popping out of my pie hole when I least expect it. Shame on me!
The first three of the Ten Commandments speak of God Himself: how we reverence and regard Him. We don't worship other gods. We don't make other gods and worship them. AND we don't call anything else "God" besides Him. The remaining commandments deal with behaviors that relate to how we demonstrate our reverence for God in our daily lives. So mishandling God's name, the expression of His character, will change how we view everything in life.
The Jews never spoke God's name. He was YHWH. They referred to the Almighty as "the NAME." Jesus claimed to be YHWH in John 8 (among other passages). John 8:58 states,
8 "Very truly I tell you," Jesus answered, "before Abraham was born, I AM!" 59 At this, they picked up stones to stone him, but Jesus hid himself, slipping away from the temple grounds." NIV
The Greek present tense of 'ego eimi,' "I AM," can be translated into the English perfect tense "I have been." The religious leaders were infuriated. When Christ made this claim, the incensed Hebrews picked up stones, intending to pound Christ into the ground. The Lord walked right through the mob, unscathed. Now that's something YHWH would do!
Why is God so particular about how His Name is used? The Bible teaches that when something is "holy," it is set apart as sacred. When something "ordinary," it is profane.
Taking God's name in vain makes God too small. He can't control the universe. He can't answer your prayers. An everyday God can't do extraordinary things. We drag Him through the mud of our mundane lives.
James 3:9-10 teaches us our tongue can be ignited by hell. The wagging appendage can be bipolar-blessing & cursing. With our tongues, we can encourage or trash-talk.
Jesus taught us to pray with these words: "Our Father, who is in heaven, holy is Your Name." Matthew 6:9.
The next time you use God's name, try one of these:
YAHWEH-JIREH: "The Lord Will Provide" (Genesis 22:14) – God's name spoken by Abraham when God provided the ram to be sacrificed in place of Isaac.

YAHWEH-RAPHA: "The Lord Who Heals" (Exodus 15:26) – "I am Jehovah who heals you" both in body and soul. In body, by preserving from and curing diseases, and in soul, by pardoning your sin.

YAHWEH-NISSI: "The Lord Our Banner" (Exodus 17:15), where banner is understood to be a rallying place. This name commemorates the desert victory over the Amalekites in Exodus 17.

YAHWEH-M'KADDESH: "The Lord Who Sanctifies, Makes Holy" (Leviticus 20:8; Ezekiel 37:28) – God makes it clear that He alone, not the law, can cleanse His people and make them holy.

YAHWEH-SHALOM: "The Lord Our Peace" (Judges 6:24) – the name given by Gideon to the altar he built after the Angel of the Lord assured him he would not die as he thought he would after seeing Him.

YAHWEH-ELOHIM: "LORD God" (Genesis 2:4; Psalm 59:5) – a combination of God's unique name YHWH and the generic "Lord," signifying that He is the Lord of Lords.

YAHWEH-TSIDKENU: "The Lord Our Righteousness" (Jeremiah 33:16) – As with YHWH-M'Kaddesh, it is God alone who makes man right with God in the person of His Son, Jesus Christ, who became sin for us "that we might become the Righteousness of God in Him" (2 Corinthians 5:21).

YAHWEH-ROHI: "The Lord Our Shepherd" (Psalm 23:1) – After David thought about his relationship as a shepherd to his sheep, he realized that was exactly the relationship God had with him, and so he declares, "Yahweh-Rohi is my Shepherd. I shall not want" (Psalm 23:1).

YAHWEH-SHAMMAH: "The Lord Is There" (Ezekiel 48:35)
Colossians 3:17 states, "…whatever you do, in word or deed, do everything in the name of the Lord Jesus, giving thanks to God the Father through him." NIV
Using exclamations like OMG may not seem like a big deal, but we MUST make it our goal to glorify God with every word we say, knowing He knows our heart and desire to honor Him.
Listen to Dr. Roger Barrier's Sermon: "Confident Prayer: Praying the Names of God."
For more study of the names of God, read "The Names of God" by Ken Hemphill.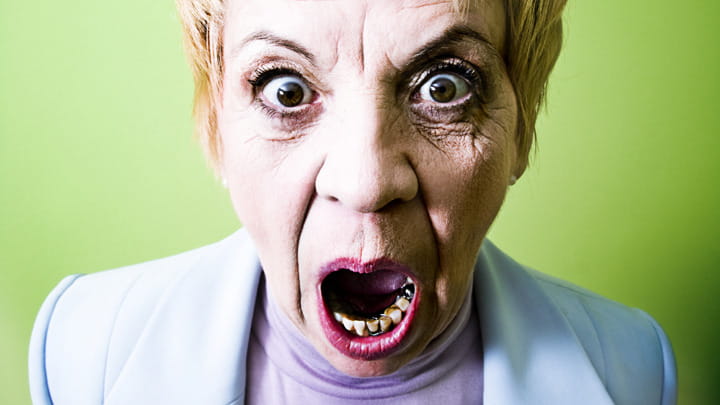 Loving your mother-in-law can be a mixed bag. My mother-in-law made it abundantly clear that she didn't approve of me from Day One. Her son, an angelic boy scout who surrendered to preach at the age of seven, could do no wrong. Helen had already handpicked Allison, her best friend's daughter and childhood playmate, as an appropriate match for her perfect child.
Roger and I fell in love at first sight when I began my freshman year at Baylor University. He was a fiery young preacher who needed a pianist/singer to lead worship for his church services. I fit the bill. But I had not come across Mama Helen's radar yet. When she heard of her son's evil plot to thwart her arranged marriage, all hell broke loose. Although my future husband and I had been dating seriously for a year, his mom would not permit me to be photographed with him at his ordination.
Her reasons? I talked too much. I wasn't from his home church. I was too charismatic. And he only wanted me for my body. Are you serious?
Finally, fifteen years and two children later, she decided I was going to stick around. We learned to love each other.
The Bible has much to say about mother-in-laws. Naomi, Moabitess Ruth's mother-in-law, loved and cherished her widowed daughter-in-law. She was instrumental in helping Ruth to find a godly husband. Manipulative Rebekah caused her son Jacob to deceive her husband Isaac while he lay gasping on his deathbed. I imagine the integrity or lack thereof really influenced Jacob's treatment of his wives, Leah and Rachel. The melodramatic story would top the ratings charts on daytime television. Lot's wife's worldliness almost got her daughters-in-law killed when she refused to leave Sodom under siege. And, Eve, well…how many mother-in-laws do you know who caused the fall of all mankind? Bummer.
Like it or not, if you have a husband, you married the kit and caboodle. You married a family. Whether parents-in-law or adult children realize it or not, the choices that are made are life altering for the entire clan.
For many parents, the grace to love and enfold these new family-members-by-law is a mere continuum of the parental love they enjoy with their own kids. However, some situations may require an attitude adjustment. Inevitably, embarrassing moments and even outright conflicts occur in in-law relationships. Sometime the problem happens not out of a vindictive, hateful motive, but simply out of ignorance or insensitivity.
Many women (and some men) complain that their mothers-in-law are meddling, over-bearing, critical, demanding and possessive.
Now I have walked in their shoes. And I have decided that "mother-in-lawing" is not easy. When I look at my daughters, I see them as little chicks protected under my wings. I can suffocate them and be driven by the fear that their husbands cannot take care of them. My daughters are wonderful! But I always walk the tightrope of watching my words and keeping my expectations in check. Plus I have learned to encourage, encourage, encourage. I also need to trust them to be grownups, to have their own families and to make their own decisions.
What does the Bible teach us about in-law relationships? Here are a few verses:
1. God commands spouses to "leave and cleave." (Genesis 2:23-24).
A man and woman must leave their birth families and begin a new family, and they are to love and protect each other. A husband who allows his mother or his mother-in-law to interfere with his marriage is not living up to the commandment given to husbands in Ephesians 5:25-33. Husbands, love your wives by setting appropriate boundaries when necessary. Lead your family and mediate conflict.
2. God wants children to honor their parents."Honor your father and your mother, so that you may live long in the land the Lord your God is giving you." Exodus 20:12. Honor may look like caring for them in old age, respecting them, listening to their wisdom and spending time with them when possible. Many extended families throughout the world often live together in the same house. Grandmothers and mothers-in-law often assist in the care of newborn infants. Share your kids with your parents and in-laws when possible. Don't rob your children of half the toys; attention and hugs grandparents want to give!
3. Your mother-in-law has needs. "Jesus got up and left the synagogue, and entered Simon's home Now Simon's mother-in-law was suffering from a high fever, and they asked Him to help her." Luke 4:38. Aging parents will need more and more care. Pray for them as well.
4. Be forgiving. Cut each other some slack. Try to walk in the shoes of the other person. My mother-in-law Helen cowered under her bed every night of her childhood, hiding from an alcoholic, abusive dad. She lost her pilot-husband in a fatal plane crash during World War II. She had an anxiety disorder. I should have seen how hard it was for her to live her daily life battling fear and depression. Christians can always give the grace of forgiveness (Ephesians 4:32).
If you can't love your mother-in-law as a mom, befriend her. If you can't befriend her, love her as your neighbor. If you can't love her as your neighbor, love her as your enemy!