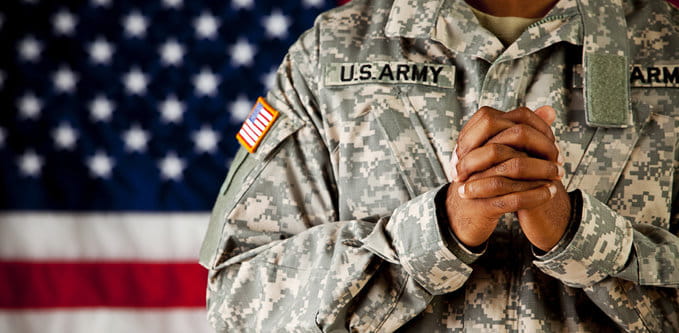 Flying bullets, suicide vests, terrorist threats and racial riots. Our society is filled with fear. God is our shield, but He has given us sentinels who safeguard our daily lives. Do you pray for them?
"God shapes the world by prayer. The more prayer there is in the world, the better the world will be, the mightier the forces of good against evil …" – E.M. Bounds
The courageous soldiers and first responders who protect our nation are unsung heroes. Day and night they keep watch over our homes, our families, our cities and our nation. How can we pray for these brave protectors? David, mighty warrior and poet, penned powerful passages to guide us as we cover them and bless them.
Our warriors in the Armed Forces stand bravely on the field of battle, never knowing if it is this is the day they die for their country. Many return home, bruised and traumatized, and no one even says thank you. The soldiers in World War II returned home with a ticker tape parade in New York City. The world applauded them. My grandfather, father-in-law and uncle died in battle. Their wives mourned their loss every day.
Most first responders here at home are underpaid and underappreciated. Yet all of us feel safer because of them. They run to our sides when we frantically dial 911, they race to the scene of a bloody car crash, or patrol our neighborhoods so that our children can safely play. Even as our nation is threatened by terrorists, they carefully stand guard.
I know firsthand how critical it is to pray. Daily. Rick, my son-in-law, is a first responder. He serves as a firefighter, paramedic and hasmat specialist. When training, Richard was tasked with the "RIT team" (a designated crew that searches and rescue of any missing, trapped, injured fire fighters in a burning building). He works 24 hours on and 48 hours off. So, basically, he rarely sleeps. Recently, his crew rescued twenty babies from a smoke-filled hospital NICU. Now those little ones can grow up safe and strong. Just another day on the job….
King David was a warrior and a fighter. He relied upon his mighty men to protect his people. The psalms are full of his prayers.
Here are a few ways to bless and cover our first responders in prayer.
Pray for God's power to strengthen them:
Psalm 98:2
"The Lord has shown the nations that He has the power to save and to bring justice."
Pray for wisdom as they face every crisis:
Psalm 5:8
"Lord, I have so many enemies! Lead me to do Your will; make Your way plain for me to follow."
Pray for vigilance as they fight and keep watch:
Psalm 130: 5-6
"I wait for the Lord, my whole being waits, and in His word I place my hope. I wait for the Lord more than watchmen for the morning, more than watchmen for the morning."
Pray for the families who wait for them and support them:
Psalm 127:1
"Unless the Lord builds the house, the builders labor in vain. Unless the Lord watches over the city, the watchman stays awake in vain." NIV
Pray for God's angels to watch over them:
"If you say, 'The Lord is my refuge' and you make the Most High your dwelling, no harm will overtake you, no disaster will come near your tent, for he will give his angels concerning you to guard you in all your ways. They will lift you up in their hands so that you will not strike your foot against a stone."
Pray for their salvation, and a faith in Christ to sustain them in the face of danger:
Psalm 27:1
"The Lord is my light and my salvation. Whom shall I fear? The Lord is the strength of my life. Of whom shall I be afraid?"
David, the man after God's own heart, knew how to cling to God in his darkest hours. That's why he penned these reassuring words,
Psalm 23:4
"Yea, though I walk through the valley of the shadow of death, I will fear no evil; for You are with me."
Thank you, Protectors. Our hearts are with you.
Terrorists terrify us. But from an eternal perspective, they may touch the body, but they can never touch the soul.
"Dear friends, don't be afraid of these who want to murder you. They can only kill the body; they have no power over your souls. But I'll tell you whom to fear—fear God who has the power to kill and then cast into hell.
"What is the price of five sparrows? A couple of pennies? Not much more than that. Yet God does not forget a single one of them. And he knows the number of hairs on your head! Never fear, you are far more valuable to him than a whole flock of sparrows." Luke 12:4-7 NLV
How do terrorist fighters plan to destroy their targets, bringing nations to their knees? By fear-mongering!
Fear paralyzes us. We hide in the safety of the shadows instead of stepping out in faith.
My husband Roger was agoraphobic as a teen (afraid to leave the safety of his home). Every time he was required to attend a social gathering, he was petrified. An anxiety disorder crippled his health and his high school years. His serious medical issues could have given him the excuse to remain safe and secure in his comfort zone. But God's called him and Roger answered. Every day, Roger had to face his fears and make the choice to take risks. Fifty-two countries and three-thousand sermons later, God blessed his obedience.
My Christian brother Asim, a missionary in the Middle East, leaves his home every day knowing ISIL militants beheaded believers nearby, burned homes of beloved friends and brutally murdered poverty-stricken parents in the ghettos. Instead of cowering in fear, he created an orphanage for abandoned children and developed 26 house churches. Asim and his team bravely continue sharing Christ in this war-torn country. Miracles defy obstacles.
Nero's lions ripped Christians to pieces. He crucified them and dipped them in pitch to light his gardens at night. When the persecuted church was dispersed in the Book of Acts, the gospel spread like wildfire to surrounding nations. God emboldened His saints as they migrated beyond their borders.
Fear breeds suspicion and prejudice. Racial profiling is already an issue in our country, but when we look at those around us with skepticism and aloofness, we miss any opportunity to connect with love and acceptance. The opportunity to share the Good News of Christ with others is missed.
Guerrilla warfare is not new to the world, but most terrorists hide in plain sight. If we constantly look over our shoulders, terrorists have won.
My husband and I prepared to preach a sermon from Job entitled "When Fears Come True." The day before, I received a death threat with a graphic message of how the attacker would rape me. I had a choice. Our church staff told me to stay home. But God told me to boldly speak the message He had given me, and He would be my Protector. My husband still made me wear a bullet-proof vest, but I never felt God's peace and power more. I don't feel afraid when I look into the hungry eyes of those who listen. My compassion helps me love and minister to them.
Fear steals our joy. If we refuse to live our day-to-day lives, terrorists have won. Fear can only be replaced by faith.
One of my British pastor-friends lived in London during World War II. He recalled being a four-year-old boy, shoved into a subway cubby hole as air raid horns blared above him. Terrifying nightmares of being buried alive haunted his childhood. Only after he had an encounter with Jesus did He realize that God was bigger than any foe.
Jesus said in John 10:10, "The Thief comes to steal, kill and destroy. But I have come to give you life abundantly." NIV
When do we experience abundant life? In our present. Satan steals our abundant life when we allow guilt and pain from the past to cloud our present. He robs today's peace by causing us to fret and panic about the future.
My oldest daughter Brianna has fought a crippling auto-immune disease all of her life. Every day she wakes up with migraines, wondering if she will be able to keep down food. Her treatments are agonizing, and the slightest cold germ can spiral her fragile body into pneumonia.
But she does not allow her disease to define or destroy her. She wakes up every morning, praising God. She tirelessly works to raise money for Christian missionaries around the world….about 900 million dollars in the last 15 years! I watched her lead worship with her husband last Sunday. She sang with a radiant countenance, hands uplifted to the heavens.
I don't know if I could be so brave.
When Brie was seven, we chose a special psalm together: Psalm 91. We sat in the middle of her fluffy pink bedspread and whispered David's words:
"If you make the LORD your refuge, if you make the Most High your shelter, no evil will conquer you; no plague will come near your dwelling. For He orders his angels to protect you wherever you go. They will hold you with their hands to keep you from striking your foot on a stone. "
Fear, dread, horror, fright, alarm, panic-all paint portraits of Satan's terrifying schemes.
Don't let Satan win. He is a defeated foe. God is our Protector.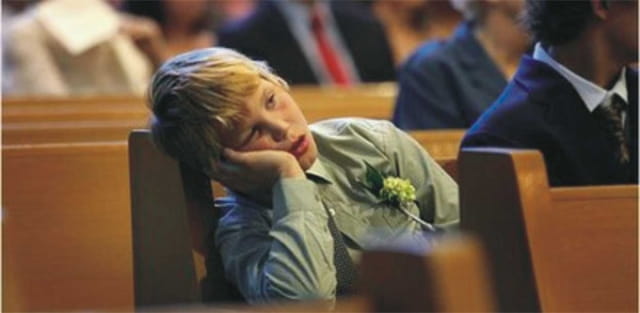 What do you do If your preacher is boring? You can help him, you know...But first, a little humor.
You know your pastor's sermon is boring if:
1. You have to poke your snoring husband more than three times AFTER he's drunk a grande double shot expresso and ½ dozen donuts before the service. Especially if he starts to drool.
2. Your five-year-old son is picking his nose, playing Angry Birds and never looks up.
3. Your daughter is texting her boyfriend and giggles when he makes goofy comments about the pastor's Hawaiian shirt from across the sanctuary. (Sorry, Rick Warren)
4. Your younger daughter is drawing handlebar mustaches and horns on the preacher's bulletin photo.
5. YOU are finishing your grocery list and only hear him say "BLAH, BLAH, BLAH, BLAH, BLAH, BLAH…."
6. No one is opening his/her Bible.
7. Every one is looking at their watches hoping to beat the Penticostals to Hometown Buffet.
8. No one remembers the sermon by the time they get to Sunday school.
My pastor-husband says that being boring is the cardinal sin of preachers. He trained by serving as a children's pastor to a room of 300 squirming, sweaty little bodies. They let you know right away when you have lost their attention. Spitballs start to fly. Potty breaks come all too often and the noise in the room increases exponentially.
How Do Your Help Your Boring Preacher?
Well, it depends on the level of trust and the depth of relationship you have with him.
Every church member can pray for his pastor. Daily. Earnestly. If you need a fantastic prayer guide four your pastor and wife, go to http://www.reviveourhearts.com/resource-library/30-day-challenges/. Nancy Leigh Demoss has created 31-day prayer guides for pastors, pastor's wives and churches. Put one on your refrigerator or bathroom mirror. (Whichever one you use the most!)
Don't complain about your pastor. Earnestly bring him before the Lord. And DON'T, please DON'T form a prayer group to gripe about him. That also includes having "roast preacher" for lunch. You'll end up with kids who become jaded and ditch church as soon as they can.
Be his biggest cheerleader with notes, encouraging comments and a warm handshake when you leave. If your minister feels like he can't trust you, or that you will criticize and betray him, you have no opportunity to have input into his life. My godly Dad befriended every pastor he had: good, bad or ugly. And they adored him for it. EVERY one of them still write letters and call him to this day
.
TAKE NOTES IN EVERY SINGLE SERMON. Read the passages in your Bible or on your YouVersion event notes. Ultimately the Holy Spirit is the real teacher and he can speak to you personally through the Word.
If you or your husband have access to the pastor and he is open to your input, send him great, inspiring stories, links. Sometimes a sermon point will be solidified by a super illustration. Send him great jokes (the clean kind, of course). Humor often disarms listeners.
A staff member or supportive elder board can suggest sermon evaluation/comment cards as a way of keeping the pulse of the congregation. My husband used them for many years. They contained questions like:
Was the sermon helpful to you? How can you apply it this week to your daily life? Is there a further question you have about the passage? Did you feel encouraged, convicted, blessed? Did you see God (Jesus) in a new light? Did you learn ways to love others more? Also included in his eval forms ask the age, marital status, and amount of time the commenter has been attending the church. The evaluator was not asked to include his/her name unless they so desired. (Worship comments were also included. Obviously the worship/media can enhance or detract from the upcoming message.) Including other service elements may make an evaluation form less threatening to the pastor himself.
Also, if you are a staff member, take your pastor with you to great conferences with great preachers. If you think you can't afford to go, see if someone in the church will subsidize the trip. Your basketball skills or golf game will never get better if you play with mediocre players.
Some pastors have not had the opportunity to receive theologican training, but would love to have had finances to take seminary courses. Most theological schools have great online courses and independent study options. A loving congregation who has a pastor eager for advanced education would be gracious to provide needed finances.
If all else fails, you have to decide if you need to change churches. As Americans, we tend to have a "consumer mentality." Church hoppers are at an all-time high. But remember, you and your children need time to develop deeply committed, spiritual mentors and friends. And if your children love your church, DON'T leave. Ultimately your first job is to provide them with a spiritual experience that will shape their young lives. Go to a mid-week Bible study. Uses internet Bible resources. Listen to your favorite pastor online.
God created the local church for a reason. And He loves His shepherds. You can, too!