Your dog can teach you to love God more. Look into your puppy's eyes. He might have something to say.
Four lessons I've learned from my pooch:
Loyalty
Celebration
Protection
Affection
We are all pound puppies. Scraggly, sinful, smelly and in need of rescue. God looked down at our "waggeldy" tails, wet noses, and flea-filled fur. He released from our captive cages, vaccinated us from sin, and adopted us into His family. Mutts no more. He even gave us pedigree-papers we can present at the Pearly Gates.
We can learn a lot about loving God from our furry friends.
Loyalty. Your doggy sits at your feet, follows you everywhere you go, and sleeps at the foot of your bed. Cats own people. People don't own them. (Sorry guys, I'm a dog person). I love the story of Ruth. When the chips were down and her grief-stricken mother-in-law Naomi prepared to return to her home in Israel, Moabite Ruth refused to abandon her:
"Don't force me to leave you; don't make me go home. Where you go, I go; and where you live, I'll live. Your people are my people, your God is my god; where you die, I'll die, and that's where I'll be buried, so help me God—not even death itself is going to come between us!" Ruth 1:16-17 The Message
God deserves no less from us. Clinging close to Him is what we were designed to do. Believe in Him. Rely upon Him. Never, never leave His side.
Celebration. My pooch Penny practically leaps out of her skin when I return home. Retrieving my mail from the street takes less than a minute. She acts like I have been gone for eons. Jubilant jumping, licking, wriggling and barking accompany her glee at my return. The father of the prodigal son ran to hug as his wayward boy limped toward home, broken and ashamed.
20-21 "When he (the wayward son) was still a long way off, his father saw him. His Father-heart pounding, he ran out, embraced him, and kissed him. The son started his speech: 'Father, I've sinned against God, I've sinned before you; I don't deserve to be called your son ever again.'
22-24 "But the father wasn't listening. He was calling to the servants, 'Quick. Bring a clean set of clothes and dress him. Put the family ring on his finger and sandals on his feet. Then get a grain-fed heifer and roast it. We're going to feast! We're going to have a wonderful time! My son is here—given up for dead and now alive! Given up for lost and now found!' Luke 15: 20-24
Do you rejoice in God's presence? Are you glad to spend time with Him? Celebrate your Heavenly Father with a grateful heart.
Protection. Even a Chihuahua vigilantly guards his Master; fiercely growling and howling his tiny head off. The squirt has no idea that even a child could squish his bony body with a sneaker. Dogs zealously guard their owners. They patrol the yard, circling the perimeter, listening intently for the slightest unfamiliar sound. If a stranger approaches, they yap incessantly to keep danger at bay.
Jesus was zealous to protect the name and glory of His Father. Whip in hand; Christ drove out the moneychangers and charlatans from the Temple of the Lord.
13And Jesus said unto them, It is written, My house shall be called the house of prayer; but ye have made it a den of thieves. Matthew 21:13 NKJV
Do you guard God's Name and His holiness? Or do you sit idly by and let a corrupt society continue to contaminate and defame His Name? Love Him enough to hate evil.
Affection. My mini-cocker spaniel is a lap dog. That is an understatement. Every time a bottom hits the chair, Penny takes a flying leap to the lap and snuggles down as closely as her fat, furry body can. She licks my hand and strokes my leg with her paw, gazing at me with adoring brown eyes. Just like cuddly Penny, worship is our expression of affection toward God.
The most common word in the New Testament for "worship" is proskuneo. This word occurs 60 times in the New Testament, 57 of which are in the four gospels, Acts, and Revelation. It originally carried with it the idea of subjects falling down to kiss the ground before a king or kiss their feet. The literal definition means "to kiss, like a dog licking his master's hand, to fawn or crouch to, homage (do reverence to, adore): worship." The elders in heaven worship as God intended:
Revelation 5:14 – The four living creatures said, "Amen," and the elders fell down and worshiped.
Lick His Hand in worship today. Lie in the lap of His presence without hurrying away.
Give your pup an extra pet today. Learn to love God from your furry friend.
Look in the mirror. You could be younger, thinner or smarter. Look in your medicine cabinet. Do you need uppers to make it through the day or tranquilizers to surf the nightly news?
Our world is always one push-button away from annihilation. If stocks plunge, nest eggs disappear. Antibiotic-resistant diseases loom ahead. Don't even get me started discussing global warming, moral depravity or the disintegration of the family unit. Depressing and worrysome.
Negro slaves, brutally beaten, living in poverty, had no hope. Yet they had one coping mechanism. They focused on heaven. Life on earth was hell. But heaven….yes, heaven would be different! "Deep River, my home is over Jordan," "Swing Low, Sweet Chariot-coming for to carry me home!" Negro spirituals expressed hope in a life beyond death. We can learn from them.
How can you become heavenly-minded and hopeful?
Remember that eternal life starts now. Jesus said in John 17:3: "Now this is eternal life; that they may know You, the only eternal God and Jesus Christ whom You have sent." Jesus' presence will fill you full of joy and pleasure (Psalm 16:11). Quiet your heart, mute your cell phone and let His love wash over you today.
Jesus will be glad to see you. Matthew 25:23 expresses God's absolute delight in your celestial arrival. He says "Well done, good and faithful servant….Come share your Master's happiness." Have you spent your life trying to please God and others? You will find forgiveness, grace and rest in heaven. (Psalm 103:12, Hebrews 4:10). Picture God smiling at you, welcoming you with open arms instead of shaking His finger at you in reproof.
Bored? You will have fulfilling work to do. The cream cheese commercial featuring "haloed" angels lying on cloud pillows and strumming harps is a myth. Revelation 7 and 22 states that we will not work riddled with fatigue and frustration (the result of the Fall), but will fulfill all of the potential God placed within you with unlimited resources and energy.
Those you love and miss are watching. Hebrews 12:1 describes the crowd of witnesses cheering us on in our earthly struggles. Revelation 6:9 and Luke 16:19-30 give us an indication that our dear ones do see us but through an eternal lens. What joy to reunite with them! If "a thousand years is as a day, and a day is as a thousand years," then your husband may die and you follow him ten years later. That's about fifteen minutes in "heaven" time. He sees you and quips, "Hi, Honey! Late as usual…"
The worship will be awesome!!! Revelation 4:1-11 depicts the glorious scene of unceasing worship before God's Throne. All are singing "Holy, holy, holy is the Lord God Almighty, who was, and is, and is to come." I don't care how much or little you enjoy worship now, sing, shout, thank and praise God during your day. God's presence hangs around when you praise. (Read about the Ark of God and His smoky glory). That should get you going!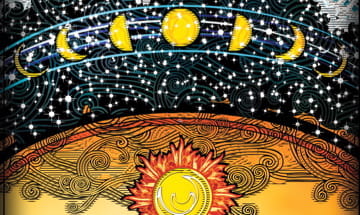 Hoping in heaven gives you a different perspective on life. I envision my understanding of the here and now as the underside of an embroidered pillowcase. All I see are knots and dangling threads. The heaven side reveals a beautifully crafted masterpiece.
Thinking about heaven makes me happy. Besides, I am going to chow down at the Marriage Feast of the Lamb and not gain an ounce!

Feeling grumpy, discouraged, disappointed or just plain grouchy? Perhaps you need a dose of gratitude.
Paul tells to give thanks in everything. I'm not feeling it. But being joyful and grateful has nothing to do with feelings. I chatted with an 88-yr-old retired pastor yesterday. He had health problems out the wazoo. However, he wisely said, "You can choose to be joyful!"
If anyone had a right to complain, it was he!
So what is your gratitude quotient, and how do you measure up? Nancy Leigh DeMoss, founder of Revive Our Hearts, inspired me to take this challenge. I created my own "happy recipe." How can you and I become grateful in a week?
MONDAY:
Focus on the character of God, not on yourself.
"Rejoice in the Lord always, and again I say rejoice!" Philippians 4:4 NIV
Sounds easy enough. Well, it's not. Most of us have a skewed view of our Creator. We feel He is demanding, judgmental and mostly disappointed in us. We wake up and assume our Heavenly Father is thinking, "What kind of mischief is he/she going to get into today?" That will make anyone frustrated.
The truth is, God longs to commune and comfort us. When we open our bleary eyes and our hairy toes are still warmed under the covers, God joyfully cries, "He's awake! She's awake!" That should give you a dose of joy juice.
"The Lord your God is with you…He will take great delight in you…He will rejoice over you with singing." Zephaniah 3:17
TUESDAY:
Remember the good times. "Count your blessings, name them one by one…." A cliché? Corny song. Great idea. And it came from God's Word, the Psalms specifically.
"I will remember the deeds of the Lord; yes, I will remember your miracles of long ago." Psalms 77:11 NIV
Your day may be stinky right now, but God has shown Himself faithful in the past. Recall when He answered a prayer or intervened on your behalf.
I didn't remember my childhood for most of my life. Weird, huh? But one day, God pressed rewind on my brain and I could remember my past. Every detail. I even wrote a book about my amazing childhood. The Holy Spirit can "call everything into remembrance…" And you will cherish those tidbits of treasure from your past.
WEDNESDAY:
Hump day. The day in the middle of the week when Friday looms ahead and Monday was mundane. Today, look at the little details of your day. Notice the people God brings across your path (good, bad or ugly). These dear souls are Divine appointments. See how God can show Himself in your relationships. Glance at the photos on your desk or shelf. Your loved ones can bring you delight. Appreciate God's handiwork in others.
The apostle Paul said:
"I thank my God every time I remember you. In all my prayers for all of you, I always pray with joy…" Philippians 1: 3-4a NIV
THURSDAY:
"The heavens declare the glory of God, the skies proclaim the work of His hands." Psalm 19:1.NIV
Peer outside your window. You may see a parking lot, but somewhere you will observe a ray of sunshine, a cloud, a glorious tree, bird or flower. "Stop and smell the roses" is an oft-quoted phrase, but is pregnant with meaning. We rush by God's glory in nature. Hectic racing, over-commitment and poor planning makes our daily lives a blur. Stop. Look around you. Every tree, flower, bird was embroidered by God. See them. Cherish them. Let them cheer you.
FRIDAY:
Now say something. Say it often. "repeated thanks"-what a concept! Say it to someone else.
"But I will give repeated thanks to the Lord, praising him to everyone." Psalm 109:30 NLV
People seldom say "thank you" anymore! God blesses US. Be grateful. Tell Him. Tell your friends.
SATURDAY:
Laundry day. Soccer practice. Honey-Do chores. Go ahead. Make your grocery list. Then, take a few moments to sit down with your Bible and consider some of the Psalms "thankful" verses. Each one can teach you something about learning the art of being appreciative and contented: Psalm 28:7, Psalm 48:4, Psalm 75:1. Read 'em. Ruminate on what they say. Write your thoughts down. Stick a post-it note on your bathroom mirror with a special verse to remind you of God's love when you brush your teeth (and floss, of course).
SUNDAY:
This is the hard part. Not for musicians, but for run-of-the-mill ordinary folks. God asks us to sing to Him. A lot.
"It is good to give thanks to the Lord, to sing praises to the Most High." Psalm 92:1 NIV
Warble until you're hoarse. God doesn't care how you sound. And, by the way, don't wait to go into your church service until the worship is over. Who cares if the music "isn't your style," if it is too loud, too soft, sharp or flat. God asks you to worship. You. Be glad in God. Be noisy. Jump around. Cheer and shout. You don't have to be a Holy Roller to do it. King David did, and God loved him for it!
Get rid of the grumpies. You can change. You can become grateful in a week. Give it a try and God will bless you for it.