Tuesday, December 03, 2013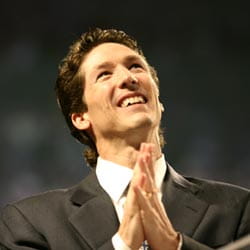 Mega-churches' wonder boy. Prosperity gospel's poster child. New York Times best-selling author for positivity. Joel Osteen draws a lot of fire, especially from disgruntled fundies and theological hard-liners.
But I beg to differ. I've suffered some pretty tough blows from the Enemy over the last few months, and my faith was at an all-time low. Early Sunday morning, I grimly flipped through the channels and Joel's boyish face & lilting southern drawl got my attention. This I know. When he spoke, I was reassured that God is on my side.
He preached a sermon I have never heard before about God's staff (not the people-kind). To my astonishment, Jewish nomads etched their names and answered prayers on their rough-hewn walking sticks. The bedouins had no room for a backpack full of commentaries. A simple piece of wood became a constant reminder of God's faithfulness.
Joel's "staff" sermon was a revelation. I wept at my unbelief. Then I opened my Bible.
1. The rod of God symbolized supernatural power in the face of human frailty.
Look at 80-year-old Moses. The stuttering deliverer threw down his staff and it became a snake (Exodus 7:8). This rough-hewn piece of wood turned water into blood (7:17), caused frog infestation (8:5), itchy lice (8:17), swarms of flies (8:21), dust (9:8), dead cows (9:3), locusts (10:13), hail (9:23), darkness (10:21), and finally the death of the first-born of every family and flock (11:5). Powerful stuff from a staff with a God behind it. Egypt's mighty Pharoah was bested by a stick.
The Red Sea parted with God's command to Moses: "Hold your staff high and stretch your hand out over the sea: Split the sea! The Israelites will walk through the sea on dry ground." Exodus 14:16. KJV
My faith renewed. God was bigger than I remembered.
2. A staff reminds you of who you are and what God has called you to do. God commanded his people to personalize their walking sticks.
"Speak unto the children of Israel, and take of every one of them a rod according to the house of their fathers, of all their princes according to the house of their fathers twelve rods: write thou every man's name upon his rod." Numbers 17:2
I am God's child, deeply loved and unique. I need to remember who I am in Christ.
3. God showed favor and anointing through a staff. Aaron's budding staff silenced the grumpy insurrectionists who surrounded him. His flowering wooden pole was such an amazing sign of blessing over his life, that it was kept in the Ark of the Covenant for generations. (Numbers 17:4-8)
4. God imparted confidence through a staff. In 1Samuel 17, gargantuan Goliath's staff was the size of a weaver's beam. Scrawny, scrappy David used his little shepherd's staff to kill lions and bears by God's Hand. He boldly stepped into the terrifying arena to face the giant because he wielded his staff with confidence. (The five stones and the slingshot helped, too!)
5. God gave comfort and protection through a staff. A Jew's scratchy stick was usually carried throughout his or her life. In the sweet words of the psalmist, David wrote:
"Yea, though I walk through the valley of the shadow of death, I will fear no evil: for thou art with me; thy rod and thy staff they comfort me." Psalm 23:4 KJV
I need reminders. When my problems seem insurmountable, I become faith-forgetful. It's time to allow the Holy Spirit to bring to my memory what God has done for me.
Thank you, Joel. I needed those words today.
Sunday, November 24, 2013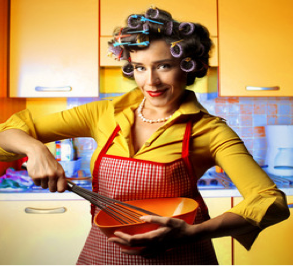 Thanksgiving conjures up many friendly faces whose delicious cuisine has graced my holiday table: Colonel Sanders, Aunt Jemima, and, of course, Sara Lee. Nothing good ever emerged from my kitchen unless it had been baked, battered, barbecued or deep-fried by my fast food friends. I've tried to cook from scratch, believe me. Mom tried to pass on her culinary skills, but the raw chocolate chip cookie dough I stirred never made it to the pan.
Before the days of Lean Cuisine, every dish my Grandma made began with a big 'ole hunk of bacon grease and a cast iron skillet. If I made dishes like "Granny used to make," my husband would clot and blow out every artery in his pudgy body.
After years of gastronomical fiascos, I tried to learn a few cooking terms to increase my cooking prowess. Poach means add a little water. Sauté means add a little butter. Fry means add a lot of Crisco and flambé means set it on fire and burn it to a crisp.
As the Thanksgiving holiday approaches, don't overlook the obvious.
Thanksgiving feasting is over-rated. Nobody, but nobody has developed a foolproof system for roasting the bird (even though the Butterball people assure it's a cinch)!
I have it on good authority (Fox News…) that 4% of happy holiday homes catch fire when their owners try to deep-fry a turkey. Besides the imminent danger of flammable legs and thigsh, ingesting large quantities of poultry fat assures that Uncle Bill's posterior will not fit in the tiny exit row chair when he returns to see Grandma at Christmastime.
Traditional turkey baking is just torturous. Haggard housewives stuff Tom Turkey's behind with breadcrumbs and stay up half the night basting the bird for Thursday's feast. By lunchtime, these overworked cooks are grouchy and exhausted from their Thanksgiving preps. "Turkey breasters" are snobs who only eat white meat and leave the consumption of neck and gizzards for the kids who don't know any better. Dressing can be made from just about anything: paper mache, donut holes, day-old bread or dust bunnies. Shove it up the bird and bake away. Slop on globs of gravy and no one will ever know. Thanksgiving dinner…I love to eat it. I hate to cook it.
One year, I tried to grill a turkey breast "Texas-style." The succulent white meat was charred on the outside and pink-frozen on the inside, like turkey sushi. My husband pretended to down the poultry, but he quickly excused himself, claimed he had to answer a "pastoral emergency," and made a Whopper run. He didn't fool me. I smelled the onion rings on his breath and spotted a lettuce fragment dangling from his bicuspid. I wrapped my little gobbler in foil and made him finish it for dinner, just for spite.
Nowadays, my grown-up daughters and their husbands insist upon eating Thanksgiving turkey cooked by Luby's, Furr's or Uncle Ronnie. They accept the fact that I skipped home economics for choir, and kitchen duty for piano practice. Brie and Bronwyn love me even if I only own two pans: a tiny pot for Campbell's soup and a skillet for Egg Beaters. Skip the skillet. I microwave them in a paper bowl…
Fortunately, my "Martha Stewart" eldest daughter Brie is a master chef who creates epicurean delights. Bronwyn, my youngest, is a chip off the old block. She dumps Cinnamon Toast Crunch cereal on canned peaches and calls it peach cobbler. Her Thanksgiving specialty features a giant bag of marshmallows covering two tiny sweet potatoes underneath. Even our most mediocre Thanksgiving spread is redeemed when we pass the pumpkin pie and chase it with a warm mug of Mussleman's cider.
As matriarch of the Barrier clan, my meals may be paltry, but I never cease to marvel at God's goodness on this day of days. My Pakistani "adopted kids" now face tremendous persecution as their country falls into political chaos. They continue to preach, but at great peril. My Jordanian girlfriend is one step ahead of the secret police as she rescues abused Muslim girls from prison or death.
I never go a single day wondering if I will have food to eat tomorrow. I can preach, teach and pray whenever I like. Churches dot my neighborhood in every direction. Though most of my closest family members have suffered serious health setbacks recently, I will see their faces at my Thanksgiving table this week, and I will be deeply grateful to God for His sustaining power this year above all years.
Pause and remember. Thanksgiving is not a holiday; it is an opportunity to see God, beautifully alive and active in our lives. Many days we rush through our prayers, skim our Bibles, and miss the moments He gives us His grace. We are to be grateful, humble and prayerful.
Call on His Name. So often we pray prayers of desperation and forget the power and authority of our Heavenly Father. Write verses on the attributes of God and have family members read them. Praise together and meditate on God's character and power. We used to have our children trace autumn leaves and write words like "Father," "Savior," "Healer" for them to read before the meal. Some of your family members may come with heavy hearts. Many grieve the loss of a loved one during the past year. It's time to call upon God to bring healing and comfort to them.
Make His Name known. Gathering your dear ones around you is a unique opportunity to share your love relationship with Jesus. Our family always invited the disenfranchised, the lonely, the needy to our table. Many who came to our table were far away from their families. We were enriched by our new friends and excited to share Jesus' love with them.
Sing to HIm. You don't have to be Broadway or boy-band quality, just lift your voice. Choose songs the little ones around your table know. Have a family member bring an instrument to play, or simply read a psalm.
Give thanks.
Ps 105:1-2
Give thanks to the LORD, call on his name;
make known among the nations what he has done.
Sing to him, sing praise to him; tell of all his wonderful acts.
Wednesday, November 06, 2013

Bewildered brides. Gloomy grooms. Panicky parents. Cynical clergymen. Will this marriage really last? Or will it dissolve into devastating divorce? God has given us three biblical principles from Genesis to ensure success.
My husband Roger has performed 400 weddings and has forgotten four (oops!) One balmy Saturday evening, my hubby was glued to the tube watching the Muppets Take Manhattan and scarfing a chicken pot pie in his underwear. The phone rang, and a frantic bride screeched "Roger, where are you? The wedding is supposed to start in ten minutes!!!" We lived at least twenty minutes away and my Roger threw on his tux and roared out of the driveway. Most weddings do not start on time. Normally, I can noodle an organ prelude to buy the bride a few extra minutes to primp, but this nuptial was unique. The family had staged the stunning service in the rugged desert behind their home. Sunset had come and gone and the bride stumble down the gravel path in the dark with her father on her arm. The groom and the attendants squinted to see the lovely pair when Dad stumbled into a prickly pair cactus. The next half hour was spent "tweezering" thorny spines out of Daddy's backside. Needless to say, there were no pictures and certainly no hefty honorarium.
Oh, the wedding disasters we have witnessed! One lovely bride couldn't stop puking. Finally, Roger exclaimed, "Just say 'I do" and I'll get 'er done." He hastily pronounced the couple man and wife. They dispensed with the kissing part. One disastrous evening, Roger leaned over the unity candle to serve communion and his robe caught fire. Another wedding disaster occurred when the buxom bride sauntered down the aisle in a seductive strapless gown. Her two breasts were tattooed "Karen" and "Louise." Roger giggled uncontrollably through the vows. The wedding coordinator wisely drafted a dress code after the debacle.
Did you have a wedding day disaster? No biggie. The real test is how the marriage is going months and years later. Did your vows stick?
One verse can change your wedding and your new life together. God said in Genesis 2:24:
"Therefore shall a man leave his father and his mother, and shall cleave unto his wife: and they shall be one flesh." KJV
God's succinct three steps to marital bliss and longevity: we are to leave our parents, cleave to our spouse and become one flesh.
LEAVE + CLEAVE = ONE FLESH
What does leaving Mom and Dad look like?
Grieve the loss of unmet needs.
Come to terms with unrealistic expectations.
Mourn and comfort past hurts.
Unmet needs.
Grieve the loss of unmet needs from your growing up years. Every child needs attention, affection, appreciation, acceptance, security and respect (among others). If you or your spouse did NOT receive these gifts, then your "emotional cup" is filled with unresolved hurt. You can't give your loved one what you haven't received! If you were not accepted, you may be rejecting and judgmental of your spouse. So that hurt needs to be identified, processed and comforted with your partner.
2. Unrealistic expectations.
Every family has its own way of doing life. For example, my husband's Mom expressed her anger by loud volcanic eruption. Mom got mad, exploded (loud enough for the neighbors to hear) and then her ire subsided.
My mother NEVER expressed her anger or hurt in front of my sister and me. She hid in the bathroom or closet to cry if she and Daddy exchanged harsh words.
Can you imagine the atmosphere in our home when we tried to resolve conflict? We vacillated between shouting matches and crying jags. (Oh, and by the way, since we were a pastor-family, we weren't supposed to disagree about anything!!!) NOT.
Leaving Mom and Dad means leaving behind our own expectations of what marriage looks like and forging a life together.
3. Unresolved hurts from the past.
Our worst fight in early marriage was over white bread. Our unborn baby was not growing, so my doc instructed me to eat 6 pieces of white bread and come to her office for a glucose tolerance test. I was health-conscious, so I ate six pieces of multi-grain bread because it was better for the baby. When Roger heard what I had done, he freaked out. "Don't you know the sugar content of white and wheat bread are different???" he screamed. "You are jeopardizing the life of our baby.
OK. So I ate the wrong bread. I'll take the test tomorrow. But Roger was livid. What I didn't realize is that his childhood was filled with life-threatening illnesses. When one struggles with health in early life, it's a trigger for a deep emotional response later in life. Watch out for emotional mind fields. Find triggers from past hurts and heal them by comforting your spouse.
Leave hurts, expectations and unmet needs from the past. Cleave to your mate. Let them learn to identify your "soft spots" and scars.
Become one flesh by allowing God to unite your hearts and build your family.
Look down that aisle. Forge a future God's way. It's a match made in heaven!
Material taken from Dr. David and Teresa Ferguson, Intimate Encounters. Austin Texas: Intimacy Press, 1997, pp.126-142.
Great Commandment Ministrieshttp://www.gcmacts.com/.
Thursday, October 24, 2013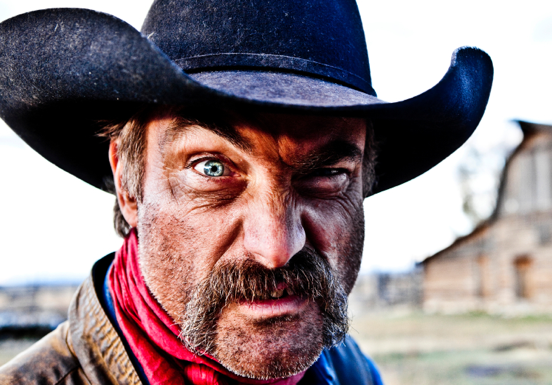 Toe to toe. Nose to nose. Two honr'y gospel gunslingers, giants in the new Christian faith, faced off over John Mark, the Kid. Their biting, sharp words stung and scarred these two gutsy preachers. Paul and Barnabas were the big guns that launched Christianity throughout Asia Minor. After their nasty split, they never teamed up again. (Acts 15:36-41).
Young John Mark, Barnabas' cousin (Colossians 4:10) tagged along on Paul's first missionary journey. When the going got tough, Mark wimped out and headed back to Jerusalem. Lions, tigers & bears, oh my! Perga, on the Pamphylian coast, was known for its unhealthy climate and marshes, and the trio did not hang around for long. John Mark ran home to Mama in Jerusalem, while Barnabas and Paul moseyed up the grueling trek northward into the Pisidian highlands to Antioch. These badlands beyond the western edge of the Taurus Mountains were nasty, often filled with banditos. Crusty Paul thought John Mark was a weakling who deserted the duo in their hour of greatest need.
Looking back, the old preacher scrawled his memories about segments of this journey when he described dangers he fought while traveling (for example, 2 Cor. 11:26, "danger from rivers, danger from robbers, … danger in the wilderness"). Even when Barnabas Cassidy and Sundance Saul preached in Antioch, Paul found such intense Jewish opposition to the gospel that he determined to turn his message toward the Gentiles (Acts 13:46).
Paul and Barnabas' famous spat in Acts 15:36-41 is legendary. How could these two great men of God split up? Didn't it hurt the ministry and the testimony of the early church?
Time passed. Barnabas wanted to give his kin a second chance to join Paul on his second missionary journey. The roughshod evangelist would not hear of it! Years earlier, it was Barnabas (whose name means "encourager") that convinced the Christians at the First Baptist Church of Jerusalem to accept slimy Saul of Tarsus, the known Jewish assassin, as a genuine believer (Acts 9:26). Did Paul fail to remember that he once needed grace as well?
Barnabas took John Mark under his wing and continued to minister to the churches. Big-hearted Barney didn't give up on his cousin. Though he was a slow-starter, Barney's encouragement paid off. John Mark wrote the gritty New Testament gospel of Mark. Most Bible scholars consider it to be the first of the four gospels. This page-turner is an action-packed, powerful picture of Jesus' ministry. After John Mark's stint with his cousin, the boy grew into a man. Mark, a bigger, braver preacher, became a part of the Apostle Peter's powerful posse for awhile. History records that John Mark is the one who took Christianity to Egypt and started churches there.
Years later, old Paul finds the formerly worthless Mark "useful," as revealed in the apostle's concluding epistle. "Get Mark and bring him with you, for he is useful to me for ministering" (2 Timothy 4:11). Most people look at the "parting of the ways" between these two great Christian leaders as a falling out that grieved God and hurt the ministry. Instead, the ministry of the two great preachers was multiplied. Paul took Silas on his second missionary journey, and remarkable young Timothy joined them in Lystra.
Sometimes even the most mature Christians will disagree. Don't become disillusioned. Don't quit. Be a peacemaker. Look at the big picture. Keep focused on doing the will of Christ. Paul and Barnabas didn't let their "parting of the ways" deter their ministries. As a result, perhaps even more work was accomplished for the Lord in spite of the fight.
Do you know someone who needs a second chance? You can be a Barnabas today! Give grace, acceptance and forgiveness and see what God will do.
Example: "Gen 1:1" "John 3" "Moses" "trust"
Advanced Search
advertise with us