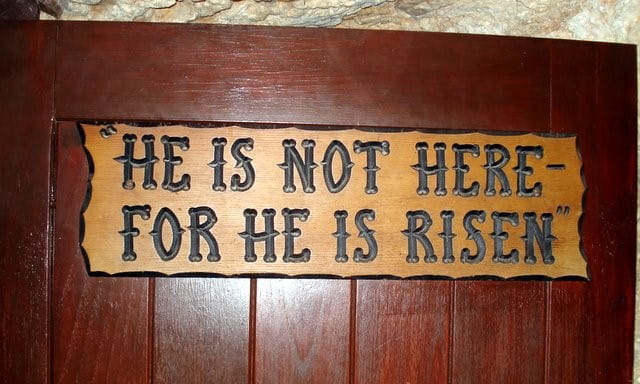 "They stopped walking and looked discouraged" (Luke 24:17).
It is Easter and there is no joy.
Two disciples are on the road to Emmaus, a little village about seven miles from Jerusalem. One disciple is named Cleopas. We do not know the name of the other disciple. As they walk along the dusty road, they leave Jerusalem far behind.
It is noteworthy that when they met Jesus on the road to Emmaus, they did not recognize him. Every part of this story is true to human nature as we know it. There is even a touch of humor in that Jesus is with them and they think he's dead. As they walked with the stranger, they said, "He used to do this" and "You should have been there" and "He could walk on water!" and "He was so kind" and "We never met anyone like him" and, finally, "I can't believe he's gone."
They felt their faith slipping away with every step on the road to Emmaus. They had heard the rumors of an empty tomb, but what did that mean? No one had seen Jesus yet, or so they assumed. There comes a time in life when you have to face the facts and deal with reality. So ends the sad tale of Jesus, a story that had such a promising beginning. They believed in Jesus, and he let them down. The third day was almost gone and Jesus was nowhere to be found. Bring down the curtain, it's all over now.
This is what Good Friday looks like without Easter. Without the resurrection, the cross is nothing but a tragedy, a story without a moral, a drama that ends before the final act.
Jesus used the Old Testament to show them how the whole Bible testifies to him. If you want to find Jesus, just open your Bible because the whole book is about him. If you want to understand the Bible, look for Jesus. He's there on every page. The whole purpose of the Bible is to point us to Jesus. He's the theme of every book from Genesis to Revelation.
After Jesus revealed himself to them, the two disciples couldn't wait to get back to Jerusalem. Even though it was late in the evening, they had to go back and tell the others what they had seen and heard. Once you encounter Christ, nothing will ever be the same again.
If Jesus is alive, there's no time to waste.
If Jesus is alive, everything we believe is true.
If Jesus is alive, death has been defeated.
If Jesus is alive, we are not alone.
If Jesus is alive, our sins are forgiven.
We all live somewhere between Good Friday and Easter Sunday. We are on the long Emmaus Road journey together. There are times when we feel alone and overwhelmed. Doubts creep in, our heart gives way, and we feel like we can't go on. Then Jesus comes to us and says, "You are not alone. You never were alone. Even when you thought were alone, I was with you every step of the way."
Child of God, behold the risen Christ! You can never be alone again.
Every Easter we celebrate the great triple truth of this holy day:
The tomb is empty.
Jesus is alive.
We are not alone.
He is risen! He is risen indeed!
Father, we thank you that the tomb is still empty because Jesus is alive today. Let faith rise to banish our fears. Thank you that death has been defeated. May those who doubt, doubt no more. Through him and to him who is the resurrection and the life, even Jesus Christ our Lord, Amen.
You can reach the author at [email protected]. Click here to sign up for the free email sermon.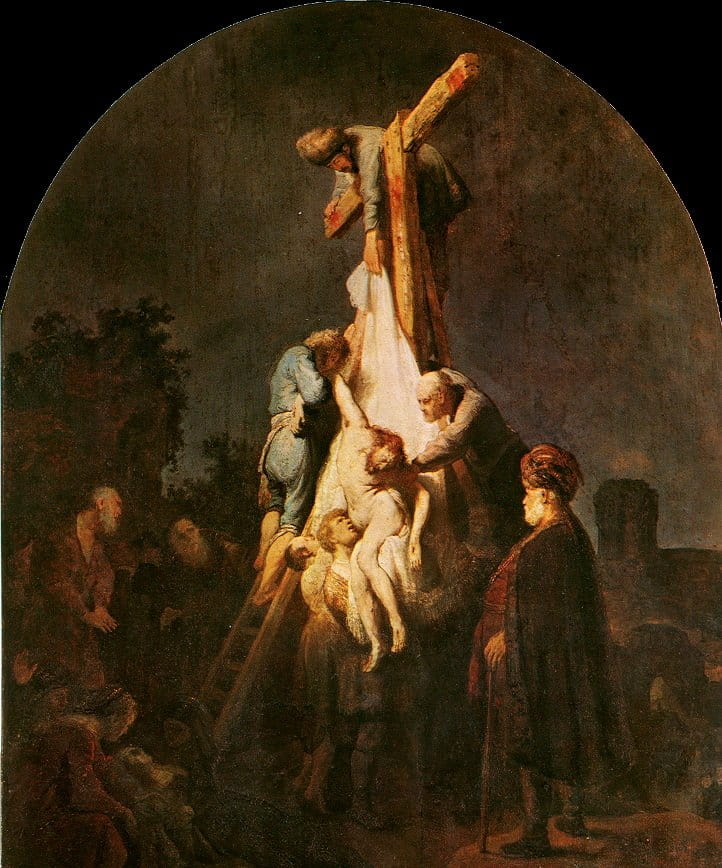 "Descent from the Cross," Rembrandt, 1634
"When it was evening, a rich man from Arimathea named Josph came, who himself had also become a disciple of Jesus. He approached Pilate and asked for Jesus' body" (Matthew 27:57-58).
Here are the facts as we know them about Joseph:
1. He was a rich man from the village of Arimathea.
2. He was a member of the Sanhedrin, the Jewish Supreme Court.
3. He had not consented to the death of Jesus.
4. He was looking for the kingdom of God.
5. He had become a disciple of Jesus.
6. He had purchased a tomb for his burial place.
7. He asked Pilate to release Jesus' body to him.
He was a good man in a hard place. Because of his wealth and his position, we know he must have been a leading man in his community. It couldn't have been easy to be a disciple of Christ and also be part of the Sanhedrin. Given the raging hatred that led to Jesus' crucifixion, he put himself in a dangerous position by asking Pilate to release Jesus' body so he could give it a decent burial.
Once Pilate gave permission, he purchased a linen shroud and then went to Golgotha where Nicodemus (another secret disciple) helped him take down the body of the Lord. I am using "secret" in a loose sense here. I'm sure his family and friends knew of his belief in Jesus. But it would be dangerous to speak too openly about his faith.
The body of Jesus was in bad shape when they took it down from the cross. It bore all the marks of the abuse he had suffered. He was covered with blood, there was a hole in his side, his face was horribly disfigured, and the skin hung from his back in tatters. Joseph and Nicodemus wrapped the body in strips of linen cloth. Then they sprinkled about 80 pounds of spices throughout the linen strips. The spices made the linen strips stick together and form a tight wrap around the body. That was how the Jews embalmed their dead.
Because they had to bury Jesus before sundown and it was already late in the afternoon, Joseph volunteered the use of his tomb, one freshly dug out of the rock in a nearby garden. When they finished placing the body inside, they rolled a stone across the entrance.
Darkness fell on the garden cemetery.
Everyone had left.
Inside the tomb . . . silence.
It is a remarkable fact that the Bible says very little about that Saturday. We know about Good Friday and Easter Sunday, but of that Saturday in between we know almost nothing. Luke says of the disciples . . . "And on the Sabbath they rested."
The message of Holy Saturday is, "Get ready. Something is about to happen, but it hasn't happened yet." Thank God, we're not moving back toward the crucifixion.
We are Easter people marching from Good Friday through Holy Saturday on our way to Easter Sunday. We're not quite there, but we're moving in the right direction.
It's Saturday, but Sunday's coming. Let that thought give strength to your heart today.
Lord Jesus, we pray for faith to see your promises through our tears. We thank you that Saturday leads on to Sunday, and that Holy Week always ends in a resurrection. Amen.
You can reach the author at [email protected]. Click here to sign up for the free email sermon.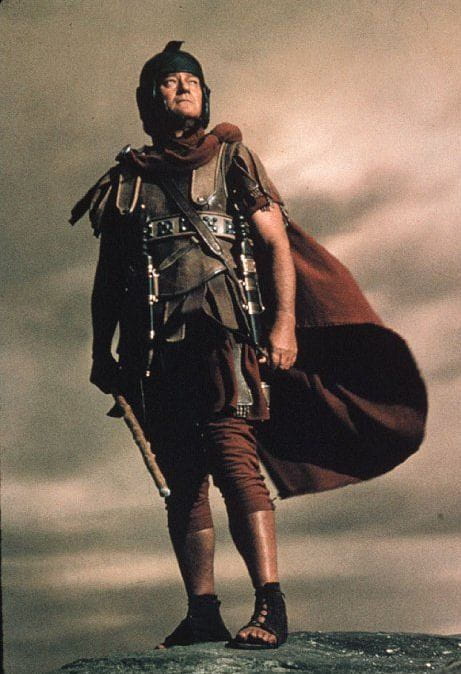 John Wayne as the centurion
"When the centurion, who stood there in front of Jesus, saw how he died, he said, 'Surely this man was the Son of God!'" (Mark 15:39).
What do the centurion and John Wayne have in common?
When the Biblical epic The Greatest Story Ever Told was released in 1965, John Wayne made a cameo appearance as the centurion who watched Jesus die. He had exactly one line: "Truly this man was the Son of God. When you watch the film, you hear the Duke's unmistakable voice utter those words.
While it wasn't his most famous role, it was a good one nonetheless because the centurion played a key part in the death of Christ. As the leader of a Roman "century" of 100 men, he was an officer held in high esteem. He had to be a man of good character, with a proven military record, who knew how to carry out orders promptly. He had to be an expert with the sword and with all other weapons.
This means the centurion wasn't just any soldier.
He was a proven leader of men.
Did he know the other centurion whose servant Jesus healed (Luke 7:1-10)? It's entirely possible because Roman officers in a small region like Galilee and Judea would no doubt cross paths. If they knew each other, then this centurion would already have a favorable impression of Jesus. Certainly he would know that Pilate had three times declared Jesus innocent of any crimes, and he would wonder why he was being crucified. He must have heard Jesus say, "Father, forgive them for they do not know what they are doing." He heard him promise heaven to the penitent thief. He witnessed the darkness that fell on the earth, and he heard Jesus cry out, "It is finished!" More than that, unlike the usual criminals who died in agony screaming bitter oaths, Jesus died quietly as he yielded his spirit to his Father in heaven. Mark 15:39 tells us that he stood facing Jesus and saw how Jesus died. All of that must have made a huge impression on the centurion. Finally, he felt the earthquake that split the rocks in two. Taken together, he came to a conclusion that could only have come from the Holy Spirit, "Truly this man was the Son of God!"
Here is the answer to the schemes of Caiaphas, the frivolous curiosity of Herod, and Pilate's cowardly vacillation. Here is the answer to the taunts of the crowd. Here is the answer to the Jewish leaders who wanted him dead. Here, too, is the answer to Judas who betrayed him.
They were all wrong about Jesus.
The centurion got it right.
Someone asked me recently why we call this day "Good Friday." In earlier generations it was called "Long Friday" or "Black Friday" or "Holy Friday." Many people think "Good Friday" is a shortened version of "God's Friday," meaning that out of the unspeakable suffering of Christ, God accomplished the ultimate good in making salvation available to the whole world.
The centurion somehow saw through the blood and gore and the smell of death that hovered over Golgotha. A Roman soldier figured out what the priests and the politicians missed altogether. They saw a radical, a mystic, a troublemaker. But the centurion saw the Son of God.
On this Good Friday, let us take our stand with him and say for all the world to hear: "Truly this man was the Son of God!"
Heavenly Father, today we behold our Lord nailed to a cross. From his scarred visage a light shines that death cannot destroy. Glory to Jesus forever, the mighty Son of God! Amen.
You can reach the author at [email protected]. Click here to sign up for the free email sermon.