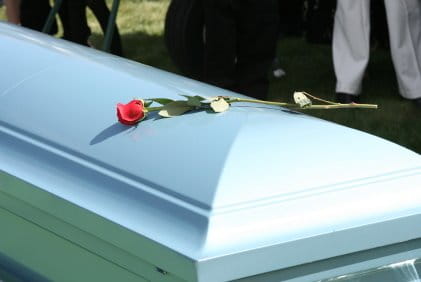 "He is not the God of the dead but of the living, for to him all are alive" (Luke 20:38).
Ever met a Sadducee? Me neither.
That's not surprising considering the last one died 2000 years ago. And even back then, there were never very many of them. It was always a very select group, like a club for the very wealthy. If you lived in Jericho, you were much more likely to run into a Pharisee than a Sadducee. They were a very small group with some very strange views.
The Sadducees came to Jesus with a trick question involving a woman whose husband died, whereupon she proceeded to marry the other brothers one at a time, following the death of the previous brother. Finally she was a widow seven times over. The question was, "In the resurrection whose wife will she be?"
It's a silly question designed to make you laugh.
Jesus' fundamental answer goes back to the character of God himself. The question is not, 'Can we still believe in life after death?" but "Can we still believe in God?" If he is our God and we are his people, death is not the end of the story. A better day, a brighter day, a glorious day of resurrection awaits all the people of God. In the meantime, between now and then, we go to be with the Lord. This is what Paul meant when he said, "To die is gain" (Philippians 1:21). Not even death can separate us from the love of God in Christ Jesus our Lord.
When death comes to us, we can know this much for certain. The Lord who has been with us throughout our earthly journey will not abandon us when we need him most.
All that we believe about life after death rests on the faithfulness of God. We do not trust in what our eyes can see because all that we see testifies to the overwhelming power of death.
But thanks be to God, a day is coming when death will be no more. Those who know Jesus have entered into a relationship that even death cannot sever. Our hope for the future is as secure as the promises of God. For the Christian, death is not the end but the beginning of life forever with the Lord.
Living Lord, we rest all our hope in you for you alone have conquered the grave. Make us strong today and bold in our faith, knowing that when the time comes to leave this earth, we will be with you forever. Amen.
You can reach the author at ray@keepbelieving.com. Click here to sign up for the free email sermon.
"My house will be called a house of prayer for all nations" (Mark 11:17).
Jesus would not put up with some things. We have seen over and over again his compassion for the hurting and his outreach to the forgotten. He cares for those the world forgets. But he has little patience with religious people who use religion to hurt others. In this case, Jesus was incensed that the moneychangers were doing it again. By "again" I mean that this is the second time Jesus cleansed the temple, the first time being in John 2, at the beginning of his public ministry.
He cleanses the temple as he starts his ministry.
He cleanses the temple as he closes his ministry.
This is not by chance. He means to reveal the utter sterility of the Israelite system of worship. God always intended that his temple in Jerusalem should be a house of prayer for all nations. Even though it was uniquely the Jewish temple, all nations were invited to pray there. But no prayer could take place because the profiteers had completely taken over the outer courts. They made their money charging exorbitant fees to buy animals for worship and to exchange money into the special temple currency.
Business was good, and that made Jesus angry. The fact that he cleansed the temple twice shows how deeply sin is embedded in the human heart. It also helps us see why Jesus had to die. It was not enough to take overturn the tables and drive the money-grubbers out. The very hearts of the people must be changed.
For that to happen, Jesus must die. And in his death, he opened a way for every person to come directly to God. No longer will they have to travel to Jerusalem. Now every heart is a temple where Jesus reigns as Lord. Through him the weakest believer enters into the presence of God.
From both cleansings we see how much our God yearns for fellowship with us. He loves us so much that he will overturn the tables and shake us up so that once again our hearts belong to him.
What a Christ we serve!
He loves us too much to leave us as we are.
Shake us up, Lord Jesus. Overturn the tables of greed, sloth, pride and lust. Do whatever it takes so our hearts will be fully in tune with you. Amen.
You can reach the author at ray@keepbelieving.com. Click here to sign up for the free email sermon.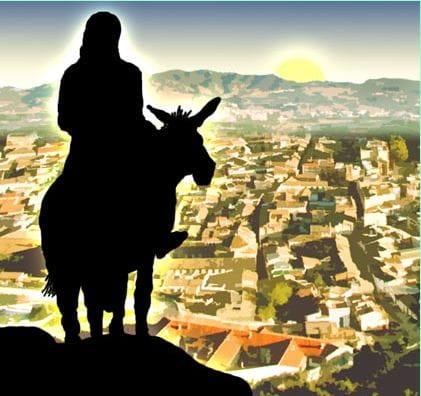 "They brought the donkey and the colt; then they laid their robes on them, and he sat on them" (Matthew 21:7).
The story of Palm Sunday really begins with a donkey. Most of us have heard how Jesus sent his disciples to the village of Bethphage with instructions to bring back a donkey. When you read Matthew's account, you realize that the two disciples actually brought back two donkeys–a mother and her young colt that had never been ridden. Jesus rides into Jerusalem on the young colt with the mother walking alongside.
Matthew also tells us that by riding a donkey into Jerusalem Jesus was fulfilling an ancient prophecy from Zechariah 9:9. Those words–written 575 years earlier–predicted that when the Messiah came to Israel, he would come riding on a donkey.
"Rejoice greatly, O Daughter of Zion! Shout, Daughter of Jerusalem! See, your King comes to you, righteous and having salvation, gentle and riding on a donkey" (v. 5).
Nothing would have seemed more unlikely than for a king to come riding on a donkey. Jesus could hardly have chosen a more unlikely way to present himself to the nation. It's not hard to imagine the Romans laughing as they watched the spectacle. A pauper king, riding on a borrowed donkey, his saddle a makeshift layer of cloaks, attended by an unruly mob whose only weapons were palm branches.
On Palm Sunday we worship the One whose kingdom is not of this world, who offered himself to his people while riding on a borrowed donkey. The hymn "From Bethany, The Master" says it well:
The King of Love, in triumph
Rides through the city's gate;
Rejected, scorned—yet Victor,
The Conqueror of hate;
O wave your green palm branches!
Exalt His matchless worth!
This King of Love shall conquer
The nations of the earth.
Lord Jesus, you knew fully the pain of our rejection. You came as a king, but we would not have you. Grant that we might follow you to the cross and count it all joy for your sake. Amen.
You can reach the author at ray@keepbelieving.com. Click here to sign up for the free email sermon.