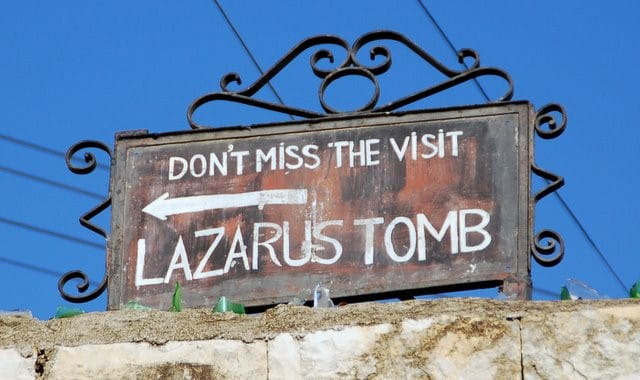 "The chief priests decided to kill Lazarus also because he was the reason many of the Jews were deserting them and believing in Jesus" (John 12:10-11).
He was back from the dead.
No one could deny that fact. In the first place, Bethany was a small village where everyone knew everyone, so no one could deny that Lazarus had died. It happened like this: He got sick, he died, and they buried him.
Nothing out of the ordinary.
It's what happened next that made headlines. Jesus came along and raised him from the dead. That was startling enough. But no one could deny any part of it because it happened publicly.
Lazarus was dead.
Then he was alive again.
You could argue about how it happened, but the basic facts were there for all to see. The Jewish leaders had a problem on their hands. You can't have dead men coming back to life. It upsets the normal order of things. If word spreads that this man Jesus can raise the dead, people will flock to him by the thousands. They will come from everywhere to see this man whose word defeats death. Pretty soon word would spread to the Romans who didn't like local uprisings. They frowned on charismatic leaders who attracted great crowds. If the Romans got involved, it would mean nothing but trouble for the Jewish leaders.
But that was only part of the problem. Lazarus was Exhibit A of Jesus' awesome power. If you let a man like Lazarus run around telling his story, pretty soon everyone ends up believing in Jesus. Suddenly the whole Jewish system is in jeopardy. So they decided on a simple solution.
Lazarus must die!
Miracles are always a double-edged sword. Religious people feel threatened because Jesus doesn't fit into their manmade boxes. Better to destroy the evidence than to admit a miracle took place.
The same thing happens today. If you take your stand for Jesus, someone won't be happy. You may get in trouble. In some parts of the world, you may pay with your life for being a Christian.
We don't know if the Jewish leaders actually killed Lazarus. Maybe they didn't have to because they ended up killing Jesus a few days later.
But he wouldn't stay dead either!
Let's take away two lessons today. First, don't be surprised when some people reject you because of your Christian testimony. Jesus said this would happen. Second, remember that the worst our enemies can do is kill us. We go to heaven when we die, and our bodies are raised when Jesus comes again. If we lose, we win!
So go ahead and stand strong, be bold, live for Christ, endure hardship, stand up for what you believe. The worst that can happen is the best that can happen. Our future is secure because it doesn't rest on us; it rests on the faithfulness of God who raised Jesus from the dead.
Make me bold, Lord Jesus, to bear witness for you today. I pray that my testimony will lead many people to believe in you. Amen.
You can reach the author at [email protected]. Click here to sign up for the free email sermon.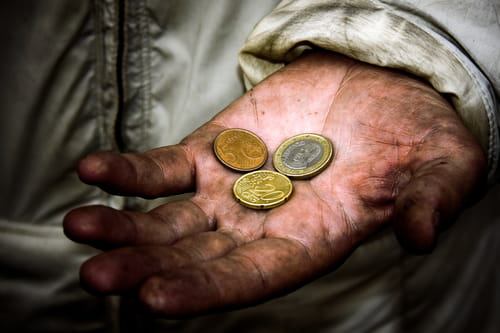 "Many people told him to keep quiet, but he was crying out all the more, 'Have mercy on me, Son of David!'" (Mark 10:48).
Desperate times call for desperate measures.
Almost no one paid him any attention. He had been blind for as long as anyone could remember. And he had been in the same place, on the road outside of Jericho, sitting, waiting, hoping that someone would see him beg and would be moved with pity or guilt to toss a few pennies his way. Motive didn't matter, money was money, and in this case, quite literally, beggars could not be choosers.
No one puts "Blind Beggar" on their list of career choices. Outside of being a leper, it was the lowest rank in Jewish society. The blind had to beg unless they had a family that could care for them. This man apparently had no one so day after day he sat there, eating the dust kicked up by the passing parade of people and animals on a hurry to get to Jericho to do business.
One day Jesus showed up, and his life changed forever.
Give Bartimaeus the credit he deserves. When he heard that Jesus was passing by, he saw his chance and cried out for mercy. He even called him by his Messianic title, "Son of David."
He saw his need.
He cried out for help.
He would not be deterred by those who tried to shush him.
He knew what he wanted Jesus to do for him.
He asked for what he needed.
He received his miracle.
He immediately began to follow Jesus.
Repeatedly in the gospel of Mark, Jesus exposes the moral blindness of his disciples. They thought they knew him better than they did. But here is a poor blind beggar who sees better than they do, even though he was blind when he met Jesus. Having received his miracle, he follows Jesus down the road, not knowing that it would lead to a Roman cross.
George Beverly Shea loved to sing a song called Then Jesus Came that begins this way:
One sat alone beside the highway begging,
His eyes were blind, the light he could not see;
He clutched his rags and shivered in the shadows,
Then Jesus came and bade his darkness flee.
When Jesus comes the tempter's pow'r is broken;
When Jesus comes the tears are wiped away.
He takes the gloom and fills the life with glory,
For all is changed when Jesus comes to stay.
Today we begin our Lenten journey called "Faces Around the Cross." Each day between now and Easter Sunday, we'll look at the people who met Jesus during his final days. We begin with Bartimaeus because he stands for all of us. Whether we know it or not, we are hopeless and helpless until Jesus passes by.
Have you met him?
Do you know him?
And the greatest question of all: Will you follow him wherever he goes, even when the road leads to a cross? Bartimaeus couldn't have known what was ahead, but he knew enough to follow the One who had given sight to his blind eyes.
Follow Jesus.
That's where our journey must begin.
Lord Jesus, open our eyes today and help us to see you clearly. Give us gritty determination to follow wherever you lead. Amen.
You can reach the author at [email protected]. Click here to sign up for the free email sermon.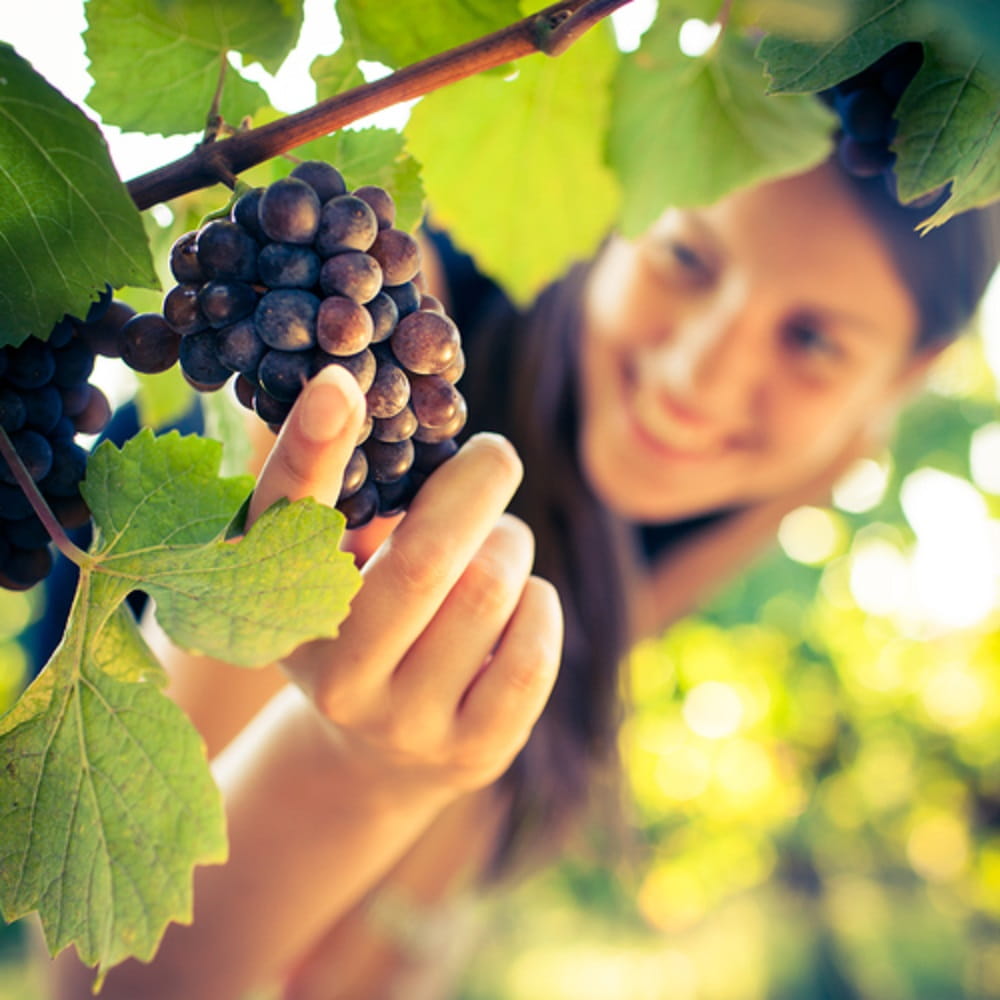 No one becomes godly by accident.
You can grow spiritually in 2016.
You can become a better person.
You can deepen your walk with God.
You can change.
You can deepen your faith next year, but you must be intentional about it. Here are ten steps you can take that will help you grow as a Christian in the new year.
1. Meet with God before you check Facebook
We live in a social media world. We text, we tweet, we update Facebook, we post our projects on Pinterest, and we put photos on Instagram Some days I feel like I live on Facebook. And I like to start my day checking my Twitter feed. While there is nothing wrong with social media, it can control us if we're not careful.
Start with God next year. Commit yourself to reading God's Word and praying before you get absorbed in the latest updates. "Seek first his kingdom and his righteousness" (Matthew 6:33). Your day will go better when you start with God, not with social media.
2. Choose a book of the Bible to study this year
Many people will start reading through the Bible in January. Nothing wrong with that. I encourage you to read through the whole Bible in 2016, especially if you've never done it before. But there is a great value in digging deeply into one book of the Bible and letting its message soak into your heart. You could read Genesis or Proverbs or Daniel or Mark or 1 Peter. If you don't know where to begin, start with Ephesians. Read it at least 20 times. Read it slowly. Read it fast. Read a few verses a day. Use a Bible commentary to help you with difficult passages. Ephesians is so rich that you could spend all of 2016 studying it.
3. Buy a study Bible
Owning a study Bible is like having a seminary faculty on your bookshelf. A good study Bible has notes on every passage, book introductions, outlines, maps, charts, diagrams, and illustrations. Today you have many excellent options: The ESV Study Bible, the NLT Study Bible, the MacArthur Study Bible, the Life Application Bible, the Ryrie Study Bible, the Reformation Study Bible, and the NKJV Study Bible, to name only a few. You'll never regret investing money in a good study Bible. It will jumpstart your knowledge of God's Word.
4. Get involved in a small group
While it is possible to grow on your own, you will grow much faster when you are involved with a small group of other Christians. You could join a Sunday School class, a men's group, a women's group, a BSF group, a Bible study group, or a prayer team. The possibilities are endless. Don't sit on the sidelines. Share your life with other Christians who can encourage you, pray with you, laugh with you, and cry with you. Taking part in a healthy small group is like taking an energy shot for your soul.
5. Start a journal
Twenty years ago I started journaling after reading Chuck Swindoll's testimony. He said he found journaling a useful way to track God's work in his life. Keeping a journal is like keeping a diary, except that you use your journal to do "God sightings." Where has God shown up unexpectedly in your life? Where have you seen the fingerprints of the Lord? Write it down so you won't forget it. Over time your journal will help you see how God's plan is unfolding in your life.
6. Memorize Psalm 1
That's the one that starts this way:
"Blessed is the man who does not walk in the counsel of the wicked or stand in the way of sinners or sit in the seat of mockers. But his delight is in the law of the LORD, and on his law he meditates day and night."
Psalm 1 stands at the head of the psalter for a reason. It describes the fundamental difference between a life lived for self versus a life lived for God. Because we live in a me-centered world, we need to tattoo these verses on our heart so we won't forget them.
Start with Psalm 1 and memorize a verse or two each day. You could easily finish it in a week. After that, go on to Psalm 2 or Ephesians 1 or 1 Corinthians 3 or Matthew 5:1-16. Whatever passage you choose, commit yourself to storing God's truth in your heart this year.
7. Do some Bible listening
Start by downloading these two apps: YouVersion and Bible.Is. Bible listening means that instead of reading the Bible, you listen as someone reads it aloud. The Bible.Is app contains hundreds of audio versions of the Bible, including tribal languages from around the world. They also include dramatized versions that include music and other sound effects. After listening to a large part of the Bible on audio, I can testify that many passages came alive to me for the first time, even though I had read them many times on my own.
8. Become a quick forgiver
Mark Twain once remarked that forgiveness is the fragrance the violet yields to the heel that has crushed it. Easy to say, hard to do. Make up your mind that you won't be a grievance collector in 2016. "Love doesn't keep score of the sins of others" (1 Corinthians 13:5 MSG). Add to that 1 Peter 4:8, "Above all, love each other deeply, because love covers over a multitude of sins." Love has a short memory and sealed lips. We need to hear this word because others will indeed fail us a "multitude" of times. Sometimes the people we love the most will hurt us deeply. Love expects others to fail, expects to be hurt and expects to be used unfairly. It goes on loving anyway.
There is nothing sadder than a bitter Christian. Don't fall into that trap this year. Be a quick forgiver.
9. Do something crazy for God this year
Start by reading Hebrews 11. Noah built a boat. Abraham left a prosperous city, not knowing where he was going. Sarah got pregnant when she was 89. Abraham offered Isaac. Moses refused the riches of Egypt in favor of suffering with his own people. The Hebrews marched around Jericho. Rahab hid the spies.
Faith is belief plus unbelief, and acting on the belief part. At some point, you've got to get off the couch and do something. Faith grows when we, like Peter, dare to get out of the boat. What does that mean? It might mean pursuing a God-sized dream. It might mean giving more than some think is wise. It might mean getting involved in a new ministry. It might mean spending two weeks on a missions trip. It might mean daring to start over again.
Living by faith means that you stop making excuses and get in the game for God. If it doesn't scare you, it's probably not crazy enough. True faith leads you out of your comfort zone. God will help you, but you've got to take the first step.
10. Pray for missionary eyes
Every day you meet people who need the help only you can give. Some of them need a word of encouragement, and you are the only one who can give them that word. Some of them are staggering beneath a heavy load, and you are the only one who can lift that burden from their shoulders. Some of them are about to quit, and you are the only one who can keep them in the race. Some of them have been hit with an incredible string of trials, and you are the only one who can help them keep going.
Pray that God will give you Missionary Eyes to see the real needs of the people you meet. Pray that God will bring at least one person across your path who needs the help only you can give. That's a prayer God will answer, for there are folks all around you who are just barely making it. You see them where you work, and you live next door to them. Your children go to school with their children. They are out there waiting for someone to give them help.
So there you have it. Here are ten ways you can grow your faith in 2016. But remember the key point: No one becomes godly by accident. Intentionality is the key. If you want to grow next year, you can. With God's help, you can be a different person 365 days from now.
You can reach the author at [email protected]. Click here to sign up for the free email sermon.