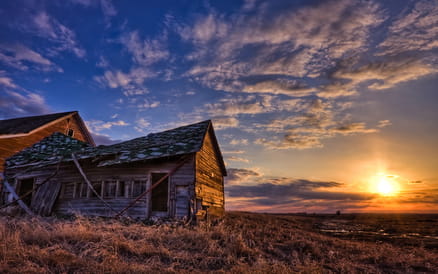 "'Nazareth! Can anything good come from there?' Nathanael asked" (John 1:46).
This was not a compliment.
Nothing much came from Nazareth, an obscure village tucked away in the hills of Galilee. Every country and state and province has a place like Nazareth, a place so remote that nothing ever happens there, no one of importance comes from there. That's why Nathanael said, "Can anything good come from Nazareth?" It seemed highly unlikely that the Messiah would come from a place like that. If you were looking for the one the prophets talked about, you would expect him to come from Jerusalem.
For every Jerusalem, there are a hundred places like Nazareth. The world is filled with unlikely places where nothing much ever seems to happen, where there is no great university, little towns without much commerce, places off the beaten path, tiny villages and hamlets where few people live.
Nathanael represents the "big city" attitude that prevails today. He speaks for the people of New York, Rome, London, and Singapore. How could anything good come from Nazareth?
Our God is not a front runner. He doesn't design his coming around the prejudices of city-dwellers. Not that he has anything against big cities. He loves the great, teeming, bustling, busy cities of the world. But Jesus was not ashamed to come from Nazareth.
Notice what Philip said, how he responded to Nathanael's prejudice.
"Come and see" (John 1:46).
At every point along the way, God upends human prejudice and overthrows our preconceptions. He doesn't play to our expectations. If you are willing to let go of your backward way of thinking, you too can be saved.
Can anything good come out Nazareth?
Come and see.
Open our eyes, Lord, to see you as you are, and not as the world sees you. Amen.
You can reach the author at ray@keepbelieving.com. Click here to sign up for the free email sermon.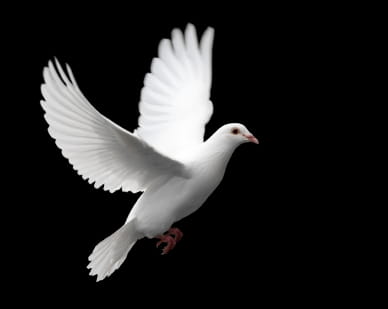 "At that time Jesus came from Nazareth in Galilee and was baptized by John in the Jordan. As Jesus was coming up out of the water, he saw heaven being torn open and the Spirit descending on him like a dove" (Mark 1:9-10).
At Christ's baptism the Holy Spirit descended upon him "like a dove." The dove is a particularly appropriate symbol because it is a graceful bird. In Matthew 10:16, Jesus told His disciples to be "as shrewd as snakes and as innocent as doves." The word dove implies a guileless, open-book, "what you see is what you get" heart attitude. Applied to the Holy Spirit, it means that the Spirit himself is pure, open, and honest, and he produces the same qualities in the people he touches. As the dove descended from heaven, even so the Holy Spirit comes down from heaven to bless the people of the earth. Note that the dove rested on Christ, symbolizing the peace that the Holy Spirit brings.
The fact that the dove came directly to Christ shows the personal relationship the Holy Spirit has with each believer. Finally, the dove resting on Christ demonstrates the Father's divine approval of the Son's mission on earth. Once the dove landed on Christ, the voice from heaven said: "This is My Son, whom I love; with him I am well pleased" (Matthew 3:17). Thus, all three persons of the Trinity were represented at the baptism of Jesus.
This symbol of the Spirit has a great deal to say to us about the effect of the Holy Spirit on our lives. When the Holy Spirit comes: (1) He brings peace to our souls; (2) He comes quietly, without fanfare; (3) He establishes a personal relationship with us; (4) He produces gentleness within, not a harsh and critical spirit; (5) He leads us toward purity, honesty, and a truly "harmless" life; (6) He brings God's divine approval that we are indeed His children; (7) He leads us toward a beautiful, grace filled Christian life.
Over 300 years ago Isaac Watts wrote a hymn based on this text called Come, Holy Spirit, Heavenly Dove. The first four verses spell out our need for the Holy Spirit because our hearts are cold. We seek joy in earthly trifles and try in vain to sing God's praise. But when the Spirit comes in power, all is changed, as the fifth verse makes clear:
Come, Holy Spirit, heavenly Dove,
With all Thy quick'ning powers;
Come, shed abroad the Savior's love
And that shall kindle ours.
Spirit of God, as you descended from heaven upon Jesus, descend on me today that I might know the fullness of your power. Amen.
You can reach the author at ray@keepbelieving.com. Click here to sign up for the free email sermon.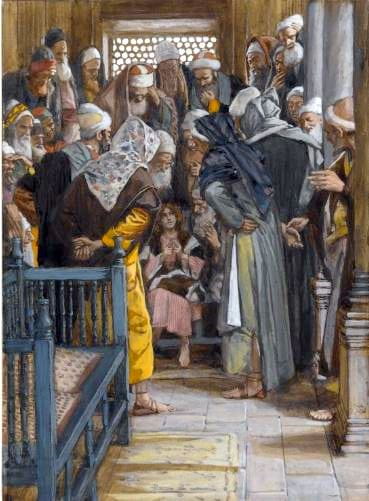 Jesus among the Doctors by James Tissot, ca. 1890.
"After three days they found him in the temple courts, sitting among the teachers, listening to them and asking them questions" (Luke 2:46).
What was Jesus like as a boy?
This paragraph offers us the only glimpse we have into Jesus' childhood. The biblical record moves from his infancy to the beginning of his public ministry at the age of 30 with only this episode in between. While there are many things we would like to know about Jesus as a young boy and as a teenager, this is all we are given.
It's fairly easy to imagine that a child might disappear for a few hours in the great crowd of family and friends making the long journey from Jerusalem to Nazareth, only to reappear at supper time. That part of the story is understandable. It's also conceivable that a mischievous boy would hide or even run away.
But that's not what Jesus did. He stayed behind in Jerusalem to discuss weighty matters with the "doctors of the law." They were the scribes and priests who spent a lifetime studying the written law and the oral commentary.
Jesus' reply to his worried mother reminds us about the higher priorities of life: "Didn't you know I had to be about my Father's business?" (Luke 2:49). We aren't surprised when the next verse tells us they didn't understand what he was saying.
It was a solemn reminder that even as a young boy Jesus was conscious of God's divine call on his life. At this point, we do not need to inquire into how much Jesus understood about his future destiny. On the divine side, he certainly knew all things. On the human side, he grew in knowledge as he grew up. Even at the age of twelve, he knew he was not like other boys. He was called to his "Father's business," and that must be attended to, even if his parents did not understand.
We also must be about our Father's business. Here is a good question we should ask ourselves: "Am I busy doing my Father's business? Am I walking in the steps of Jesus?" As J. C. Ryle says, "Never is a church in so healthy a condition as when its believing members aim high, and strive in all things to be like Christ."
Lord Jesus, help me to follow your example by doing my Father's business today. Amen.
You can reach the author at ray@keepbelieving.com. Click here to sign up for the free email sermon.