"My house will be called a house of prayer for all nations" (Mark 11:17).
Jesus would not put up with some things. We have seen over and over again his compassion for the hurting and his outreach to the forgotten. He cares for those the world forgets. But he has little patience with religious people who use religion to hurt others. In this case, Jesus was incensed that the moneychangers were doing it again. By "again" I mean that this is the second time Jesus cleansed the temple, the first time being in John 2, at the beginning of his public ministry.
He cleanses the temple as he starts his ministry.
He cleanses the temple as he closes his ministry.
This is not by chance. He means to reveal the utter sterility of the Israelite system of worship. God always intended that his temple in Jerusalem should be a house of prayer for all nations. Even though it was uniquely the Jewish temple, all nations were invited to pray there. But no prayer could take place because the profiteers had completely taken over the outer courts. They made their money charging exorbitant fees to buy animals for worship and to exchange money into the special temple currency.
Business was good, and that made Jesus angry. The fact that he cleansed the temple twice shows how deeply sin is embedded in the human heart. It also helps us see why Jesus had to die. It was not enough to take overturn the tables and drive the money-grubbers out. The very hearts of the people must be changed.
For that to happen, Jesus must die. And in his death, he opened a way for every person to come directly to God. No longer will they have to travel to Jerusalem. Now every heart is a temple where Jesus reigns as Lord. Through him the weakest believer enters into the presence of God.
From both cleansings we see how much our God yearns for fellowship with us. He loves us so much that he will overturn the tables and shake us up so that once again our hearts belong to him.
What a Christ we serve!
He loves us too much to leave us as we are.
Shake us up, Lord Jesus. Overturn the tables of greed, sloth, pride and lust. Do whatever it takes so our hearts will be fully in tune with you. Amen.
You can reach the author at ray@keepbelieving.com. Click here to sign up for the free email sermon.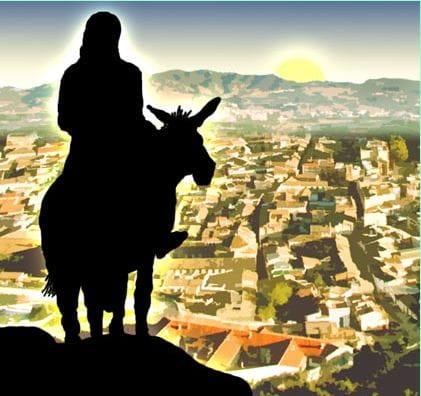 "They brought the donkey and the colt; then they laid their robes on them, and he sat on them" (Matthew 21:7).
The story of Palm Sunday really begins with a donkey. Most of us have heard how Jesus sent his disciples to the village of Bethphage with instructions to bring back a donkey. When you read Matthew's account, you realize that the two disciples actually brought back two donkeys–a mother and her young colt that had never been ridden. Jesus rides into Jerusalem on the young colt with the mother walking alongside.
Matthew also tells us that by riding a donkey into Jerusalem Jesus was fulfilling an ancient prophecy from Zechariah 9:9. Those words–written 575 years earlier–predicted that when the Messiah came to Israel, he would come riding on a donkey.
"Rejoice greatly, O Daughter of Zion! Shout, Daughter of Jerusalem! See, your King comes to you, righteous and having salvation, gentle and riding on a donkey" (v. 5).
Nothing would have seemed more unlikely than for a king to come riding on a donkey. Jesus could hardly have chosen a more unlikely way to present himself to the nation. It's not hard to imagine the Romans laughing as they watched the spectacle. A pauper king, riding on a borrowed donkey, his saddle a makeshift layer of cloaks, attended by an unruly mob whose only weapons were palm branches.
On Palm Sunday we worship the One whose kingdom is not of this world, who offered himself to his people while riding on a borrowed donkey. The hymn "From Bethany, The Master" says it well:
The King of Love, in triumph
Rides through the city's gate;
Rejected, scorned—yet Victor,
The Conqueror of hate;
O wave your green palm branches!
Exalt His matchless worth!
This King of Love shall conquer
The nations of the earth.
Lord Jesus, you knew fully the pain of our rejection. You came as a king, but we would not have you. Grant that we might follow you to the cross and count it all joy for your sake. Amen.
You can reach the author at ray@keepbelieving.com. Click here to sign up for the free email sermon.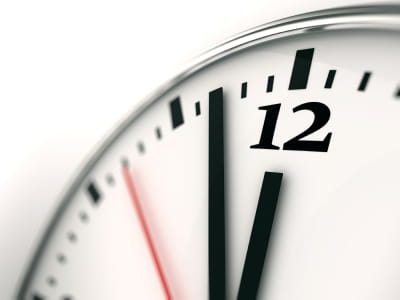 "Therefore Jesus no longer moved about publicly among the Jews. Instead he withdrew to a region near the desert, to a village called Ephraim, where he stayed with his disciples" (John 11:54).
No good deed goes unpunished.
Raise a man from the dead, and they want to kill you.
That's what happened to Jesus after he raised Lazarus. While many believed in him as a result of the miracle, others reported the miracle to the Pharisees who called a meeting of the Sanhedrin, the Supreme Court of Israel.
Bottom line: Jesus must die!
Partly they were motivated by jealousy of his popularity with the people, partly by worries about a general uprising, and partly by fear of what the Romans might do if things got out of hand. They would kill him to get rid of him. But he would die on behalf of others. Meanwhile Jesus retreated to Ephraim, a small village about 12 miles from Jerusalem. There he would rest and prepare for the tumult leading up to his own crucifixion.
In all of this, we can see several factors at work: First, Jesus will not rush ahead of God's plan. He knew with perfect certainty that he was going to die in Jerusalem. But it must happen at the right time and in the right way. By withdrawing he removed himself from unnecessary controversy. Second, all things move forward according to God's predetermined plan. From the outside it appears Jesus is being carried along by a chaotic series of unconnected events. It might even seem he was a victim of forces he could not control. But he retreats to Ephraim as part of God's plan so that in a few days he might meet his predetermined fate on a bloody Roman cross outside the city walls.
Let no one say the cross was an accident. There was nothing accidental about it. It was a criminal act, perpetrated by wicked men who acted on their own, out of craven cowardice and rank envy. But in a stunning display of God's sovereignty, the Father accomplished redemption through the wicked acts of wicked men who murdered his Son.
Meanwhile Jesus waits in Ephraim until the time comes for his final trip to Jerusalem.
Our Father, how great is your love, how vast is your wisdom that you should design the death of your Son so that through his sacrifice we might be saved. All your ways are perfect, always. Amen.
You can reach the author at ray@keepbelieving.com. Click here to sign up for the free email sermon.