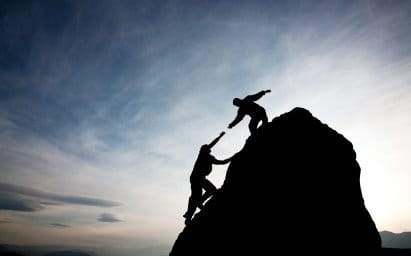 "For it was fitting that he, for whom and by whom all things exist, in bringing many sons to glory, should make the founder of their salvation perfect through suffering" (Hebrews 2:10).
This verse sums up the whole earthly life of Jesus. He was made "perfect through suffering." But wasn't Jesus perfect when he was born in the manger? Didn't he live a sinless life? Wasn't his death the death of an innocent man? Yes. He was morally perfect. That is one kind of perfection.
But there is another kind of perfection or completion. It comes only by experience. Jesus entered fully into the sufferings of this world and emerged victorious over them. He was made complete in his experience on the earth by the things he suffered. That is why he is called the "founder" of our salvation. He came and suffered on this sin-cursed planet so that by virtue of his sinless life and death, he might blaze the trail for us back to God.
But the trail leading to the cross is marked with suffering, with tears, with rejection. When you follow Jesus, the road to glory goes by way of the cross.
This explains so much that happens to us. What is God doing in your life and in mine? He is putting us through the Curriculum of Grace in the School of Suffering. School starts the moment we trust Christ and ends the day we die. We pass the test and win our degree by keeping our eyes on Jesus. He's the valedictorian of the class. He never failed a test. He blazed the trail through the School of Suffering so that we could follow in his path.
There is glory at the end of the Christian life, but it only comes by way of suffering. Keep your eyes on Jesus who blazed the trail for us.
Our Father, may we never forget that every trial has a divine purpose. Help us to keep looking to Jesus as he leads us on to glory. Amen.
You can reach the author at ray@keepbelieving.com. Click here to sign up for the free email sermon.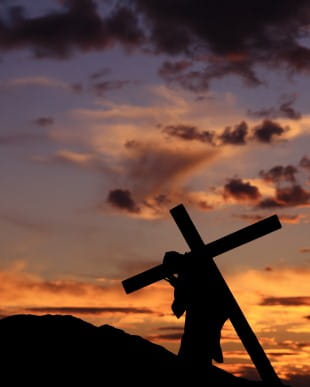 "Let us be grateful for receiving a kingdom that cannot be shaken" (Hebrews 12:28).
Everything of this world is shakable. Buildings crumble into dust, companies declare bankruptcy, our degrees fade into illegibility, our houses age and creak and crumble, our cars rust out, and worst of all, our bodies eventually wear out. But the kingdom of God lasts forever. When the angel Gabriel came to Mary, he said that she would give birth to a Son who would "rule over the house of his father Jacob, and of his kingdom there will be no end" (Luke 1:33).
God desires to establish a kingdom on earth that will last forever. That kingdom will be made up of men and women who have decided to live by God's eternal values. Therefore, the whole human race may be divided into two groups—those who decide to live by earthly values and those who decide to live by kingdom values. The difference is this: living by earthly values produces earthly rewards that pay off quicker and disappear faster; living by kingdom values produces kingdom rewards. They don't usually come as quickly, but they last forever.
You can live for this world or you can live for the kingdom of God. The choice is yours.
Jesus has a kingdom.
He is building it in human hearts around the world.
Someday he will return and visibly reign on the earth.
That kingdom will never end.
There are some men and women who are not like everyone else. They have been gripped with the thought that the kingdom of God is the greatest thing in the world, and that one thought has revolutionized their lives and reoriented their values. Kingdom issues are at stake. That's the only possible explanation for the way they live.
His kingdom will never end. Why would you follow anyone else?
Sovereign Lord, you are the solid rock beneath our feet in our turning world. We trust in you, and we will not be moved. When the kingdoms of this earth have crumbled to dust, your words will still be true. Amen.
You can reach the author at ray@keepbelieving.com. Click here to sign up for the free email sermon.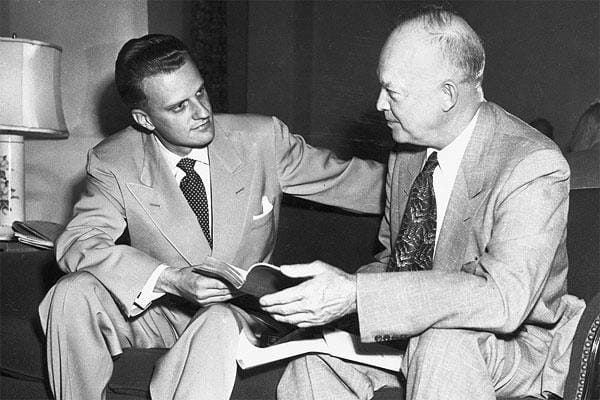 Billy Graham with President Eisenhower
"All we like sheep have gone astray; we have turned—every one—to his own way; and the Lord has laid on him the iniquity of us all" (Isaiah 53:6).

Someone has said that Isaiah 53:6 is the "John 3:16 of the Old Testament" because it makes the way of salvation so clear that we cannot miss it.

Note that "all" is the first and the last word of verse 6.

We have all sinned.
We have all gone astray.
We have all missed the mark.
We have all turned to our own way.

We're all in the same boat, and the boat is going down.
If God doesn't do something, we're all going to die.

At this point we encounter the great, glorious news of the gospel.
God has done something!

He could have looked at the mess we made and said, "They deserve it. They messed up. Now let them face the consequences." If God had said that, he would be 100% justified. God was under no obligation to rescue us when we wandered astray.

We said, "Leave me alone!"
But God said, "I can't do that."

"And the Lord has laid on him." That's Jesus! That's the great Servant of the Lord who came from heaven on a divine rescue mission.

God laid our sins on Jesus.
That's the doctrine of substitution.
That's the heart of the gospel.
He took my place when he died.
God laid my sins on him.

When President Dwight Eisenhower was hospitalized for the final time before he died, Billy Graham paid him a visit. At one point President Eisenhower asked, "Can an old sinner like me ever go to heaven?" Billy Graham assured him that even "old sinners" can go to heaven by trusting in Jesus. But there is good news for "old sinners," "young sinners," "big sinners," "small sinners," and everyone in between. Jesus paid the price in full so that you can go to heaven. It doesn't matter who you are or what you've done or how bad your record might be. If you know that you are a sinner, you can be saved.

We can be sure because the Lord has laid on him the iniquities of us all.
Thank you, Heavenly Father, for not giving up on us when we sinned against you. Thank you for Jesus whose death paid in full the price of our salvation. Amen.
You can reach the author at ray@keepbelieving.com. Click here to sign up for the free email sermon.