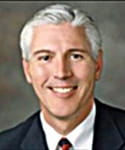 Note: If you want to listen to this blog and others on KWON/KYFM radio go to http://www.bartlesvilleradio.com/caffeine/uploads/files/ON%20Demand/Ideas%20Matter/Ideas_Matter_2-18.mp3
Let me tell you a little secret, one that I am not all that proud of.
I used to be pro-choice.
You see, my first job out of college was that of being a campaign manager for a State Representative in Michigan—a socially liberal, pro-choice Republican who was running against a socially conservative, pro-life Democrat.
Going door-to-door for my candidate I used to parrot the party line: "Mary Keith Balantine doesn't believe in abortion. She just doesn't believe in legislating morality."
I said this with a straight face and with a clear conscience. I gave it not a second thought. It all seemed so clear and so easy. "Women have the right to do what they want with their own bodies and we have no right to use legislation to impose our moral views upon them."
Well, here is what I think of all this bygone wisdom now: For two reasons it was simply and utterly stupid.
First of all, if legislation is not based on morality, then what in the world is it based on? Surely we all have to admit that all legislation—whether it be a speed limit, child labor laws, laws against racism, or laws against murder—presupposes some sort of moral code. We must remember that all such codes are either grounded in the transcendent truths of God or in transparent power plays of men. Some 30 years removed now from my pro-choice days, I will choose God's principles rather than man's pomposity any day as the best starting point for the best legislation.
And now for the second reason I say my youthful libertine tendencies were misguided: What about the rights of the other person? The one whose life was ended because someone else didn't want to legislate morality?
Have something to say about this article? Leave your comment via Facebook below!
About Dr. Everett Piper
Dr. Piper is the President of Oklahoma Wesleyan University. Associated with Chuck Colson's Breakpoint and Centurions programs, Dr. Piper is the author of "Why I am a 'Liberal' and Other Conservative Ideas" http://www.whyiamaliberal.com/. He has also authored "The Wrong Side of the Door: Why Ideas Matter. Piper is a frequent speaker on Christian education, Biblical worldview, and applied apologetics in both regional and national venues. For more information go to www.okwu.edu or go to www.everettpiper.com .
Example: "Gen 1:1" "John 3" "Moses" "trust"
Advanced Search
advertise with us
Recently by Dr. Everett Piper
Recently on Crosswalk Blogs