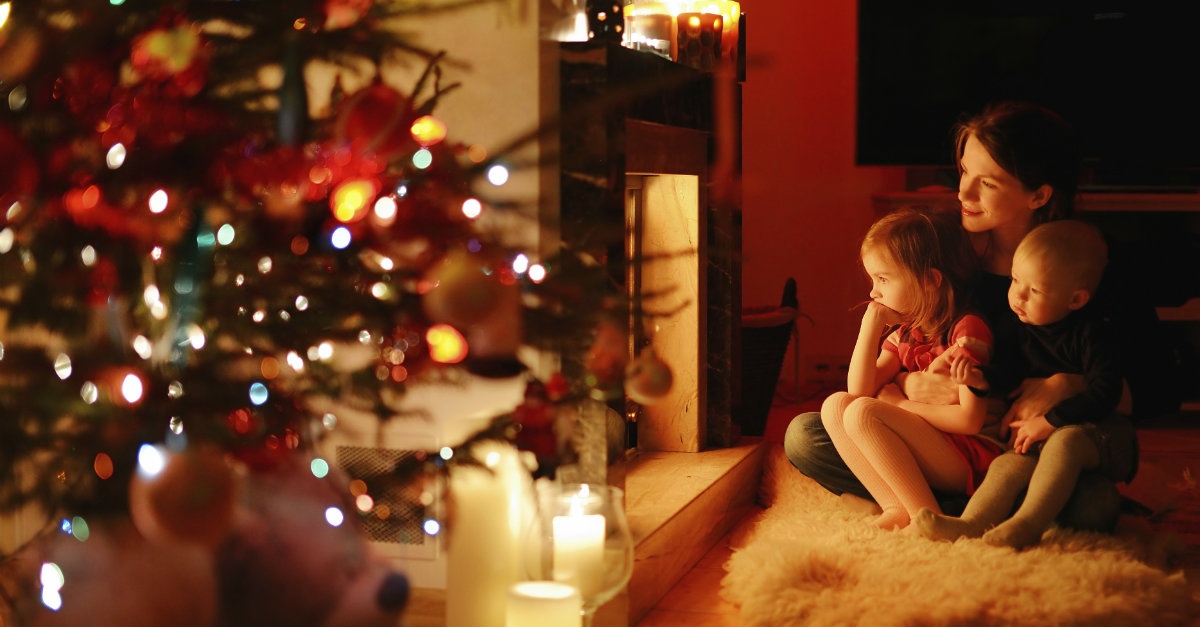 Christmas is one of my favorite times of year. I love hot cocoa, Christmas decorations, Christmas music, snuggling under a blanket watching Christmas movies, egg nog, parties, and all the traditions that Christmas brings. I love seeing family and friends that I haven't seen in a while. I love the reminder of childhood memories with aunts and cousins baking pies in the kitchen.
But, let's be honest. Christmas can be one of the most difficult times of year for many, and especially for single parents.
My first Christmas as a single mom is one of my saddest memories. My infant son and I spent the day alone. I was a brand new mom and I struggled to find my way. Could I even be a good mom? I often wondered. I stared at my baby most of the day, as I laid in bed and cried. The phone didn't ring. No one knocked at my door. I couldn't bear to cook a Christmas meal for just the two of us. And depression doesn't even seem to be an adequate word to describe how sad I was that day. I almost yearned to go to work to interact with another adult.
I would love to say that was my only Christmas alone or Thanksgiving or Easter or Valentines. I spent many holidays as a single mom. And frankly, many of them were sad. I want to encourage all you single moms out there not to make the same mistake I did. Those holidays were often spent with me dwelling on the things I didn't have. I was convinced everyone had a better life than me and I was angry. I wondered why my children had to suffer through not having two parents in their home. I was sad that I had little money to provide Christmas toys. I decidedly huddled under my covers and prayed the days away.
Here are the things I wish I would've done all those years ago:
1. Choose to focus on what God has given you. Maybe things didn't turn out like you planned. Whose life ever does? God has blessed you beyond measure. Start with the cross. If God never did anything else for us, wouldn't that be enough? Be He doesn't stop there. He gives us our beautiful, amazing children, our jobs, residence, friends, health, family, church family, and a single mom sisterhood through The Life of a Single Mom Ministries. God is good, faithful, and provisional. Praise Him this season!
2. Choose to rejoice in the real reason for the season. Focus on Christ's birth. Read the Christmas story to your kids, no matter their ages. Create traditions with them, such as baking cookies, make ornaments for a nursing home, serving at a soup kitchen. Decide to focus on the real meaning for the season through service to others and family traditions. It makes the holidays a far more special time.
3. Choose to focus on the freedom Christ has given you. May I be totally honest with you? Christ paid for my freedom oh so many years ago, but I refused to walk in it. You see, it was my choice to be bitter, unforgiving, and angry. It was my choice to play the victim and wonder why I had endured so much. It was only when I stopped speaking terrible things over my life and when I chose to move beyond my past that I embraced Christ's freedom for my life. I chose life. I chose freedom. That's when I truly learned to celebrate each holiday season and each day for that matter. My perspective in life shifted. Joy was then mine. It can be yours this day.
Jennifer Maggio is the happily married mother of three who has a passion for the single parent family. The founder of The Life of a Single Mom Ministries and Overwhelmed: The Single Moms Magazine, Maggio spends many of her days praying for and counseling with single mothers nationwide. For more information, visit http://www.thelifeofasinglemom.com
Anyone who has known me for more than about 30 seconds knows my passion for serving the single-parent family. The desire to see no single parent walking alone – to see the body of Christ working fervently to reach single parents for Christ's cause – keeps me up at night. I have big dreams of seeing every church, regardless of size, start a single parent ministry and outreach program. Having said all that, I think it is extremely important that single moms learn to serve others, as well.
I have often said that I do not believe that your work saves you, but I do believe that those who are saved, work! When we have accepted the Lord as our Savior, not because of anything we could ever do, but because of everything He's done, our life is forever changed. Our heart has been transformed from the inside out. That change should prompt us to think of others first and self last. It should motivate us to serve others, thereby showing others the love of Christ through selfless acts. I do not think single parents are any exception.
Through my years of ministry, people have said some pretty crazy things to me, many of which don't bear repeating. But one of the things I have heard more than once is that nonprofits that cater to single-parent families may foster a victim mentality or create some sense of entitlement. My response is to smile and politely explain that our organization is passionate about just the opposite! Make no mistake. We are passionate about serving single mothers, but also teaching them to serve others. We are passionate about eradicating any victim mentality and teaching that a Christ-follower is no victim, but rather a victor. We are passionate about fostering a sense of responsibility, hard work, and strong work ethic.
So, what are some things that single moms can do to serve others? Maybe you are reading and you are a mom who really has a heart to serve, but you are financially strapped and limited on time, so feel there is little you can do. Here are a few ideas:
1.Throw a meal in the Crockpot for a family in need. (There are many dishes you can make for under $10).
2.Bake a dozen cookies for a local fire department. Two dozen cookies cost under $3 at most grocery stores and bake in 8 minutes. What a great way to get your kids involved.
3.Write "thank you" cards to our military or service personnel.
4.Call a fellow single mom and invite her over for dinner.
5.Babysit a friend's children one weekend.
6.Pool resources with other single moms in the area and host a pot-luck meal.
7.Commit to calling one fellow single parent, per week, to check on them and pray for them.
8.Take the time to mail a handwritten letter to a family member, old friend, or former teacher who has meant a lot to you. Take time to share fond memories you have about them.
The list is endless. When we become servant-minded, God floods us with creativity on how to serve others. One of my favorite service projects was when we took a group of single moms and their children to a local nursing home and had a morning-of-fun with the residents. We sang songs, painted fingernails, served donuts, and made crafts. It was more than a year ago now and I still smile every time I think of it.
Jennifer Maggio is an award-winning author of four books and the CEO/Founder of The Life of a Single Mom Ministries. She is also the founder of Overwhelmed: The Single Moms Magazine and a regular on radio and television. For more information, visit www.Jennifermaggio.com.
Volunteers take time for their busy schedules to serve in your ministry, organization, or church, because they are passionate about your cause. They want to see single moms encouraged. They want to feed the homeless. They want to honor the Lord with their talents and skills. While most do not do it for any type of recognition, it is always important to honor those who are sacrificing their time away from family and friends.
Take a volunteer to lunch. It's such a simply gesture, but so powerful. Taking the time to get to know a volunteer and using personal time, such as your lunch break, to do so, not only let's them know you appreciate their service, it gives them the gift of your time.
Pray for your volunteers. The best way to honor a volunteer is to stop and pray for their specific needs. Believe God with them that their child will be healed, their finances will improve, or their path will be made clear. Whatever the need, taking that few minutes to pray is worth it.
Hold an honor banquet in their honor. Banquets don't have to cost a ton of money. Set up a nice dinner at your home. Take a moment to share something special about each honoree.
Write a card or letter. Who takes the time to do this anymore?! What a neat surprise for a volunteer to receive a handwritten note from you telling them how much you appreciate their service.
People often gravitate to places where they are celebrated. While none of these suggestions will break the bank or even amount to much of your time, they can go a long way in encouraging your support team to keep on keeping on. Most support groups, ministries, and churches couldn't survive without the commitment of faithful volunteers. Celebrate and honor your volunteers today.
Jennifer Maggio is an award-winning author and speaker whose own redemptive story of hope has encouraged many. She describes herself as an ordinary girl who loves an extraordinary God. She is founder of The Life of a Single Mom Ministries and Overwhelmed: The Single Moms Magazine. For more information, visit http://www.jennifermaggio.com.