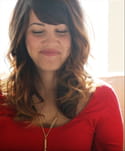 Dear Pastors,
This weekend is a very special one for most of your congregation. But there may be a small (yet larger than you think) group of women who will sit in your pews and chairs, in silent pain.
I've always seen Mother's day as a regular holiday everyone celebrates with moms and grams and over priced Marie Callendar's Pot Pie. Until last year. My husband and I struggled through two miscarriages and words like "sorrow, loss, or grief" don't even begin to cover it. But the insight that has come out of that season has been irreplaceable.
From the Job Song, to women I've been able to meet and pray healing over and weep with and relate with, it has been a season, not of joy by any means, but of sweet and subtle redemption. That season has begun to redeem itself and for that I am grateful.
So why am I writing you?
Because as you stand on a platform and celebrate the amazing feat and journey of motherhood with the women attending your services, remember those who will never experience that, no matter how much they grasp for it.
No one should be ashamed of being a mother or celebrating mothers. That's just ridiculous. Motherhood is an amazing journey that changes the world. Life is life and it is worthy of being celebrated.
But please know, there will be women in the seats of your church services that may not show up because the emotional, physical, and even spiritual pain of this day will be too much.
And if they do, they deserve to be celebrated, even in prayer, as well. Your graciousness and love on them will mean the world. I promise.
Sincerely,
Julianna Morlet, a mother of miscarriage
More on my experience through Mother's Day & Miscarriage :
- Seeing Mother's Day From the Other Side
- I Will Never Forget the Other Side of Motherhood
You've heard it once, you've heard it a thousand times, pregnancy and motherhood is different for every woman.
I think that's true, until it's not.
I feel like most women tailgate their mothering advice with, "but it's different for everyone." Like it's some sort of caveat they know is false, but they don't want to pressure you into having the same experiences they did.
I've noticed a tricky trend where women talk about the horrors of dirty diapers and midnight feedings, but their eyes don't scream HORROR. With every detail of the "Flu-venge of 2011" there's a memory tape that plays as they tell the story. And their reactions? Well, they're not horrified. They're comical. Endearing. It's like those memories come married to the cuddle sessions and "Mommy I wuv you's" that followed.
But not only is Melanie freaking hilarious in her deliberations of pregnancy, preconceived notions, and motherhood, she loves everything about being a mother. It's as if I'm sitting in her living room, with coffee brewing, and she's spilling her guts about the good, the bad, and the ugly. I feel like every page of her pregnancy stories I'm cracking up and silently screaming, "Dude!!! ME TOO!" But in the end, despite the chaos and stories, to Melanie, it's all good. It's all beautiful.
Many of you know this way more than I do, that mothering is going to be the best thing I've experienced in my life so far. And there's a reason we scream, "Me too!" And I love it. I love it all. But just know I'm on to you ;)
I think we're all more alike that we think we are.
Until of course, we're not.
Psalm 55:14 "What good fellowship we once enjoyed as we walked together."
Proverbs 12:25 "Worry weighs a person down; an encouraging word cheers a person up."
To connect with Julianna find her on her Blog, Twitter, or Facebook.
Every song has a story. This is ours.
A young worship leader that Tyson raised up, now leads worship at our home church in Temecula, CA. He called early last week because he was coordinating a worship night with the high school youth group, they were doing Job Song and asked if we could make a video on the story behind it.
First of all, it is always an honor for us when youth play our songs.
With every song we write, we pray it would transcend culture and generational gaps, for the purpose of the Church worshipping as one voice.
Second, it was a no brainer! Of course we would! Some of you may know the story behind Job Song because you lived it with us, but I thought I'd share it with you here as well. - - -
Tyson and Julianna Morlet are the worship leaders at Antioch LA in Los Angeles, California. Married nearly 4 years with their first miracle baby girl on the way. Read more here...
Hear more Antioch Worship on iTunes, Amazon or Youtube
Connect with Tyson (@tysonmorlet) or Julianna (@juliannamorlet) on Twitter
Tuesday, February 26, 2013
Contrary to Christian culture appearances, "compassion" isn't just a buzz word in the Church. It can't be. There are those who may disagree, however I would say to them, Look around and see the restoration being brought about by the people of God.
More than ever, largely because of mass and social media, there is an uprising of churches moving forward the Kingdom Jesus established here on earth. Churches are being made aware of horrible, immediate, and disastrous needs, locally and globally and the Holy Spirit is anointing those movements.
I have not lived enough years to see if and how this Compassion Movement within the Church is a cycle or here to stay for good. Nonetheless, I do believe, this generation I am growing old with, is beginning to see with fresh eyes and move with urgency to redeem what is lost and mend what is broken.
We believe we can change the world.
Not alone, not individually, not as single churches but as a global Church, melting together towards the same goal we were all commanded to:
The greatest command is this, Love the Lord your God with all your heart and with all your soul and with all your strength and with all your mind, and Love your neighbor as yourself. Luke 10:27
I, God, hate, I reject your festivals,
Nor do I delight in your solemn assemblies.
"Even though you offer up to Me burnt offerings and your grain offerings,
And I will not
even
look at the peace offerings of your fatlings.
Take away from Me the noise of your songs;
I will not even listen to the sound of your harps.
But let justice roll down like waters
And righteousness like an ever-flowing stream. Amos 5:21-24
He has told you, O man, what is good;
And what does the L
ord
require of you,
But to do justice, to love kindness, a
nd to walk humbly with your God? Micah 6:8
This concept isn't new to my knowledge, but it is new for my daily living. Worship and compassion was something that looked good on paper and graphic design, but when it came time to take opportunities of living this model, I was always hesitant.
Not for any spiritual reasons, of course, more for social and personal. Confession time: I hate talking to strangers. It's not comfortable for me. I'm not a natural artist of conversation.
But I know I have to hear people's stories to hear their need. I have to ask questions to hear their stories. I have to move out of my comfort zone to ask the questions.
I once heard Beth Moore say, "If you don't have money to fill their gas tank or buy them groceries, you can still serve them by asking their name or saying hello. Dignify them."
Dignify people.
Jesus began a work, a movement, a compassion movement and then ordained His Church, His body, to keep it moving forward:
[Jesus] opened the book and found the place where it was written,
"T
he
S
pirit of the
L
ord is upon
M
e
,
B
ecause
H
e anointed
M
e to preach the gospel to the poor
.
H
e has sent
M
e to proclaim release to the captives
,
A
nd recovery of sight to the blind
,
T
o set free those who are oppressed
,
T
o proclaim the favorable year of the
L
ord
."
And He closed the book, gave it back to the attendant and sat down; and the eyes of all in the synagogue were fixed on Him.
And He began to say to them,
"Today this Scripture has been fulfilled in your hearing."
Luke 4:18-21
Where there is a heart of worship, there must also be a heart of compassion.
Where there are songs sung and voices raise, there must also be hands reaching out in service.
Where Jesus' followers gather in celebration, so must there also be an open door where the wandering soul can come in for rest.
Dear friends, I am honored to be restoring this earth with you. It's a big job, but it was meant for us.
*Photos above are from Antioch LA's Compassion Initiative in Santa Monica. If you're local to LA and want to join us every other Sunday at 11AM, feeding the homeless and hungry by the pier, we'd love to have you! Details can be found on Twitter @antiochchurchla or Instagram @antiochla
About Julianna Morlet
Julianna Morlet is the girl behind the lifestyle blog, The Girl That Sings. Her blog is focused on her journey as a homemade singer, writer, speaker. If she could sum up who she is in one sentence it'd be, "A visionary idealist who wishes to conquer the world before her 25th birthday." She is the eldest of six children, and is being well-seasoned and fashioned by this life. From sexual abuse, to a blended family, to a baby sister with leukemia, to college in the mid-west and her journey as a homemade singer and worship leader, she has been led to a faith in God that cannot be shaken. You can find her at juliannamorlet.com, Facebook, and Twitter.
Example: "Gen 1:1" "John 3" "Moses" "trust"
Advanced Search
advertise with us