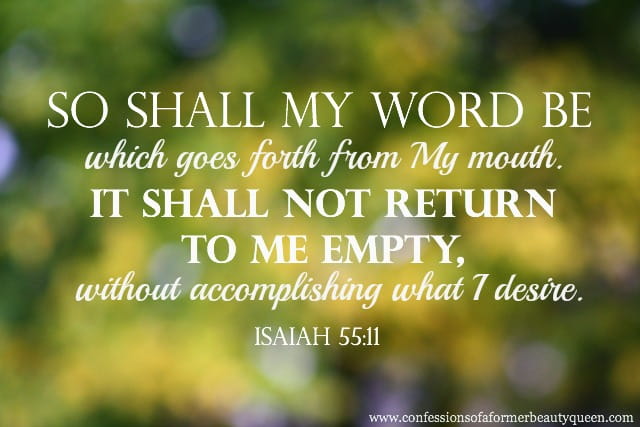 I'm afraid that a pall has fallen. A veil is covering the eyes, the ears and the hearts of many. It's a false sense that they are okay in their walk with God.
They pray. They go to church. Perhaps they tithe. And serve in some capacity. They go about their routine and feel just fine about their faith.
And yet. They haven't read the Bible in months. Maybe years. Bible study is something they don't have time for. Perhaps they question its relevance for their daily lives.
In an article in Biola Magazine, Kenneth Berding, Professor of New Testament at Biola's Talbot School of Theology, quotes New Testament scholar David Nienhuis who summarizes his understanding of the situation in an article titled "The Problem of Evangelical Biblical Illiteracy: A View from the Classroom":
For well over twenty years now, Christian leaders have been lamenting the loss of general biblical literacy in America. … Some among us may be tempted to seek odd solace in the recognition that our culture is increasingly post-Christian. … Much to our embarrassment, however, it has become increasingly clear that the situation is really no better among confessing Christians, even those who claim to hold the Bible in high regard.
God made it very clear about how we are to engage scripture when He spoke to Joshua after Moses had died.
This book of the law shall not depart from your mouth, but you shall meditate on it day and night, so that you may be careful to do according to all that is written in it; for then you will make your way prosperous, and then you will have success.

Joshua 1:8
The time is short. We must get back to the Bible so that we can discern the truth from the lies. The enemy is afoot and Jesus said in the last days, false prophets will "show great signs and wonders, so as to mislead, if possible, even the elect."(Matthew 24:24)
---
Father, I come to You today thanking and praising You for giving us Your word. Thank You that You have not left us as orphans but have given us everything we need for life and godliness. (2 Peter 1:3) Father, we know that the whole world lies in the power of the evil one. (1 John 5:19) Protect us from his schemes. Let us not be lead astray and do not let us be taken captive through philosophy and empty deception, according to the tradition of men, according to the elementary principles of this world, rather than according to Christ.(Colossians 2:8)

Lord, You tell us in Your word that your people go into exile for lack of knowledge, and their honorable men are famished, and their multitude is parched with thirst. (Isaiah 5:13) Stir the hearts of Your people to turn back to You with a hunger for Your word. Do not let us reject Your law and despise Your word, O God. (Isaiah 5:24) Have mercy on us, O Lord.

Stir us, Lord. Quicken our hearts to run to the Fountain of Living Waters and drink. To seek You while You may be found. To call upon You while You are near. Let the wicked forsake his way and the unrighteous man his thoughts and let him return to You and You will have compassion on him. For You will abundantly pardon. (Isaiah 55:6-7)

O God, Your thoughts are not our thoughts, neither are our ways Your ways. For as the heavens are higher than the earth, so are Your ways higher than our ways, and Your thoughts than our thoughts. For as the rain and the snow come down from heaven, and do not return there without watering the earth,and making it bear and sprout, and furnishing seed to the sower and bread to the eater, so shall Your word be which goes forth from Your mouth. It shall not return to You empty, without accomplishing that which You desire and without succeeding in the matter for which You sent it. (Isaiah 55:9-11)

Plant it deep in us, O God. Move in the hearts of Your people to feed and live on Your Word. In the name of the Word made flesh, Jesus, Amen.
Saturday, October 18, 2014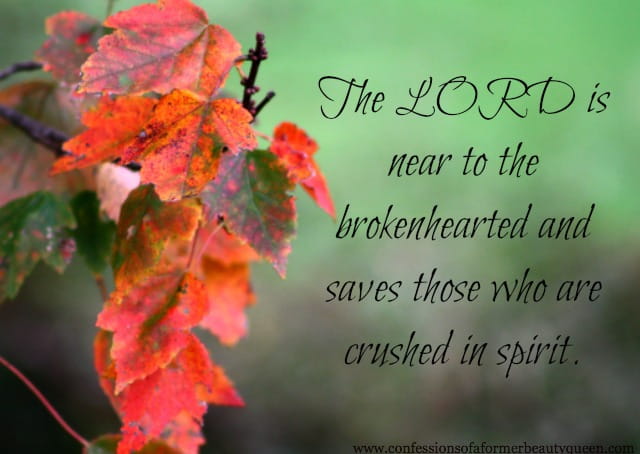 I know this one by heart. I've been here more times than I can count. And every single time it seemed that I would not recover. I felt like I would just bleed out from the pain. From the crushing.
There's just so much in this world. Everyday there is this crushing. And it seems that the whole earth is crying out.
We are a world in need of the heart of a Father who understands the depth and magnitude of our hurt. And He is there. Waiting for us to cry to Him.
He is not a God who is far off. He is near.
---
Father, You are near to the brokenhearted. (Psalm 34:18) And You heal the brokenhearted and bind up their wounds. (Psalm 147:3) I lift up all those who are hurting to You today. Lord, hold them close. Embrace them in Your tremendous grace.

For those who are grieving the loss of loved one, for the sick, for those feeling unloved, unwanted, uncared for, for the lonely, for those who have lost their job or their house or their marriage, for those who are afraid, depressed, anxious, for those who are contemplating suicide, for those who have lost hope for their children, for those who don't think they can last another day, Lord, I lift them up to You. You who count the number of stars and give names to them all. You are great, O Lord, abundant in strength and infinite in understanding. You support the afflicted and bring down the wicked. You, O Lord, cover the heavens with clouds, provide rain for the earth and make the grass to grow on the mountains. (Psalm 147:4-8) There is nothing beyond Your reach.

Have mercy, O Lord, remind all those who are crushed in spirit that You are near. Remind them that You are the strength of their heart and their portion forever.(Psalm 73:26) O God, You are the Father of mercies and the God of all comfort who comforts us in all our affliction so that we will be able to comfort those who are in any affliction with the comfort with which we ourselves are comforted by You. (2 Corinthians 1:3-4) Comfort us today, I pray.

Father, You are great and greatly to be praised. I thank You that You hear us and that You are near. In the precious and holy name of Jesus, Amen.
Saturday, October 18, 2014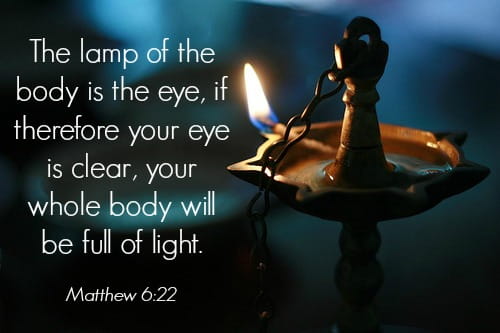 It is the tenth commandment given to Moses on Mount Sinai. "Thou shalt not covet …" (Exodus 20:17) Webster's dictionary defines coveting as desiring what belongs to another.
This one is sneaky. Different than the other commandments because it is primarily concerned with motivation. Desires of the heart.
Perhaps all the commandments are matters of the heart. When Jesus talked about them in Matthew 5:21-30, He made it clear that the thoughts preceding the action are just as dark and dangerous as the action itself.
I didn't think I struggled with coveting until a few years ago while going through a particularly hard time. It was a time I felt like I was swimming upstream in every area of my life. And most of my friends' lives looked easy. And better. And prettier. You know?
I developed this longing for something else. It was this thing in the pit of my stomach that ached. I fantasized about the green grass over there. I didn't want the brown patch where I was standing. It made me sour.
God woke me up one day through His word and showed me the cure - new eyes. I began to surrender my desires to Him through prayer and asked Him to show me the grace that He pours out on me everyday. I then thanked Him for all these blessings. Through this process, he gave me a different perspective. His.
---
Father, I come to You needing a renovation of my heart. You created me.You chose me before the foundation of the world that I should be holy and blameless before You.(Ephesians 1:4) Lord, You know my longings and desires. I place them at Your feet. Set me free from those that are destructive to me. Untie any of them that are contrary to Your will for me.

I ask that the eyes of my heart be enlightened so that I may know what is the hope of Your calling, what are the riches of the glory of Your inheritance in the saints and what is the surpassing greatness of Your power toward me. (Ephesians 1:18-19) Father, I know that if I see with spiritual eyes then I won't be bogged down by the physical limitations and problems that surround me. Give me a heart to know, eyes to see and ears to hear all that You have poured out from Your storehouse of blessings, Lord.

Father, I know that the lamp of the body is the eye and if my eye is clear, my whole body will be clear. (Matthew 6:22) Purify my desires and dreams. Help me to look on and dwell on the things of eternal value. Keep me trained on Your purpose for I am Your workmanship, created in Christ Jesus for good works, which You prepared beforehand, that I should walk in them. (Ephesians 2:10) Let me run with perseverance this race set before me.

Lord, there is so much I cannot see. This world is too much with me. But by faith, I thank You and praise You for the fulness I have received and grace upon grace. (John 1:16) In the name of the Word made flesh, Jesus, Amen.
Thursday, October 16, 2014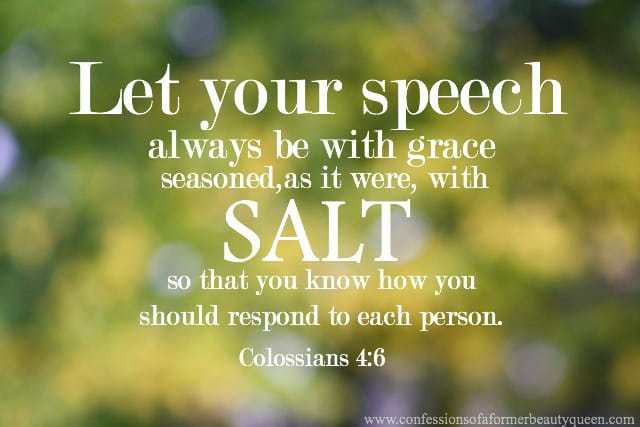 Have you ever been talked about? And later found out about it? It's painful stuff.
I've been the victim and I've also been the perpetrator.
God's word is very clear about what He thinks about gossip and slander. He calls it sin. And tells us to put it away from us.
Let no unwholesome word proceed from your mouth, but only such a word as is good for edification according to the need of the moment, that it may give grace to those who hear. And do not grieve the Holy Spirit of God by whom you were sealed for the day of redemption. Let all bitterness and wrath and anger and clamor and slander be put away form you, along with all malice.
Ephesians 4:29-31
Paul takes it a step farther and says that our words should be timely and profitable for the moment. Our words should impart grace. Not malice.
The real kicker is the original Greek word used for slander. Are you ready? It's blasphemia which is where we get our English word "blasphemy". Strong's Lexical Aids to the New Testament defines it as abuse against someone and denotes wounding one's reputation by evil reports.
In these verses, Paul is drawing stark contrasts between our new nature in Christ and the old nature characterized by darkness. And he encourages us to walk in light of the new nature purchased for us by Christ's sacrifice on the cross.
I know firsthand how frighteningly easy it is to slip into this. Not even fifteen minutes ago, I slipped.
---
Father, this is all fresh in my mind and heart. I just maligned someone with my words. They tumbled out of my mouth so effortlessly that they must be embedded in my heart. For Jesus said, "out of the mouth the heart speaks"(Luke 6:45) Lord, my heart needs cleansing. Forgive my mean words, Lord. Create in me a clean heart. O God, and renew a steadfast spirit within me. (Psalm 51:10)

Father, You say that the heart is deceitful above all things and desperately wicked, who can know it? But You search the heart and test the mind.(Jeremiah 17:9) Search my heart, Lord. Obviously there is junk there that I'm not even aware of. Lord, there's hurt there too. Often the hurt is what causes me to seek revenge through my words - maligning the person that hurt me. It's like a kind of retribution. Forgive me, Lord. Vengeance is Yours, O God. (Deuteronomy 32:35) I release this person to You. Remove any root of bitterness that I might be harboring so that I don't fall into gossip again.

Father, I pray that no unwholesome word would proceed from my mouth, but only such a word as is good for edification according to the need of the moment, so that it will give grace to those who hear. I pray that I would be tender-hearted, forgiving others just as You, O God, in Christ have forgiven me. In Jesus' name, Amen.
Example: "Gen 1:1" "John 3" "Moses" "trust"
Advanced Search
advertise with us