One of the beauties of God's wisdom is the way he uses our trials to equip us to counsel one another—just as it says in 2 Corinthians 1:3-4. As a result, many times the best counselors are those who've "been there." When we encounter various trials it is a comfort to know there are others who not only care, but also understand and, therefore, can truly empathize with our struggle. That's why, as a male counselor, I'm excited to make you aware of a new discipleship counseling booklet for women who've been diagnosed with breast cancer. By admitting her own fears and struggles, empathetic author Brenda Frields comes alongside frightened women to bring them comfort and hope:
"How did you react when you got the news? Even though I had entertained the thought that my biopsy would be positive, I still wasn't ready when it turned out to be a fact. The words just seemed to hang suspended in space when my husband told me. Everything he said seemed muddled and fuzzy, almost as if spoken somewhere off in the distance. To be honest, I can't tell you what he said after he said the word 'positive.' I knew that meant I had cancer. What about you?
Are you full of fear?
Are you in denial, trying desperately not to believe what you've been told?
Are you depressed?
Are you angry?
Angry, that was me! I wondered if God realized I had four very young grandchildren, all between the ages of four years and three months? Their moms needed my help, and, to be honest, I wanted to live to see them grow up. Didn't God know that my sweet mother-in-law had Alzheimer's and needed me to help care for her? What about my husband? His job was very demanding. I didn't want to be the one to add stress to his life. Besides, I had always planned that we would grow old together. I was ashamed of my initial thoughts because I really did know that none of this came as a surprise to God, and I knew I should be trusting him."
If you know a woman battling breast cancer be sure to give her the gift of another woman who truly understands. Give her the biblical counsel found in HELP! I Have Breast Cancer.
Several weeks ago, my son-in-law loaned me two CDs from the Christian band Casting Crowns. One disc, Lifesong, ministered to me in deep ways, especially tracks two through five, which I must have played in my car a hundred times. As I listened to the heart-piercing lyrics, I found myself convicted---receiving biblical comfort for the needs of my own heart, counsel for how we are called to minister to fellow sinners, and direction for how we as believers are called to minister to one-another in the church. Here are four ways I am being counseled by four of their songs.
1. There is power in praising God while experiencing the storms of life.
Sometimes, unconsciously, our posture is one of waiting until a storm has passed in order to praise the Lord. "Praise You in this Storm" is a soul-stirring, strengthening prayer that will bring you to tears in the midst of your suffering. Read Psalms 46 and 121 and then ponder these lyrics.
I was sure by now that You would have reached down and wiped our tears away, stepped in and saved the day, but once again, I say "Amen", and it's still raining. As the thunder rolls, I barely hear Your whisper through the rain "I'm with you," and as Your mercy falls, I raise my hands and praise the God who gives and takes away.

[Chorus:] And I'll praise You in this storm and I will lift my hands, for You are who You are no matter where I am. And every tear I've cried You hold in Your hand; You never left my side, and though my heart is torn, I will praise You in this storm.

I remember when I stumbled in the wind, You heard my cry to You and You raised me up again. My strength is almost gone, how can I carry on if I can't find You? But as the thunder rolls, I barely hear You whisper through the rain "I'm with you." And as Your mercy falls, I raise my hands and praise the God who gives and takes away.

[Chorus:] I lift my eyes unto the hills. Where does my help come from? My help comes from the Lord, the Maker of Heaven and Earth.
2. To be like Christ means to be filled with heart-breaking compassion for those in need of the Savior.
If our churches lack biblical compassion then we are not authentically Christian. Do we really see the spiritual needs around us? The song asks, "Does Anybody Hear Her?" Are we so caught up in our busy lives, or filled with such self-righteousness that we can hard-heartedly walk past broken sinners? Are we really content to be Pharisees? Read Matthew 9:27-38 and then ponder these lyrics.
She is running a hundred miles an hour in the wrong direction. She is trying, but the canyon's ever widening in the depths of her cold heart. So she sets out on another misadventure just to find she's another two years older and she's three more steps behind.

Does anybody hear her? Can anybody see? Or does anybody even knows she's going down today, under the shadow of our steeple, with all the lost and lonely people, searching for the hope that's tucked away in you and me. Does anybody hear her? Can anybody see?
3. Life-transparency is a great risk, which will surely result in some deep pains, but the rewards of spiritual freedom and personal growth in holiness are worth every grief.
Let's be honest; our churches are filled with broken sinners, including you and me, but no true revival will ever come to us as long as we play church---as long as our calloused hearts are content with our "Stained Glass Masquerade." Who will receive courage from the Lord to take the first step---to take that first great risk? Who will admit their great weakness and thus invite others to join them in the real Christian life? If your church became authentic would the love of Jesus be enough to make you stay? Without transparency, how will our churches become households of grace? Read Matthew 11:28-30 and then ponder these lyrics.
Is there anyone that fails? Is there anyone that falls? Am I the only one in church today feelin' so small? Cause when I take a look around everybody seems so strong; I know they'll soon discover that I don't belong. So I tuck it all away, like everything's okay. If I make them all believe it, maybe I'll believe it too. So with a painted grin, I play the part again so everyone will see me the way that I see them.

[Chorus:] Are we happy plastic people, under shiny plastic steeples, with walls around our weakness and smiles to hide our pain? But if the invitation's open to every heart that has been broken maybe then we close the curtain on our stained glass masquerade.

Is there anyone who's been there? Are there any hands to raise? Am I the only one who's traded in the altar for a stage? The performance is convincing and we know every line by heart. Only when no one is watching can we really fall apart.

But would it set me free, if I dared to let you see the truth behind the person that you imagine me to be? Would your arms be open? Or would you walk away? Would the love of Jesus be enough to make you stay?
4. When fellow believers are suffering indescribable pain, which they never could have anticipated, stay with them---right by their side. Don't scold them, or abandon them, but love them.
When a woman in your church is abandoned by her husband or a couple loses their baby, steadfastly remain by their side. Don't leave them to flounder alone, to suffer in silence; "Love Them Like Jesus." Read Romans 8 and then ponder these lyrics.
The love of her life is drifting away; they're losing the fight for another day. The life that she's known is falling apart, a fatherless home, a child's broken heart. You're holding her hand, you're straining for words; you're trying to make sense of it all. She's desperate for hope, darkness clouding her view; she's looking to you.

[Chorus:] Just love her like Jesus, carry her to Him. His yoke is easy, His burden is light. You don't need the answers to all of life's questions. Just know that He loves her and stay by her side. Love her like Jesus. Love her like Jesus.

The gifts lie in wait, in a room painted blue, little blessing from Heaven would be there soon. Hope fades in the night, blue skies turn to gray, as the little one slips away. You're holding her hand, you're straining for words, you're trying to make sense of it all. They're desperate for hope, darkness clouding their view, they're looking to you.

[Chorus:] Just love them like Jesus, carry them to Him. His yoke is easy, His burden is light. You don't need the answers to all of life's questions. Just know that He loves them and stay by their side Love them like Jesus.
Are we truly compassionate, biblical caregivers? What will it take for us to become like Christ? Lord, help us to love like Jesus loves.
Yesterday morning, I again picked up my copy of Jerry Bridges' Trusting God, Even When Life Hurts and read the tenth chapter, "Experiencing God's Love." As Bridges develops the biblical teaching that discipline (character training toward Christlikeness) is a mark of God's love and commitment to His children, he writes, "[I]n God's infinite wisdom and love, He takes all the events of our lives –both good and bad—and blends them together so that they work together ultimately for our good, the good that He intends." He then shares the following illustration from his childhood.
While growing up in Texas, I enjoyed my mother's buttermilk biscuits made from "scratch" every morning for breakfast. But there was not a single ingredient in those biscuits that I would have enjoyed by itself. And even after they were mixed together, I would not have cared for the raw biscuit dough. Only after they were mixed together in the right proportions by my mother's skillful hands and then subjected to the fire of the oven were they ready to be enjoyed for breakfast.

The things of Romans 8:28 are like the ingredients of the biscuit dough. By themselves they are not tasteful to us. We shun them. And we certainly shun the heat of the oven. But when God in His infinite skill has blended them all together and cooked them properly in the oven of adversity, we shall one day say it is good.
For the believer, the God---who alone has the wisdom to mix together all things in our lives to fulfill His good purposes---can be trusted.
[Originally posted at Counselingoneanother.com]
"I'm sorry. I don't think I caught that. I have what?" "I said the tests are conclusive. You have cancer. I'm very sorry." It doesn't matter what has transpired before we or our loved ones hear these words, or what happens after. In that first frozen moment, we tend to go completely numb. The impact is so great it paralyzes us emotionally— perhaps for months! Our first response to disaster is disbelief: No, that just can't be. Surely the tests are wrong. Maybe we need to see another doctor! This can't be happening to us. Maybe we're the ones receiving this diagnosis ourselves, or maybe those hateful words are directed instead to someone we love. Maybe that's worse.
So begins Deborah Howard's newly released eBook HELP! Someone I Love has Cancer. After the opening paragraph, above, this caring sister in Christ shares a page from her own story—a story of facing cancer alongside her brother and then her husband. Since denial of the truth is very often the first response to the news of cancer, Deborah Howard spends the first chapter of her mini-book giving us counsel to move beyond denial toward embracing suffering as part of God's providence in our lives.
The first step in this journey is to progress beyond denial. Denial is a monstrous foe that prevents constructive movement. It puts a barrier between you and God when that's the last thing you want! There should be nothing in your life or attitude to hinder your prayers to him. When we're in denial, we deny the providence of God. We must remember that God is the divine Master-Planner of our lives. Nothing happens to us that is not brought about by his sovereignty and intended for his purposes. Death, sickness, heartbreak— all products of man's original fall in the Garden of Eden— are parts of his plan for us. These elements of life are not given to us capriciously. They have nothing to do with chance or fate, but everything to do with the careful plan of a righteous and holy Father, who brings these things into our lives for a divine purpose. It's natural for us to try to run from disaster. This is not new to our generation. King David eloquently described this particular kind of anguish in Psalm 55:4–7 when he wrote, "My heart is in anguish within me; the terrors of death have fallen upon me. Fear and trembling come upon me, and horror overwhelms me. And I say, 'Oh, that I had wings like a dove! I would fly away and be at rest.'"

Most of us tend to try to escape pressure. We have other unattractive tendencies as well. We may want to whine, complain, lash out, or give up. However, the Scriptures tell us, "Count it all joy, my brothers, when you meet trials of various kinds, for you know that the testing of your faith produces steadfastness. And let steadfastness have its full effect, that you may be perfect and complete, lacking in nothing" (James 1:2– 4, emphasis added). Meditate upon these truths. It's important for us to understand them, and to take them into our hearts and minds so we can apply them to the pressures we experience. Another verse worthy of meditation in tough times is Isaiah 26:3, which says, "You keep him in perfect peace whose mind is stayed on you, because he trusts in you" (emphasis added). Does "perfect peace" mean we're never tried or tested? No; but it means that we can be at peace in the midst of the trial. Our earthly struggles should not come as a surprise to us. Remember 1 Peter 4:12, "Beloved, do not be surprised at the fiery trial when it comes upon you to test you, as though something strange were happening to you." Scripture shows that the Christian's life is typically peppered with suffering. In fact, we're promised hardship! Jesus tells us, "I have said these things to you, that in me you may have peace. In the world you will have tribulation. But take heart; I have overcome the world" (John 16: 33).

Thus, the Bible doesn't tell us that believers will not suffer; instead, it assures us that we will! But it urges us to remain steadfast under the pressures of this earthly realm. What does it mean to be steadfast? We're told that when we remain steadfast, we will be made perfect and complete, spiritually mature and lacking nothing! Trials produce staying power and life transformation! Through trial, God molds us into the people he wants us to be: "…we rejoice in our sufferings, knowing that suffering produces endurance, and endurance produces character, and character produces hope, and hope does not put us to shame, because God's love has been poured into our hearts through the Holy Spirit who has been given to us" (Romans 5:3– 5).

Suffering takes its toll on us, sometimes emotionally, sometimes spiritually— and sometimes physically. Sickness and death are a part of life. It is important that we look at our suffering through the lens of Scripture. Thus, a cancer diagnosis doesn't mean that God has abandoned us. Cancer is not out of God's hands or bigger than he is; it is but another tool in his divine toolbox. Therefore, when we go through this kind of painful trial, it is important to constantly remind ourselves that our pain and suffering have a purpose! We may not be able to see these results with our earthly eyes or conceive of them with our finite minds, but there is an overarching purpose to our lives—God's will, which is "good and acceptable and perfect" (Romans 12: 2). Our suffering will always produce two results— good for us and glory for God. Always!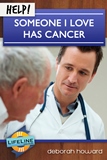 Written by a hospice nurse, HELP! Someone I Love has Cancer is a tender book filled with biblical help and hope. Get this eBook for $1.99 from Shepherd Press, publisher of the LifeLine mini-book series. You can also listen to a radio interview with the author here.
Example: "Gen 1:1" "John 3" "Moses" "trust"
Advanced Search
advertise with us