10 Essential Things to Tell People about the Church
Joe McKeever
Sunday, March 06, 2011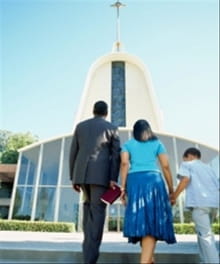 Editor's Note: This represents the first half of a two-part series. Find Joe McKeever's "10 More Essential Things to Tell People about the Church" by clicking on the link at the end of this article.
According to the Spring edition of OnMission magazine, published by the SBC's North American Mission Board, 90 percent of unchurched 20-29 year olds believe, "I can have a good relationship with God without being involved in a church."
That sounds new. But it's as old as Methuselah.
Some of us can remember the so-called "Jesus Movement" of the 1960-1970s when the beaded, bearded, flower children carried signs announcing "Jesus Yes; Church No."
No one will be surprised that we who have given our lives to serving God through His church believe in the church. We believe in it passionately even though quite a high percentage of us bear scars from our years of service.
Believers in the church's essential role in God's plan are not the "establishment." We were not brain-washed and are not duped or deluded. We are not mouthpieces of some denominational hierarchy somewhere. Neither are we defenders of the status quo. (No one who ever sat under my ministry even once accused me of defending the status quo. Quite the opposite, in fact. Many have wished I could be satisfied to leave well enough alone.)
Most of us have had a love-hate affair with the Lord's church. We have loved it when it did well, been blessed by it when it was faithful, grieved for it when it got off-track, and sometimes suffered from our proximity to cancerous members.
Our convictions are not shallow or lightly held. They have been through the fires and come through stronger than ever.
Each of us has our burden for the church. Here are mine. Twenty things I wish we could say to every church, and repeat them at regular intervals until they take hold.
1. The church has always been under attack. So, when people criticize it, Christian, don't panic.
How does that line go? "There is no such things as 'news.' There are only old things happening to new people."
Like all those fake petitions in cyberspace we can't seem to be rid of, the same "news" about people's religious views keep recirculating every few years. Someone discovers that Christians get divorced at a high rate--oh, horrors! That early Christians decided some so-called epistles were spurious and discarded them--oh, no, "Banned by the church!" And that people who do not want to have anyone telling them how to live decide they can please God without the church. Ho-hum.
Any day now someone will come out with "revolutionary" evidence that Jesus did not bodily rise from the dead, there was no Virgin Birth, there never was a historical person named Jesus, and/or that His grave has been found in a cemetery in Milwaukee. Yawn.
2. That the church has survived the attacks from its enemies and the failings of its own members for two thousand years and is still going strong stands as a remarkable testimony of God's plan for her.
God's people were told to expect attacks from the outside--Paul called these people "savage wolves"--and divisive sneak attacks from the inside in Acts 20:29-30. The one constant of ecclesiastical history has been those two disruptive forces.
Expect it, Christian. And remember this elementary lesson from your high school physics class: A fire under pressure will burn brighter. Since the devil never took physics, he doesn't understand this, so he keeps persecuting the Lord's people and attacking the Church and slandering Jesus. What he cannot figure, though, is why all such efforts only spreads the Gospel.
3. The apparent weakness of a particular church is generally deceptive.
God delights in using weak things, ordinary people, and unlikely prospects. He can take a young child's simple lunch and feed thousands. So, the next time you look at your church service and decide that you are tragically out-of-date in the hymns and technology and that you need a younger pastor because the one you have is too boring, bite your tongue. You are in the kind of church where God delights in showing up and doing something remarkable. Drop to your knees and start asking Him to do one of His patented God-things among your group.
Recently on Pastors / Leadership
Have something to say about this article? Leave your comment via Facebook below!
advertise with us
Example: "Gen 1:1" "John 3" "Moses" "trust"
Advanced Search
Listen to Your Favorite Pastors