10 Reasons Why Believing in Sovereignty Matters
John Piper, Desiring God
Wednesday, July 06, 2011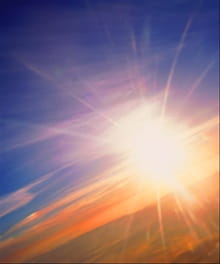 "But God, being rich in mercy, because of the great love with which he loved us, even when we were dead in our trespasses, made us alive together with Christ—by grace you have been saved." (Ephesians 2:4-5)

"The wind blows where it wishes, and you hear its sound, but you do not know where it comes from or where it goes. So it is with everyone who is born of the Spirit." (John 3:8)
7. Well-grounded expectation of answered prayer depends on it.
"Brothers, my heart's desire and prayer to God for them is that they may be saved." (Romans 10:1)

"Repent and be baptized every one of you in the name of Jesus Christ for the forgiveness of your sins. . . . For the promise is for . . . everyone whom the Lord our God calls to himself." (Acts 2:38-39)
8. Boldness in the face of seeming hopeless defeat depends on it.
"Be of good courage, and let us be courageous for our people, and for the cities of our God, and may the Lord do what seems good to him." (2 Samuel 10:12)

"Do not be afraid or dismayed before the king of Assyria and all the horde that is with him, for there are more with us than with him." (2 Chronicles 32:7)
9. Seeing and savoring the revelation of the fullness of God's glory depends on it.
"But who are you, O man, to answer back to God? Will what is molded say to its molder, 'Why have you made me like this?' . . . What if God, desiring to show his wrath and to make known his power . . . [acted] in order to make known the riches of his glory for vessels of mercy?" (Romans 9:20-23)
10. Praise that matches the fullness of God's power, wisdom, and grace depends on it.
"Our God is in the heavens; he does all that he pleases. . . . We will bless the Lord from this time forth and forevermore." (Psalms 115:3-18)

"Great is the Lord, and greatly to be praised." (Psalms 96:4)
The doctrine of God's sovereignty is an anchor for the troubled soul, a hope for the praying heart, a stability for fragile faith, a confidence in pursuing the lost, a guarantee of Christ's atonement, a high mystery to keep us humble, and a solid ground for all praise. And oh so much more. O Lord, turn this truth for the triumph of your saving and sanctifying grace.
Confident and comforted with you,
Pastor John
By John Piper. © Desiring God. Website: www.desiringGod.org. Email: mail@desiringGod.org. Toll Free: 1.888.346.4700.
Listen to John Piper and Desiring God Online Broadcasts at OnePlace.com.
Publication date: July 6, 2011
Recently on Pastors / Leadership
Have something to say about this article? Leave your comment via Facebook below!
advertise with us
Example: "Gen 1:1" "John 3" "Moses" "trust"
Advanced Search
Listen to Your Favorite Pastors