9 Warning Signs of a Pastor Losing His Way
Paul David Tripp
Wednesday, October 03, 2012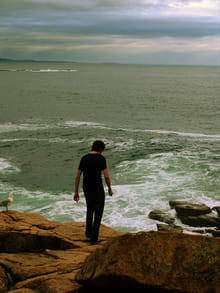 Here's how it works. My pastor friend did his best to hold onto the delusion that no one had a more accurate view of him than he did. He thought no critique of his thoughts, desires, motivations, choices, words, and actions was more reliable than his own. He thought that the only questions and confrontation that he needed was what he brought to himself. He was all too confident in his vision and all too trusting of his critique of himself. When others would question or confront him, without knowing that he was doing it, he would activate his inner lawyer and generate arguments in his own defense. He often told himself that the speaker didn't really know him because if he did, he wouldn't question him in the way that he was. He often angrily said to his wife, "Darling, you just don't know me as well as you think you do."
Because sin blinds, God has set up the body of Christ to function as an instrument of seeing in our lives, so that we can know ourselves with a depth and accuracy that would be impossible if left on our own. But my friend didn't trust the vision help of others; rather, he relied solely on his view of himself and was left to his own blindness. Patterns were left unaddressed, and because they were unaddressed, they were given time and room to grow until the disconnect between his life and ministry became so obvious and burdensome that all he could think of was getting out.
3) His Ministry Lacked Devotion.
I am more and more convinced that what gives a ministry its motivations, perseverance, humility, joy, tenderness, passion, and grace is the devotional life of the one doing ministry. When I daily admit how needy I am, daily meditate on the grace of the Lord Jesus Christ, and daily feed on the restorative wisdom of his Word, I am propelled to share with others the grace that I am daily receiving at the hands of my Savior. There simply is no set of exegetical, homiletical, or leadership skills that can compensate for the absence of this in the life of a pastor. It is my worship that enables me to lead others to worship. It is my sense of need that leads me to tenderly pastor those in need of grace. It is my joy in my identity in Christ that leads me to want to help others live in the middle of what it means to be "in Christ." In fact, one of the things that makes a sermon compelling is that the preacher is worshiping his way through his own sermon.
Having a ministry that is fueled by personal devotion has its roots in humble, heart-deep confession. This is where it all went wrong with my pastor friend and many others in his shoes. Because he denied the evidence that was around him and was blind to his own heart, he tended to see himself as okay, when he wasn't okay. So he wasn't convicted and encouraged by his preparation and didn't sit under his own preaching. His self-satisfaction meant his words and actions in ministry did not grow in the soil of a personal love for and worship of Christ. Preparation became about downloading a body of truths to people who needed to have their thinking rearranged. His counseling was more problem solving than gospel encouraging. And along the way it all began to get dry and unappealing. It quit having life. It all stopped being about worship and became an ever-repeating series of pastoral responsibilities.
4) He Wasn't Preaching the Gospel to Himself.
If you are in ministry and you are not reminding yourself again and again of the now-ism of the gospel, that is, the right-here, right-now benefits of the grace of Christ, you will be looking elsewhere to get what can only be found in Jesus. If you are not feeding your soul on the realities of the presence, promises, and provisions of Christ, you will ask the people, situations, and things around you to be the messiah that they can never be. If you are not attaching your identity to the unshakable love of your Savior, you will ask the things in your life to be your Savior, and it will never happen. If you are not requiring yourself to get your deepest sense of well-being vertically, you will shop for it horizontally, and you will always come up empty. If you are not resting in the one true gospel, preaching it to yourself over and over again, you will look to another gospel to meet the needs of your unsettled heart.
Recently on Pastors / Leadership
Have something to say about this article? Leave your comment via Facebook below!
advertise with us
Example: "Gen 1:1" "John 3" "Moses" "trust"
Advanced Search
Listen to Your Favorite Pastors