Answered (Questions about) Prayer
Ray Pritchard, Keep Believing Ministries
Monday, November 06, 2006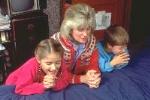 During the Q&A sessions at the recent "Why Did This Happen to Me?" conference at Word of Life Inn in Schroon Lake, New York, we answered common questions about prayer. We also took specific questions from the audience. Here are some of the questions followed by my comments:
1) If God is sovereign, why pray?
We pray to express our complete dependence on our Heavenly Father. We pray because God commands us to pray and also invites us to pray. We pray because God is glorified when we cry out to him. We pray because our prayers are part of God's eternal plan. Things happen when we pray that wouldn't happen if we didn't pray. When we pray, we are cooperating with God in forwarding his agenda in the world. See "If God is Sovereign, Why Pray?"
2) What is the main reason for prayer? Do we pray for God's sake or for ours?
The answer is both. We honor the Lord by our prayers in the same way a little child honors her father when she comes to him asking for his help. It's not that our prayer change God, but they do change us, and that is where the greatest change needs to take place. Unless we are changed on the inside, how will be the world ever be changed on the outside?
3) Should we pray even when we doubt God is listening?
Absolutely. Faith and doubt are not enemies. By definition faith always involves some degree of uncertainty. We walk by faith, not by sight. If you ever get to the place where all your doubts are gone, and all your questions are answered, sit back and take a deep breath. You've just arrived in heaven. Until then, the best of our prayers will be mixed with some degree of uncertainty. We say with the distraught father of Mark 9:24, "I believe. Help my unbelief." See "If I Believe, Why Do I Doubt?"
4) What does Romans 8:26-27 mean when it says that the Holy Spirit intercedes for us with groanings that cannot be uttered?
The key is the statement in verse 26 that we do not know what to pray for as we ought. Sometimes (many times) life situations get so fouled up that we honestly don't know where to begin. And when we are tired or sick, we are sometimes so weak that we cannot pray because we cannot focus our minds on anything. We should not feel guilty in those moments because the Holy Spirit comes alongside and prays for us when we cannot pray for ourselves or our loved ones. Remember that prayer is not a "work" we do that gains merit with God. Prayer is ongoing communication with the God of the universe. The Holy Spirit constantly intercedes for us in ways we can't imagine. This ought to encourage us when we feel so weak or so tired or so helpless that all we can say is, "Oh God. Oh Jesus." The Holy Spirit takes our faltering words and lifts them up to the Father, interceding on our behalf. See "When God Prays for You."
5) Do you believe in anointing the sick with oil?
Yes, I believe that James 5:12-16 is for today and many times have prayed with people, anointing them with oil, asking God to heal them -- in his own way, in his own time, according to his own will. These prayer times have often been powerful moments of Spirit-directed ministry. See "Praying for the Sick."
Recently on Pastors / Leadership
Have something to say about this article? Leave your comment via Facebook below!
advertise with us
Example: "Gen 1:1" "John 3" "Moses" "trust"
Advanced Search
Listen to Your Favorite Pastors